Devinci's new and much anticipated 2011 Wilson
has been generating an incredible amount of buzz, and rightfully so, as the new bike is a complete redesign with the help of suspension guru Dave Weagle. That's all well and good, but some trail time is what we all really want to hear about. We were fortunate enough to be able to put in some hot laps at Whistler and then keep the new Wilson for six weeks of thrashing on our local B.C. mountains. Inside you can read the first test of the 2011 Wilson, check out all of the photos, and watch three videos!
Read on,
Dave Weagle explaining the new 2011 Wilson from Interbike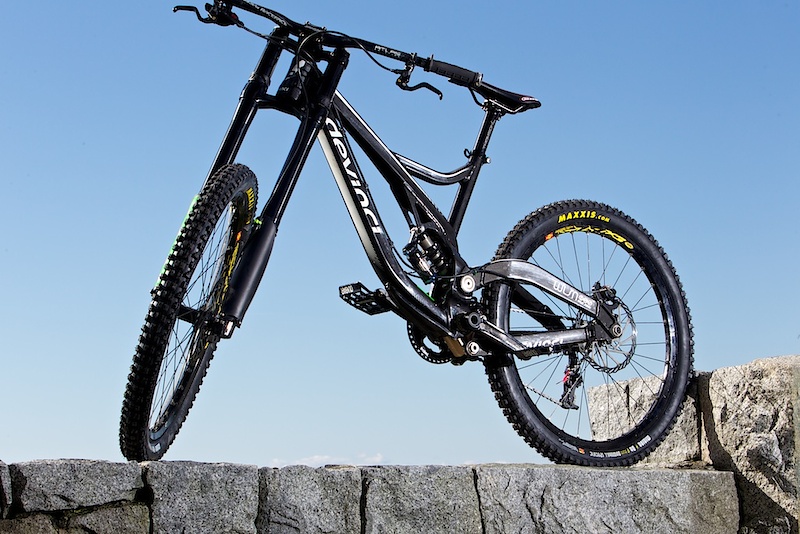 The new 2011 Devinci Wilson is a bit of a rarity these days, being one of the few high end bikes produced in Canada. The new bike has geometry to keep the racers happy and set personal best times on the track, and is designed to get the rider from point A to point B the quickest. With that in mind it features a sub 14" bottom bracket height and a relatively slack head angle that measures in at 64 degrees. The rear end is adjustable in length between 16.8" and 16.9", which is certainly shorter than the majority of race bikes out there.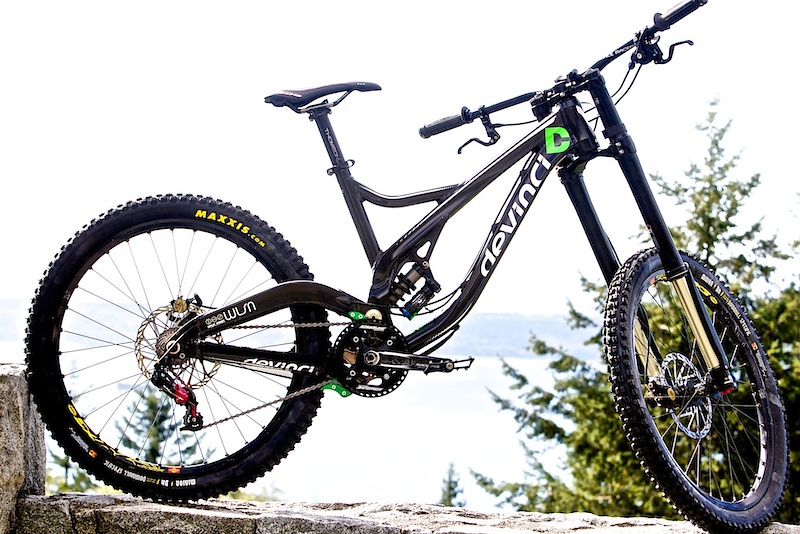 How does Split Pivot work and what are its claims? The concentric axle pivot with the brake mounted on the chainstay allows for a relatively high main pivot to be used with great pedaling and square bump absorption in mind, but without adversely affecting the bike's braking performance. In simplest terms, suspension and braking forces are separated and both can be tuned independently of one another. The linkage that activates the shock pivots concentrically around the bottom bracket for nice packaging and to keep the weight as low as possible in the chassis. The 10.5" x 3.5" custom tuned shock works with the Wilson's low leverage to deliver 216 mm of rear wheel travel.
This rendering will give you a better idea of what is actually happening down below. Not shown in this photo is the replaceable ISCG 05 chainguide adapter that installs on the splines around the bottom bracket shell. If the worst case scenario happens and you 50/50 that big step down, damaging your guide and tabs, it is simple and easy to replace just the tabs.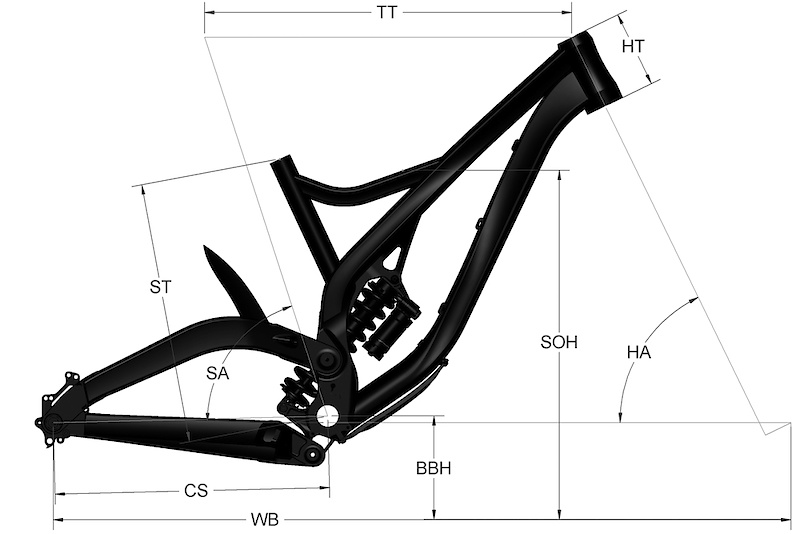 $6799

$4999

$3799

216mm

216mm

216mm

Fox DHX RC4 (10.5x3.5)

Fox DHX RC2 (10.5x3.5)

Fox Van RC (10.5x3.5)

RockShox Boxxer World Cup 203mm

RockShox Boxxer R2C2 203mm

RockShox Boxxer RC 203mm

FSA Orbit 1.5ZS

FSA Orbit 1.5ZS

FSA Orbit 1.5ZS

SRAM PGII 970 9spd 11-26T

SRAM PGII 970 9spd 11-26T

SRAM PGII 960 9spd 11-32T

Truvativ Holzfeller OCT 1.1

Truvativ Holzfeller 1.1

Truvativ Hussefelt 1.0

e.13 with 38T Truvativ chainring

e.13 with 38T Truvativ chainring

e.13 with 38T Truvativ chainring

Truvativ Howitzer

Truvativ Howitzer

Truvativ Howitzer

Wellgo MG1 Magnesium

Wellgo MG1 Magnesium

Wellgo MG1 Magnesium

Shimano HG53

Shimano HG53

Shimano HG53

SRAM X.0

SRAM X-9

SRAM X.7

N/A

N/A

N/A

SRAM X.0

SRAM X-9

SRAM X.7

Truvativ Boobar DH 31.8mm

Truvativ Boobar DH 31.8mm

Truvativ Holzfeller 31.8mm

Truvativ Holzfeller Direct Mount 31.8mm

Truvativ Holzfeller Direct Mount 31.8mm

Truvativ Holzfeller Direct Mount 31.8mm

Devinci Performance

Devinci Performance

Devinci Performance

Avid Code 203mm

Avid Elixir CR 203mm

Avid Elixir 5 203mm

N/A

N/A

N/A

DT Swiss 340

DT Swiss 340

Formula Disc

DT Swiss

DT Swiss

DT Swiss

Mavic EX721

Mavic EX325

Sun Ringle MTX31

Maxxis Minion DHF 3C

Maxxis Highroller 26x2.5

Maxxis Highroller 26x2.5

Selle Italia SL

Devinci Hyper

Devinci Hyper

Truvativ Holzfeller 31.6mm

Truvativ Hussefelt 31.6mm

Truvativ Hussefelt 31.6mm
Watch the video to see Adam Mantle and Robby V testing the 2011 Wilson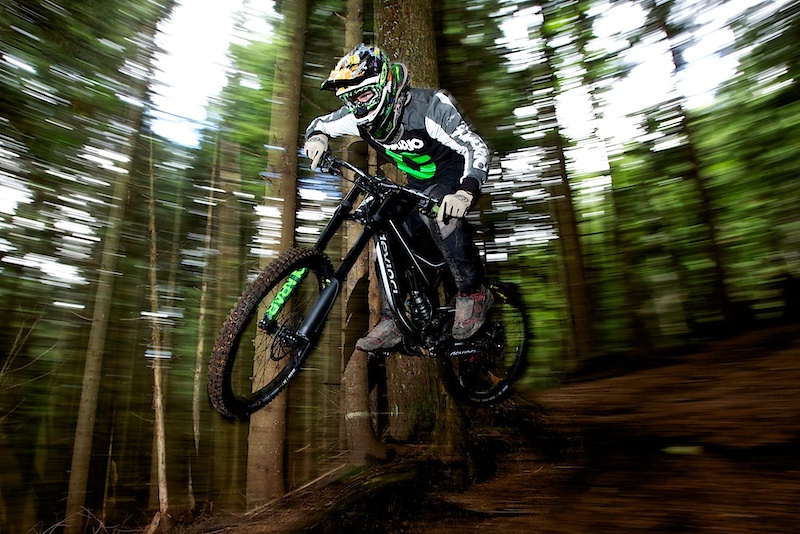 Devinci did a great job of spec'ing the bike with a sweet parts kit that leaves nothing to be desired and performed great during my first few days on the bike, but in order to get a proper feel for the new Wilson I wanted to swap on parts from my personal bike that I would be far more familiar with. I had spent an entire season riding and racing these parts, doing the swap would truly let me understand just what the chassis was doing under me. The goal was also to test the bike in a few different settings, not just my favorite trail that I can ride with my eyes closed on a 10-speed. This would let me see if the bike's engineers were simply using all the above techno mumbojumbo to make it sounds great, or if it actually is great. It is also fine and dandy to look at the given numbers on a chart, but how does the bike's geometry translate over to the real world; does it corner as expected or does it require more weight up front or to the back? How stiff and stable is it? Does it pedal as good as its high pivot would have you think? Keep reading to find out.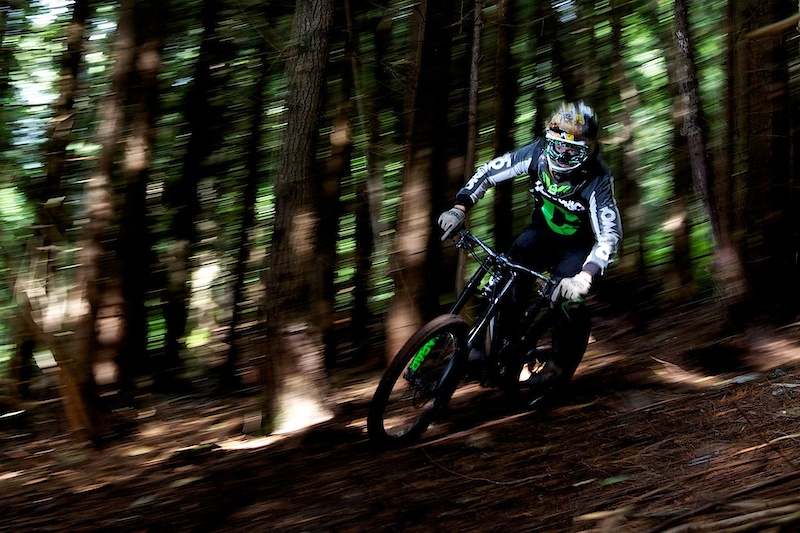 I spent my first few days on the new Wilson in the Whistler bike park getting used to how it rode. Then it was time to get down to business! I wanted to see if the Split Pivot design works as advertised and separates braking forces from the suspension as well as they would have you believe. To do this I sought out some rough and beaten down tracks, which are not too hard to find when riding in the WBP at the end of the season. Like any sane rider, I would usually do my best to avoid braking through a portion of trail that is already littered with bumps from others who are not doing the same, but for testing purposes I thought that I'd try to rattle a few fillings loose. I immediately found that not only did the bike take the edge away from the chatter, something that other bikes can do as well, but it also behaved the same regardless of whether I had the binders on or not. A bike that handles and brakes consistently in the rough can be a huge boost of confidence, especially when it does it as good as the black Wilson manages to.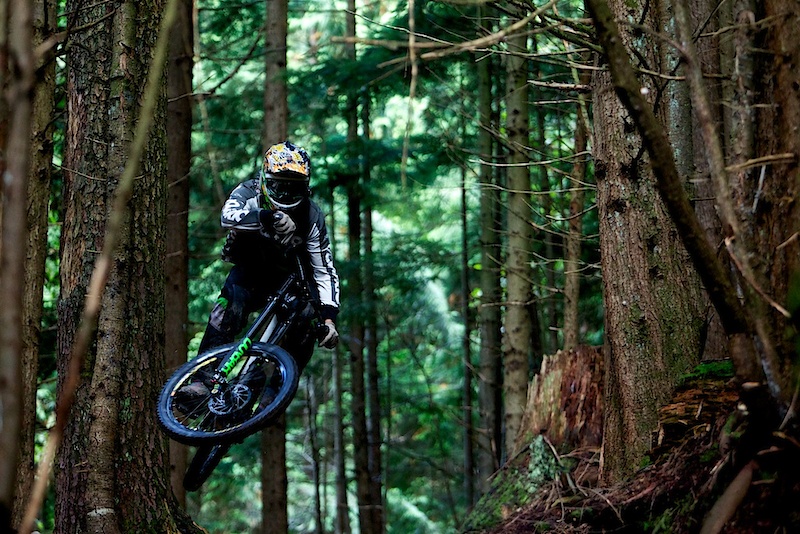 So, excellent braking, but a bike needs to be a complete package in order to be a winner. Cornering and monster trucking are not two attributes that one usually finds together, but when you do, you usually have a winner on your hands. I spent quite a bit of time doing laps of Whistler's infamous B-Line trail, a fast and mostly un-bermed trail that can be ridden quickly on a bike that corners well. The new Wilson performed quite well on the trail's flat turns, no doubt in part to its low slung mass and just under 14" bottom bracket height. I've spent a lot of time doing B-Line laps on many top flight DH bikes and the new Canadian made trail crusher sits in the top 5 of those without a doubt. When the line was crossed and the bike got loose, it was a controlled feeling that made you feel as if you could slide as long as your heart desired, even if that wasn't the case. I'm going to go ahead and put this down to the Wilson's relatively short rear end that also happened to be incredibly stiff. No matter how hard I smashed into corners, not a hint of flex was felt.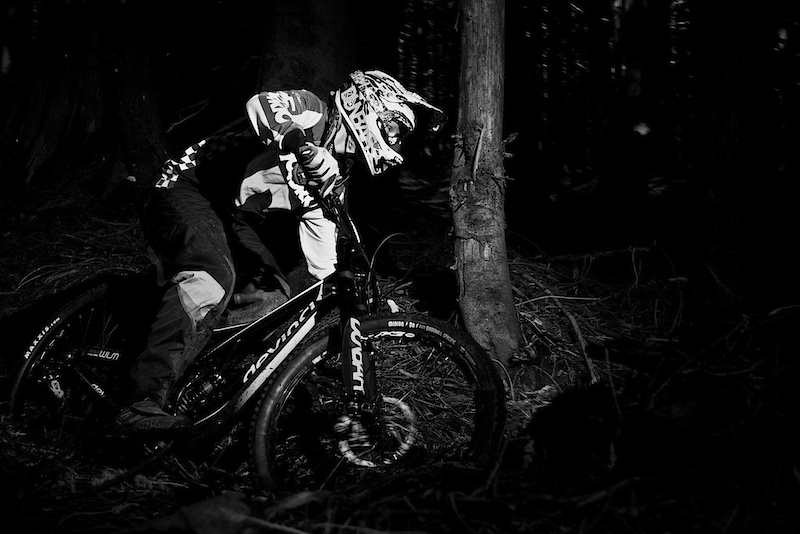 Now onto the fun stuff, the monster trucking! There are quite a few local places to test this out, but my personal favorite is a trail called Mr. E up on Cypress. This trail is mega fast and about as used and blown out as some of the local Eastside Vancouver residents. Because the Wilson corners so great I was half expecting it to not perform well on this terrain, like I said, a bike that does both cornering and 'trucking well is a rarity, but this wasn't the case. As much as I hate being wrong, the Wilson was a treat on Mr E, so much so that I actually put in my fastest timed run ever - quicker than on any of my personal bikes! After that confidence boost I took the bike to Whiskey Jack, the fastest trail I've ever ridden, so fast that riders have actually been Clocked and over 90 kph on it! Every time I've been down this trail I have literally been frightened for my life as it feels as if your bike is being torn into two. Much like my laps on Mr E, the Wilson did great here. Yes, I was still scared, but I certainly had more control than I've had before. The bike's high pivot seemed to handle the hard chundery hits very well and did a great job of smoothing the nasty out.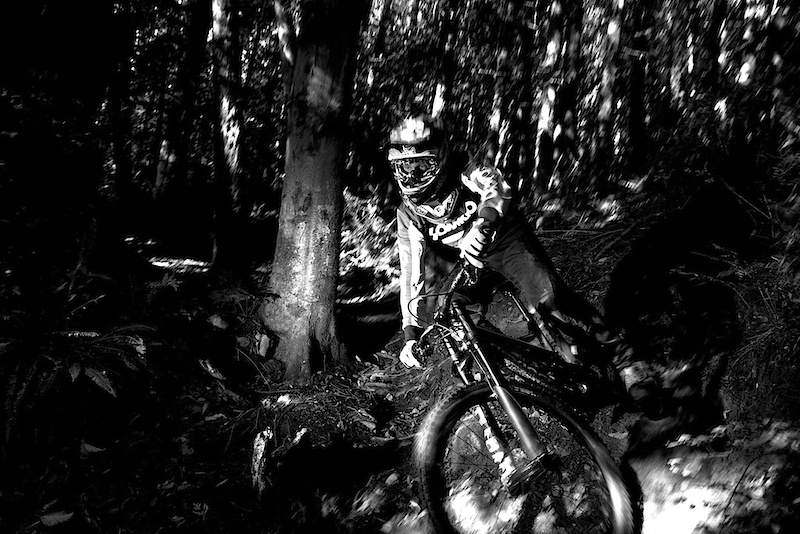 The new Wilson is a great bike, but even great bikes have drawbacks. The Wilson's is its low speed handling. It seemed to not track as well at low speeds as some other DH bikes, and the suspension didn't really come to life until the speeds picked up. It certainly feels as if it has been designed to go fast and faster, which is great by me as I only have one speed anyway. If you ride slower tracks, or are a slower rider, this may not be the best bike for you. The key is to be honest with yourself, if you are fast and aggressive, you'll like the new Wilson.
Pros
Bike corners exceptionally well, probably due to the bang on geometry and low slung mass
Incredibly stiff rear end
Very stable at high speed
Suspension stays active under braking
All of the bearings are oversized Enduro Max bearings
Hand built in Canada with a lifetime warranty and a decent price tag
Cons
Frame is a bit portly. Frame with steel spring weighed in at just a under 11 lbs
Low speed performance doesn't match its handling when ridden fast
The Wilson pedals well, but not as good as I had hoped
The Split Pivot makes straightening the derailleur hanger difficult if your tool doesn't have enough clearance
There are three complete Wilson's available, the high end SL model retails for $6799.95 CAD, the RC goes for $4999.95, and the XP will sell for $3799.95. A frame only option will also be available - Retail to be announced later.
Just in case you haven't seen it already, check out this video from Devinci!
The new Wilson isn't perfect, but what bike is? Aggressive riders will thrive on the bike while enjoying its great handling at race speed and consistent suspension. New or timid riders won't be able to get the most out of the bike, but if you spend your time between the tape or banging out hot laps in the bike park, then put the Wilson on your short list. You've seen the photos, read my opinion, now let's hear what you think about the 2011 Devinci Wilson. Think long and hard, then put your comments down below!
Visit the
Devinici website
for more information.
Looking for your own Wilson? Check out
Dunbarcycles.com