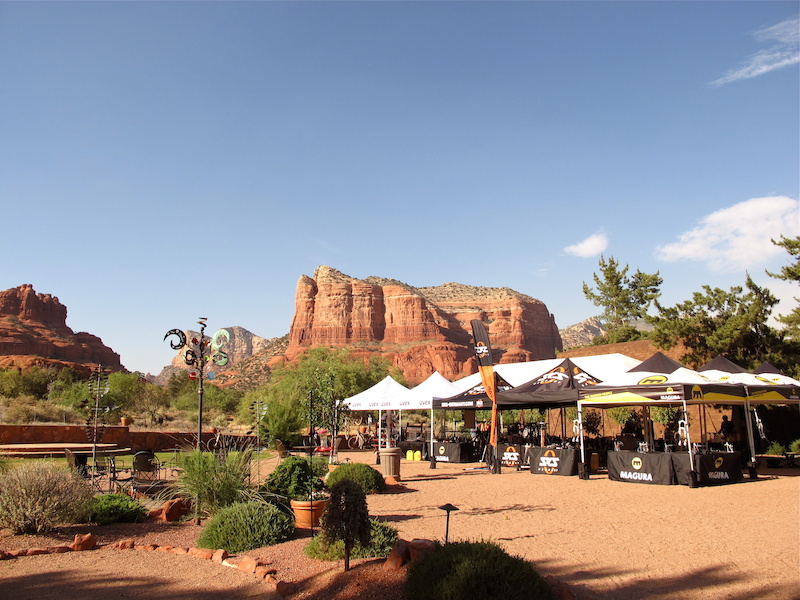 Magura's new TS8 and TS6 29er suspension forks were the focus of our visit to their Sedona, Arizona, press camp, a gathering that also allowed us to sample the new suspension offerings on some rather demanding terrain. Home base for our group was the Red Agave hotel, conveniently located right at the foot of one of Sedona's best trails.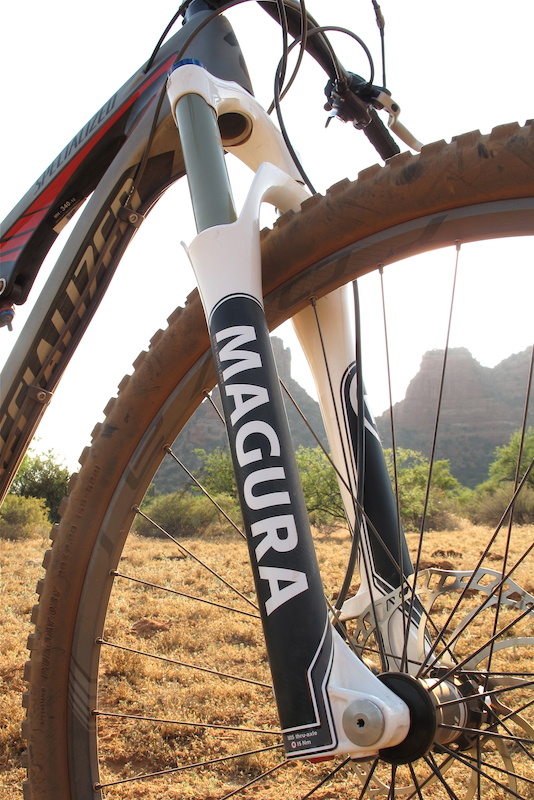 Magura TS8 and TS6 29er Forks
The 2013 TS8 29er (
shown at right
) can be had in either a 80/100mm travel option who's travel can be adjusted internally, or a standalone 120mm travel version. The split between the travel offerings is due to the longer stroke model requiring extended stanchion tubes, extra material that would add unneeded weight to the 80/100mm travel fork. The TS8 uses 32mm stanchion tubes, along with new lowers that feature Magura's M15 thru-axle system and a dedicated post mounts for mid-sized, 7" (180mm} rotors. The 29'' TS8 R 120 that we rode comes in at a claimed 1715 grams (
3.7 lbs
). MSRP up to $849 USD.
The TS6 29er fork uses the same DAD equipped casting as its more expensive brother, including the new M15 axle and 7'' brake post mount, but weighs in heavier due to it employing the same, longer stanchion tubes throughout the 80, 100, and 120mm travel options. Also, its internals function in the same manner, but feature less machining. The 120mm travel TS6 comes in at 1945 grams, with MSRP's up to $649 USD.
650B options
Magura is also addressing the in-betweener size that seems to be the hot subject, but not in the way that you might expect. As it is, their current 26'' fork lowers that are used for their TS8 and TS6 models will also allow most 2.3'' wide 650B tires to fit nicely. The 650B models will feature different graphics to set them apart, and will only be available in the higher end TS8 versions. Prices are yet to be decided upon for the 120, 140, and 150mm travel 650B fork models.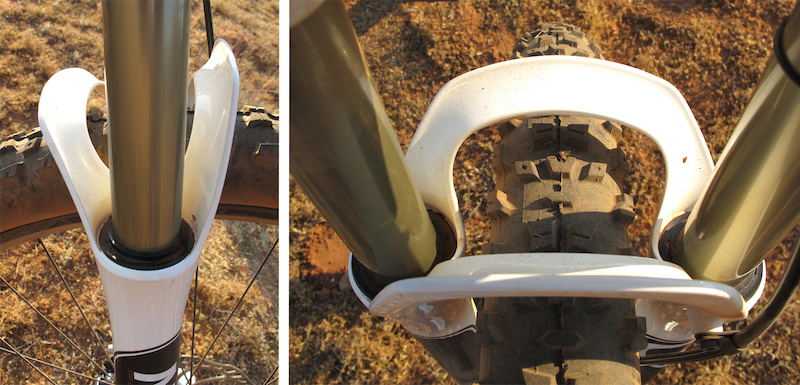 As found on their entire fork line, the 120mm travel TS8 29er fork employs Magura's Dual Arch Design (DAD for short) that is claimed to improve torsional rigidity. After spending time on Magura's forks over the last few seasons, we'd have to agree that it creates a stiff package.

The air sprung TS8 and TS6 forks can be had with Magura's DLO (Dynamic Lock Out) that greatly stiffens the fork for climbing, but still allows it to settle into its sag for a lower front end and more traction. This is accomplished by way of a very small free bleed port in the compression assembly that allows a small amount of damping oil to pass by, letting the fork settle down into its sag point. The result is firm suspension when the DLO is activated, but without compromising the bike's geometry by forcing the fork to ride at full extension during a climb.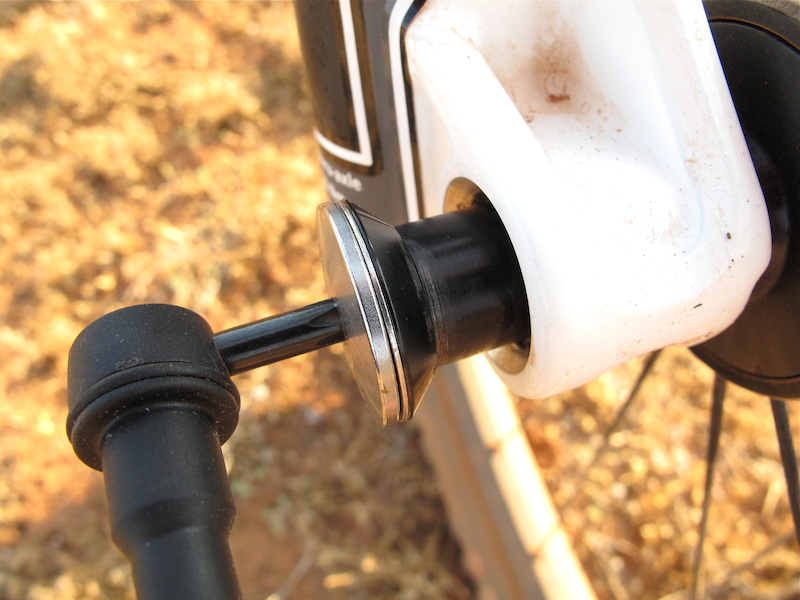 M15 Axle
Magura's ''Stiff Light Easy'' ethos has also been applied to their new thru-axle design, dubbed M15. They have eschewed an actual thru-axle quick release in favour of a 15mm axle that requires a T25 torx tool to remove - Magura's trick being that the torx wrench is stowed away within the non-drive side of the axle itself. The tool can simply be slid out (
it's held in place by way of a tight fitting O-ring
) when required to remove the axle, and also be used to adjust all of their brake hardware or any other component that fastens with a T25 screw.
The axle itself threads into a self-locking threaded insert on the non-drive side of the fork that Magura says renders pinch bolts redundant, along with a steel cap for the torx wrench to fit into that should make rounding out the interface nearly impossible. A floating cone is captured under the steel cap, with a thin washer between the two that allows the axle to rotate independently of the cone as it is threaded into place. This lets the cone nestle freely into its concave home within the lowers without it binding as it is tightened.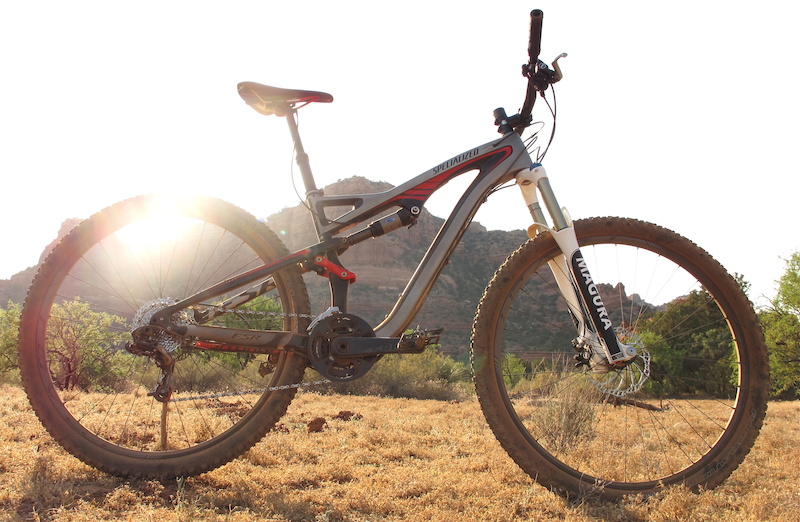 We sampled Magura's new TS8 29er fork on the front of a Specialized Camber Expert Carbon 29, a bike that turned out to be well suited to the area's technical singletrack. The local terrain is difficult enough to not only challenge any rider, but its rough, rocky, and unforgiving trails also make for an ideal place to get a feel for a bike's suspension.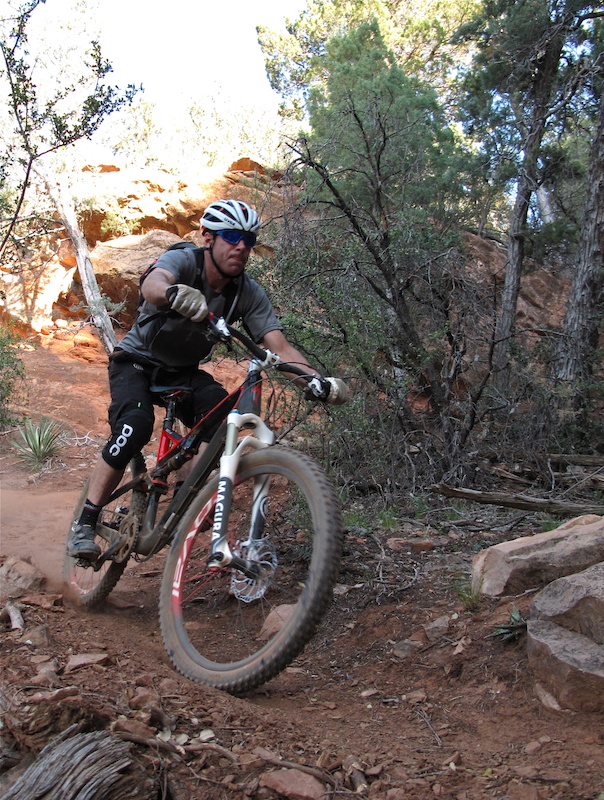 On The Trail
The usual ''
two day's doesn't make for a proper test
'' disclaimer applies here, although we do also have to say that if a product performs well when ridden over Sedona's demanding terrain, it can likely be set up to work well nearly anywhere. This was the case with our TS8 test fork, with it proving to be trouble free and invisible on the front of our bike. But the real story here is how simple the fork is to understand while still performing every bit as well as some of its more complicated competition. Setting the air pressure and rebound speed are all that's required before hitting the trails, but the fork managed to feel far more controlled in hairy situations than other offerings that are adorned with enough dials to make even the most gung ho tech nerd confused. The extra control comes from two places: first, the fork stays remarkably high in its travel when on steep pitches, enough so that the geometry of the bike is compromised far less than we would have expected; and second, the DAD chassis is impressively stiff, belying the fork's 32mm stanchions. Our initial impressions are promising to say the least, but we'll hold off on making a final call until we can put much more time in on their TS8 fork.
The topic of where Magura fits into the suspension world, a question that is valid considering the other heavyweights in the industry, came up in the office before we left for the Magura camp. It's a bit clearer now that we've had a brief but revealing time on their 2013 products: Magura isn't about bells and whistles, but rather an easy to understand suspension that can be ridden hard without having to tweak multiple dials in search of a good setting. This is something that many riders may be looking for in these days of 'more dials must be better' kind of thinking.
www.magura.com