I hate November. In my opinion, it is the worst month of the year. In Utah, it is generally too wet, cold and snowy to ride bikes, but there isn't quite enough snow to ski, snowboard, or rip on a sled. Add to that the fact that it gets dark super early, and by the time most of my riding buddies get out of work the sun has long since set. Motivation is at an all time low. So there I am sitting around my house in November, working my way through a summers worth of bike photos, trying to make winter shooting plans, and getting distracted by the latest bike stuff on the web. Then my phone rings. It's Darren Berrecloth. He is sitting in a hotel room in the middle of nowhere Utah waiting for good weather. It turns out he has spent the last 2 weeks scouting and building lines for "Where the Trail Ends" and is wondering if I want to come down and shoot some photos. There is a window of good weather rolling in. It took me about 2 seconds to decide. The next morning I am headed south...
I was lucky enough to get out with Freeride Entertainment a few times while they were shooting in Utah. Once on a scouting/shooting mission, and a few more times in full-on film production mode. It was my first time being involved with a full feature MTB movie, and I was totally blown away by a lot of the stuff that went into making a production like this happen. Some days there were 20 guys out on location and some days only 2. Some of the biggest stuff that I witnessed went down with only a few people around to actually see it. It is pretty surreal to be in the middle of nowhere and be watching this level of riding go down with only 2-3 other guys around to see it. I watched Claw ride one of the gnarliest lines I had ever seen, at the end of which a few high fives were thrown, shots reviewed, and that was it. On to the next shot like it was no big deal. I saw Zink and Sorge attempt to front flip a classically imperfect big mountain jump on full 8 inch bikes, with no one around to witness it other than a couple filmers and myself. No fans, no friends, no mechanics, no industry insiders, just a couple other riders and a camera crew.
These riders and filmmakers work harder than most people will ever know to make this stuff happen. Pushing your bike and carrying water and tools for miles through the desert, and up thousands of feet of vertical for a 2 second shot is hard work. Hauling a 50 foot camera jib by hand up a mountain, with stands, counterweights, and cables is hard work. Batteries die, equipment breaks, weather changes, trucks get stuck, wind blows, heat waves come through, water runs out, but the film rolls on...
Here is a little glimpse of what I saw when I was on location with Freeride Entertainment in Utah. I hope you enjoy it as much as I did.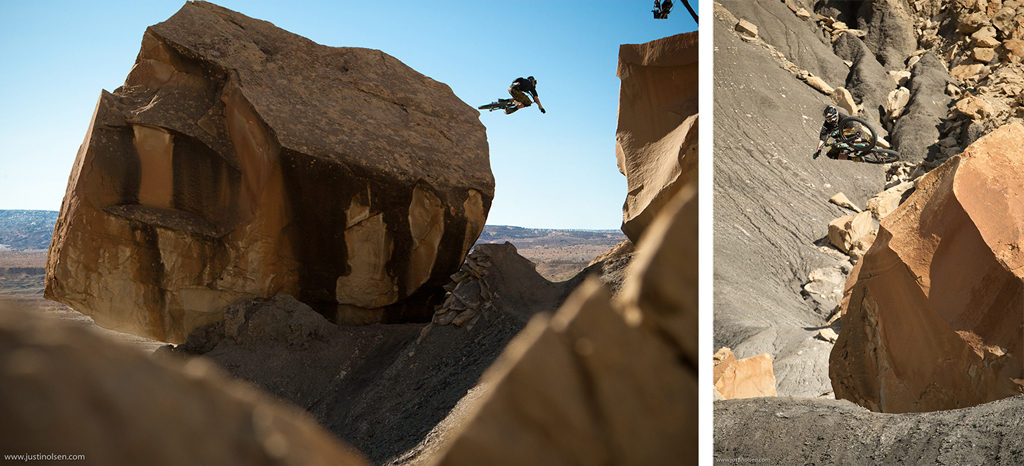 Sorge warms up, and casually snaps a few tables on this feature while the jib operators dial in their camera movements.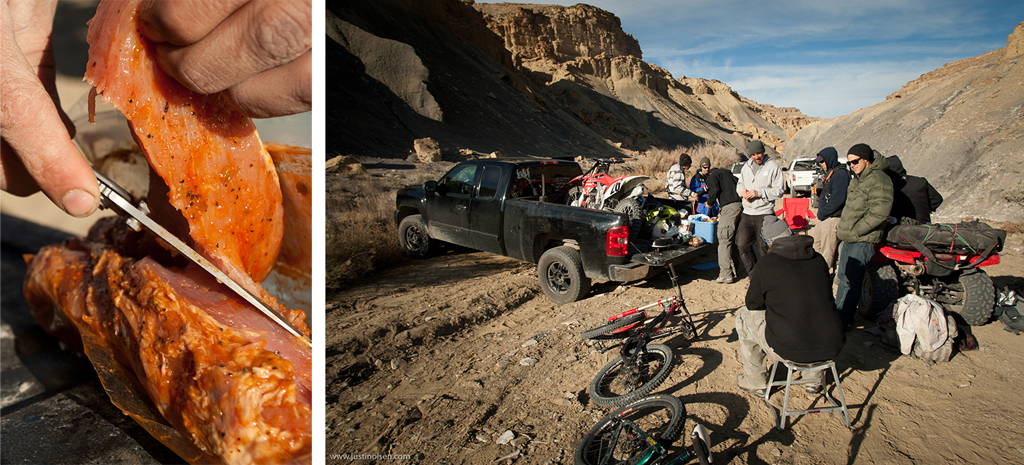 Big Trucks, Moto's, Mountain Bikes, ATV's and some pork tenderloin on the tailgate BBQ. Freeride knows how to operate with style in the middle of nowhere.