The folks at Bell
had a rather unconventional holiday party this Monday, December 17. While employees at surrounding Bay Area companies may have gone the typical wine, cheese and sport coat holiday party route, Bell employees decided to celebrate the Bell way: give back and get dirty doing it with half a day of trail work on sacred local Santa Cruz dirt.
For its holiday party, Bell rang in the holidays with shovels, rakes, gloves and plenty of mushy dirt along with reps from the Mountain Bikers of Santa Cruz (MBOSC), helping to improve a steep section of the Emma McCrary mountain bike trail in the Santa Cruz mountains (Pogonip). This hands-on effort follows a $5,000 donation Bell made earlier this year towards the development of the trail.
Trails are the lifeblood of mountain biking, and mountain biking is a big part of our business and what the Bell brand is about. While we're happy to write a check for a project like this, it pales in comparison to the visceral sense of accomplishment that digging in the dirt brings.




- Bell Director of Brand Marketing Don Palermini
Bell and MBOSC team were able to:
• Reinforce berms and the trail edges to minimize erosion
• Build up proper angles on the trail to ensure that water will flow according to the trail layout and not wash away the trail
• Replant trees to prevent people from riding off-trail to cut corners on trail switchbacks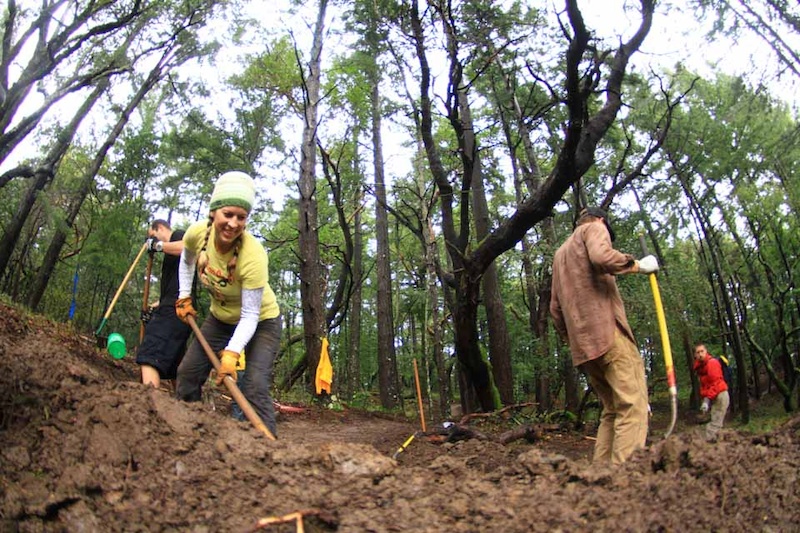 The Bell Sports crew buffs out a berm in perfect digging conditions. I wonder who won the Ro Sham Bo for first-ride rights?
Big thanks to Bell Sports from PB for keeping the faith!