Felt threw in its bet for top honors in the cross-country carbon club with an absolutely beautiful Edict Nine 100mm-travel dual-suspension 29er. Sports Marketing Director Doug Martin said that its Pro XC riders were planning to ride hardtails at the Sea Otter, but after putting in a single lap on the just assembled Edict Nine, both opted to compete on the new sled. The Edict Nine will be offered in the Limited shown here and two more affordable versions called the Edict 1 ($5899) and Edict 3 ($3899). Price for the Edict Nine LTD is a wallet-relieving $9799 USD.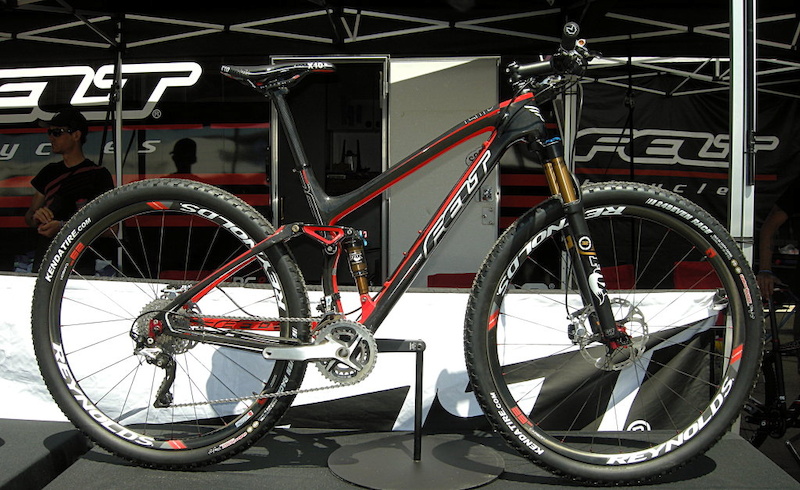 Edict Nine LTD Specs:


Frame - UHC Performance carbon fiber, 100mm travel suspension, FAST (Felt Active Stay Technology)
Fork - Fox 32 Float 29 100mm CTD FIT with Kashima coat, tapered steerer and 15mm QR
Shock - Fox Float CTD with Kashima coat
Drivetain - Shimano XTR 2x10
Wheels - Reynolds Carbon 29er wheelset w/Kenda 24/7 tires
Brakes - Shimano XTR hydraulic disk brakes with Icetech pads/rotors
Accessories - Prologo X10 carbon rail saddle, Felt carbon bar and seatpost
Weight - Claimed, 21 pounds
Price - $9799 USD
The Edict 's carbon frame does not use Felt's trademark Equilink suspension because the shorter travel does not warrant the benefits, say Felt's designers. In its place is FAST (Felt Active Stay Technology), a simpler rocker link suspension design with a flexible one-piece swingarm that eliminates the need for a dropout pivot. The head angle is 71.5 degrees, definitely on the XC side of the spectrum, bit not so far off that the bike couldn't be a sweet XC trailbike and the chainstay length is short, at 17.6 inches, so the 29er is reported to handle much like a nimble 26er trailbike. Felt says that the Edict's frame is made with a special nano carbon material, and a process that creates uniform compression inside the structure while it is being cured so that the inside of the frame is almost as smooth as the outside is. Extra material is molded into the downtube to protect the frame against the barrage of stones it will surely see in its lifetime.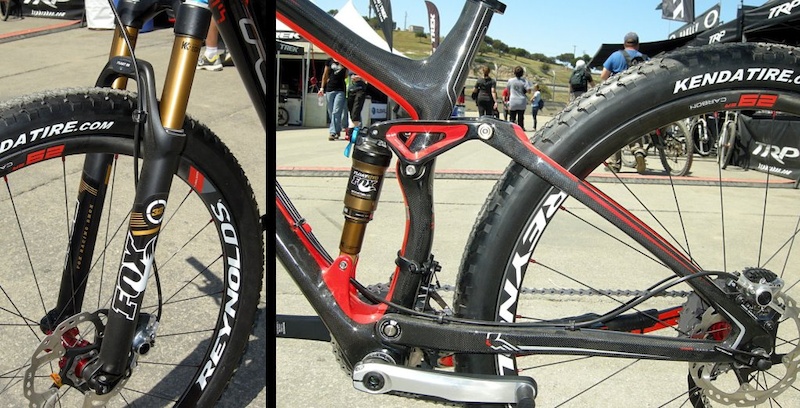 The Edict's 100mm-stroke Fox 32 Float 29er fork was chose to keep the Edict as lightweight as possible. A close look at the Edict's FAST rocker link rear suspension attests to the fact that Felt has a long and successful history in the carbon fiber game.
Those who demand a dropper post will be sad to know that there is no provision for a remote control hose or housing on the top tube. Zip ties will have to do, my friends. Otherwise, Felt's Edict looks to be a screaming fast rig for epic-length trail rides. Those in the market for a quick handling big-wheel XC trailbike that can double as a World Cup racing machine should add Felt's Edict Nine LTD to their wish Lists.
- RC