Tell us a bit about yourself:
I am Julia Hofmann, 27-years-old, studying interior design in my last semester and I have ridden mountain bikes for several years now. If I am not on the trails of our earth, I can be found at Franconia.
A couple of months ago, I got to know you as an event-assistant at the Lensescape Photo-Workshop, today you are a Cube Team Rider and have ambitious goals for the season. How did you build a career like that in a short time span?
Event-assistant really is understatement! Without me, as an international representative-agent responsible for sausages for the global acting Lesnsescape-Committee, you would have died of starvation and frozen to death. Steep career? - If I would know myself! Actually I only did what makes me feel happy. If I think about it, the time at Switzerland was responsible for that. Last winter I spent more time on my bike than ever before. Dave, a friend from Luzern, and I, went biking no matter what the weather was like. That inspired my passion for the two-wheeled vehicle and I've always wanted to get more skills, that is why I trained almost every day.
Sunny Ride of Live / Part 1 Julia Hofmann from Riding Trails on Vimeo.
What's your favourite terrain to ride and what do you ride normally?
Playing around is good and I do that as much as possible with everything that's in my way! It's hard for me to define only one discipline. I like DH, trails, pumptrack, but also cross country and road riding. If I'd have to decide, it would probably be enduro. It offers a bit of everything: technical up the hill, flowing downwards and compared to xc and road riding, I don't need to wear diaper-trousers.
And what have you done to be a podium contender this season?
Doing what is fun for me: Riding my bike really, really often, practicing things, that are still hard for me and enjoying the small and big outcomes afterwards. The feeling to be in front of an obstacle, riding closer, the doubts, the overcoming and finally mastering the obstacle really activates me and makes me achieve. Exactly these challenges were my daily life for the last half year as I turned the trails at La Palma into a training ground, together with a crazy horde of mountainbikers. Additionally I trained strength and endurance so that I didn't have to catch the taxi with my last bits of energy.
Is strength and endurance training necessary or do you only have to ride your bike?
Well, for me strength and endurance are not enough, that is too boring. But it is of course a part of the training schedule. I ride my bike up the hill and down again as much as I can, I work on endurance and sprints. But I do not only take the easy paths upwards, because the really technical ones with steeps increase my skills. I alternate between long, consistent rises and short ramps because that's what makes you weak during a race.
You've been to Switzerland and La Palma last winter – which landscape was better for your training?
Everything at the proper time! Switzerland was insanity, I could train endurance up long hills perfectly and also carrying the bike through the snow made me fitter. With lots of mud and cow dung at your feet, the shoes are better than any weight-belt. Also the downhill couldn't have been better for training. From muddy parts to snowy, icy trails there has been every possible ground condition. La Palma on the other hand: the contrast could hardly be starker. Not only a heat shock, but also the trail proportions have been completely contrary. My wheels broke a couple of times while riding through lava-sand, that reminded me of riding through deep snow at the Pilatus (where I also landed in a hedge because the wheels weren't controllable any more).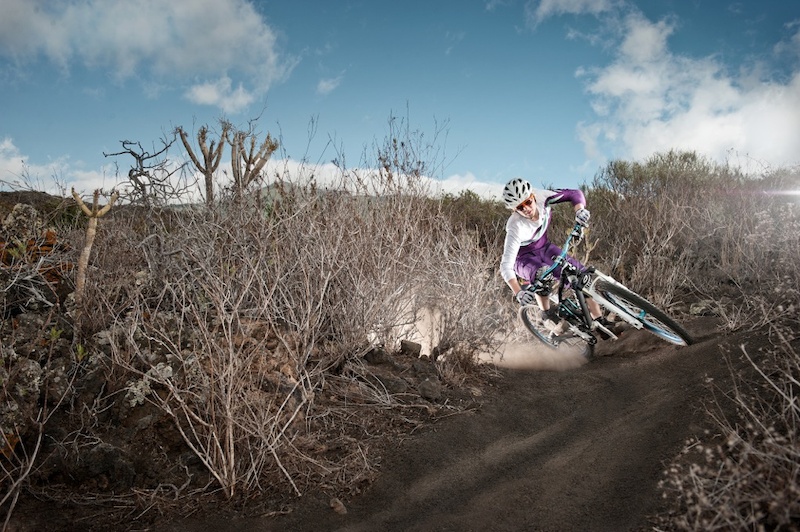 What is on your mind, being a freshman and what goals are you hoping to achieve this season?
If you are taking part at races, you always have a goal in mind. No matter if you're saying ''participation is everything'' or not. As soon as you are waiting at the starting line, next to hundreds of excited racers, the music is getting louder and more aggressive and a heli is flying above the bunch, the ambition is about to catch you and your goal is to be first. I am about to find out if that is going to be possible for me. I have to say that I am really excited and glad to attack the trails together with the Cube Action Team.
High goals are leading to high expectations – and because of that maybe too high of pressure. Are you somebody that needs pressure or does it discourage you?
Both! Maybe 'discourage' is not the right word, but I do think about being good enough. These thoughts also encourage me to train more.
Enduro is booming - do you think, that this discipline holds a lot of potential, especially for women?
Yes, I think, that through this discipline many more women are about to take part of races. I believe, that jumps at downhill-races are scary for most women – but it's the way you have to ride if you want to be fast. At Enduro it is different.
We have a really cool video from you, that obviously is the result of a big time commitment. Where did you shoot it and what are you hoping to express with it?
We shot the video at one of my favourite trails at La Palma. After swallowing dust for two months, the mud on the Puntallana-Trail was really funny. But I can tell you: I have never before changed my clothes as much as I have done for this video. It shows my training, my philosophy and the fun, I have while riding. You won't believe how often I have tried to explain to Spanish winegrowers, that I need their car for a mountain bike video. Finally I got it, just the same as if I'm driving at home.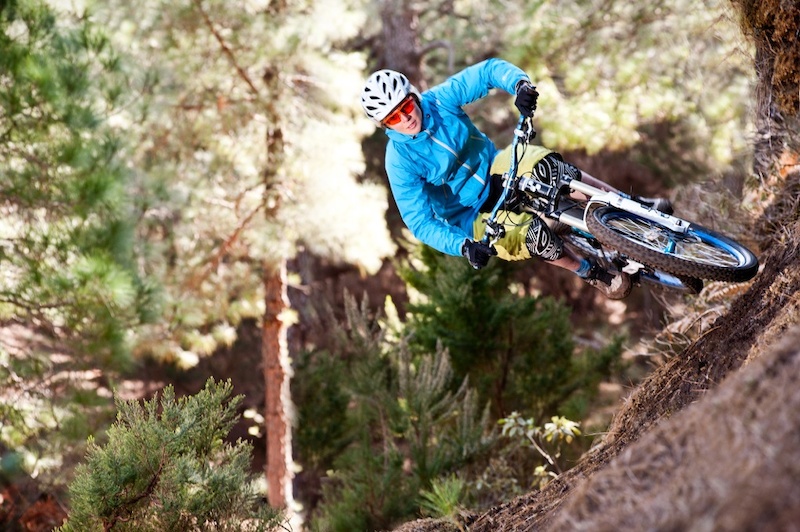 What are you going to do during the upcoming weeks, the Enduro season is starting very late – what are your plans?
Yes, the season is starting very late, the first real race is at Andorra, in July, until then there is a lot of time. I am about to travel to Scotland again with Max Schumann, Tobias Woggon and Manfred Stromberg, visiting some trails there and hoping to finally make it to the Isle of Sky. Last autumn my car broke-down 600m before the bridge and I had to cancel the trip, but this time I expect everything to be good. I am not going to make the same mistake again, driving to England with an Italian car. This time I am going to take my Land Rover, even in the smallest grocery store you are going to find spare parts for it.
Julia, Thanks for the interview! Do you have anyone you'd like to thank?
First of all I want to thank you for the interview. Also I want to thank Cube, who enable me to realize my plans and actions, and I want to thank all the others that race me and from which I can learn a lot. Hope you enjoyed the video!
Video and interview by: Tobias Woggon
Stills by: Manfred Stromberg