The Knolly (say, 'Know-lee') Endorphin has a cult following that ranges far from its Vancouver birthplace. The magnetism of the 140-millimeter-travel aluminum-framed AM/trail machine comes from the fact that its creator understands the Northwest riding style and his frame numbers are fine-tuned to the genre. The Endorphin uses Kolly's patented Four-by-4 linkage suspension, an improvement on the classic FSR/Horst-link four-bar design that separates the suspension metrics from the shock rate by means of an independent linkage that drives the shock. With a frame that weighs in at 6.55 pounds, including its Fox Float CTD shock, a complete Endorphin can be built up as a plausibly lightweight trailbike, or as a sturdy All-mountain ripper. Sizes are small, medium, large and X-large and the MSRP for the Endorphin frame and shock is $2250 USD.
Kolly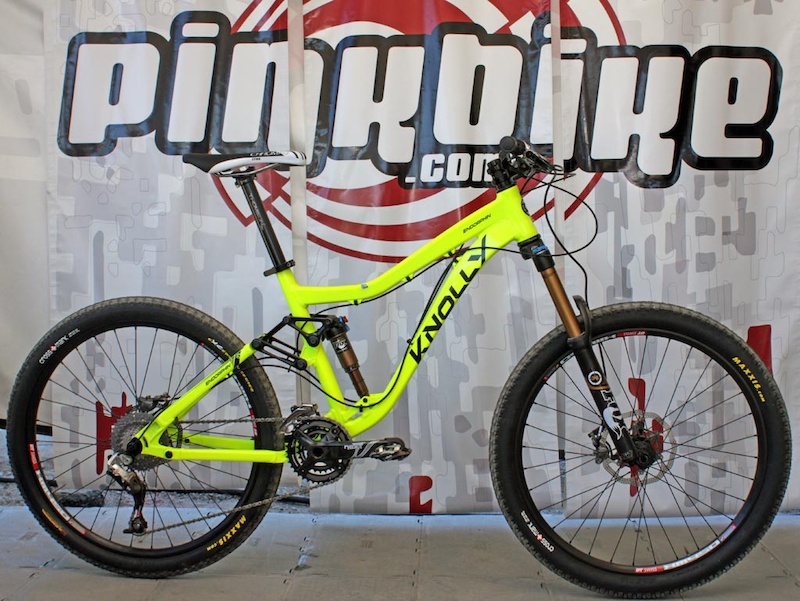 Kelsey Hamilton photo



Knolly Endorphin Details:


-Frame: Aluminum, rectangular-tube, four-bar linkage suspension
-Sizes: S, M, L, XL
-Head tube: 1.5 inch zero-stack (tapered steerer compatible)
-Linkage: Patented and proprietary Four by 4 Linkage
-Tire Clearance: 26 x 2.5 inches
-Recommended fork travel: 140-160mm (5.5-6.3 inches)
-Rear Travel: 140mm (5.5 inches)
-Rear Hub: 142mm x 12mm thru axle
-Dropouts: 12mm pinch-bolt type with replaceable derailleur hanger
-Weight: Frame and Fox Float CTD shock - 6.55 pounds
-Price: frame and shock - $2250 USD
Knolly offsets the seat tube forward of the bottom bracket to exaggerate the seat angle. This anomaly moves the saddle 'forward and out of the way' when it is slammed to emulate the seating position of a dedicated big bike on the descents. The effective seat angle is 73.5 degrees and the head tube angle is 67 degrees with a 150mm fork, so the simple addition of a longer fork will slacken it out a half degree. Oddly, the Endorphin we shot did not have a dropper post, a sad omission for a machine tailored for the Pacific Northwest. The guides are there, however, and the seat tube is straight and reamed so a post will drop into its entire length. Another nod to the rain-forest slug-poppers in Knollyville is full-length cable housing to keep mud and crud from gumming up the shifting. Most Knolly owners will be adding a chainguide, and ISCG-05 tabs are standard equipment on the frame - as it should be.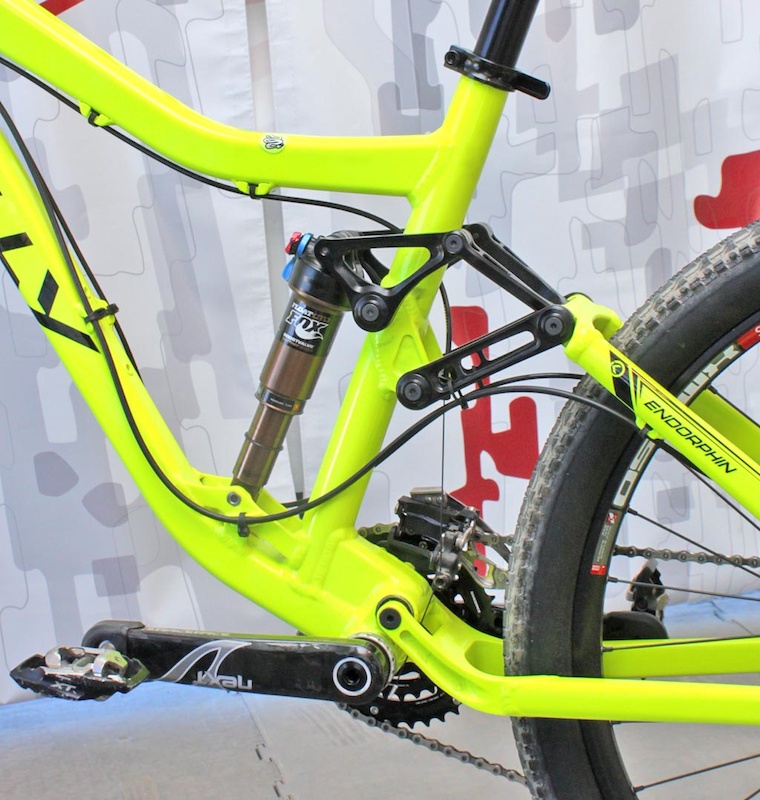 Knolly's Four by 4 suspension linkage is CNC-machined. The main four-bar suspension ensures that the Endorphin remains active under braking and pedaling, while the secondary linkage that drives the damper controls the shock rate. Interesting that the Specalized Demo 8 frame also drives the shock separately from the four-bar linkage. Kelsey Hamilton photo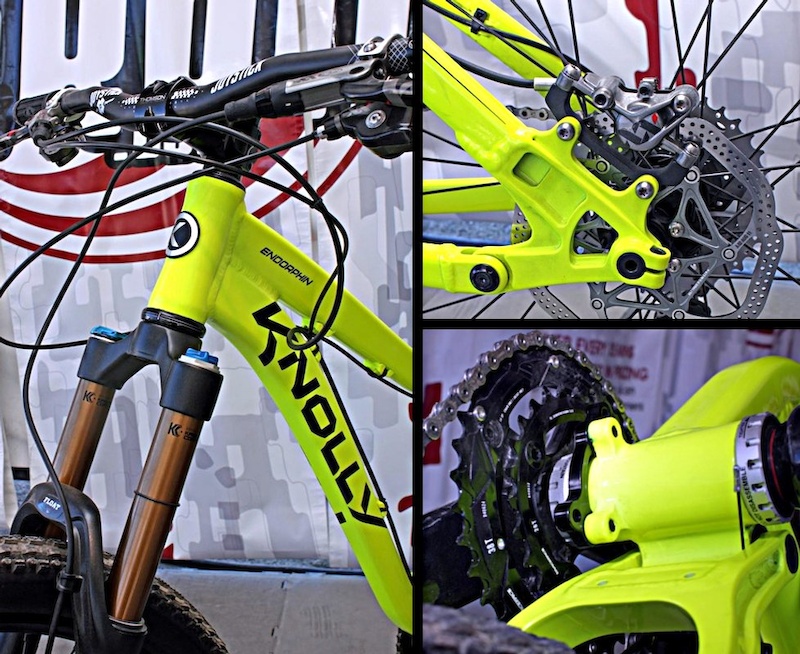 (clockwise) Endorphin frames use a straight 1.5-inch head tube so any steerer tube will fit - tapered, 1.5 or 1 1/8 inches will do. The Four by 4 suspension begins life as a FSR-style four bar as the rear dropout attests. Clamp-type dropout are a plus for rigidity. ISCG-05 tabs are a must in the single-chainring world of all-mountain and the threaded bottom bracket is compatible with almost any crankset. Kelsey Hamilton photo
Those who wish to peruse the finer details of the Knolly Endorphin can
visit its geometry page
, but the highlights are not in any of its specific numbers. Instead, the Endorphin has been tweaked over time to be the 'one bike' for a talented trail rider who happens to huck, jump and drop on the way around the mountain. I have only a little saddle time on an Endorphin, but it was enough to understand its following. Every Knolly rider I have come across has gushed about the bike's handling. You can't buy that kind of advertising. As they say in sheep country: 'Eat more lamb - 10,000 coyotes can't be wrong.'
- RC