Norco's new downhill bike, the Aurum, is a drastic departure from the company's traditional look. Gone are the days of upright, compact geometry and bulky appearances. Instead you'll find formed tubesets, flowing lines, and contemporary angles that better suit today's riding, along with a much evolved four-bar suspension system offering 200mm of rear wheel travel. The Aurum 2 is assembled around the very same frame as its more expensive brothers, and features a competitive build that sees the bike weigh in just short of 40lbs (
without pedals
) - two points to keep in mind when considering its reasonable $3550 USD asking price.
Norco Aurum 2 Details

• Purpose: Downhill

• Hydroformed 6061 aluminum frame

• Rear-wheel travel: 200mm

• Tapered head tube

• Integrated fork bump stops

• Integrated replaceable derailleur hanger

• Gravity Tune geometry

• X-Fusion Vector RC shock

• Weight: 39.7 pounds (

w/o pedals

)

• Sizes: small, medium, large (

tested

)

• MSRP: $3550 USD




Speedy Looks

Aurum is the latin word for 'gold', which is fitting given that the bike is designed to take downhill racers to the number one spot. The bike appears long and sleek, low and fast, with race-style graphics that accentuate flowing curves. Although appearance doesn't always equate to performance, the shaped tubes do allow for huge opportunities to manipulate strength and stiffness in key areas while minimizing weight. Smooth double-pass welding around both the head tube area and pivots produces an improved weld bead that is said to better distributes loads. The pivot junctures are also machined into the frame tubes rather than welded on, greatly eliminating the chance of mis-alignment or failures at these locations. We don't like to refer to inanimate objects as 'sexy', but the Aurum's smooth lines and flowing curves are just that.
It's In The Details



In a day and age where minute details set bikes apart, Norco has a blue ribbon on their hands. Although the Aurum is a ground-up redesign, many facets of the downhill bike were improved upon rather than reinvented. It boasts attention to detail that is nearly invisible, yet impossible to ignore. Integrated bump stops for the dual crown fork stanchions prevent dings to frame and fork or crushed cables/hoses, and an internal seat binder eliminates the possibility of catching a rider's clothing. Clean pivot and shock hardware eliminates exposed bolt threads at the rear shock mount as well, but perhaps the most notable aspect of the Aurum's clean configuration is one that goes largely unnoticed: its cable routing. The cables are so tidy that they nearly disappear into the frame, tricking one into thinking that they are routed internally, and they move with the suspension just enough to keep them completely out of the way. It seems that Norco has attempted to create the neatest frame possible, and impressively have left little to improve upon for a first-year product.



Integration is a running theme with the Aurum. Fork bump stops, incredibly clean hardware, and the bike's seat post binder all show the forethought that Norco put into the bike.
Norco has inverted the concept of the derailleur hanger on the Aurum by utilizing the Syntace X-12 rear axle system. Rather than the traditional steel bolt with replaceable alloy hanger, an aluminum pinch bolt is used for the rear axle that also serves to hold the stainless steel hanger in place. In the event of a significant impact, the alloy bolt will snap. This concept seems like an improvement over traditional designs where an alloy hanger could bend and put the derailleur right into the spokes. A spare hanger bolt is integrated into the frame just ahead of the crankset on the non-drive side, saving you a walk out of the bush. Internal threads inside the bolt make for easy removal of a sheared piece and re-use of the original steel derailleur hanger.


Norco ingeniously integrated a spare derailleur hanger bolt into the frame, just in front of the bottom bracket.
Aurum Suspension
Norco has been employing a four-bar suspension design for many years now and the Aurum continues on that same path, albeit with a greatly evolved version. The linkage is known for it's neutral platform that keeps pedalling and braking forces to a minimal affect on suspension actuation and Norco has termed their rendition of this suspension rendering as A.R.T. (
Advanced Ride Technology
). A.R.T. claims to increase pedalling efficiency, increase square-edge bump compliance, improve braking performance, and improve leverage ratio curve. How? Well, for starters it provides increased chain growth, creating anti-squat forces which effectively counteract forces that produce suspension bob. This improves the wheel's ability to move rearward as the bike goes through its travel, allowing the wheel to move out of the way of obstacles while maintaining active suspension under braking. The Aurum's suspension is a highly developed version of what Norco has successfully utilized for years, but further refined and manipulated in a new chassis.


Although the Aurum is a ground up redesign, Norco sticks with the four-bar linkage for an active suspension platform. The rear end receives just as much hydroforming as the front, with S-curved stays for added rigidity.
The Aurum's ''Holloform'' rocker is a one-piece linkage arm that provides lateral support to the seat stay area of the bike's rear end. Being one solid piece, it also prevents torsional forces from affecting the rear shock, reducing stiction and increasing shock life. Of note on the Aurum is the lack of welds at the clevis points in the rear suspension, with the clevis pivot points being machined into the frame tubes.

The bike's one-piece rocker arm makes for a stiff rear end that tracks straight and true. Machined clevis points also aid in the frame's rear-end stiffness.
Geometry
Norco's 'Gravity Tune' geometry puts a twist on typical bike metrics. With Gravity Tune, as frames go up in size, the front AND rear of the bike get longer. This is very different to the majority of frames that feature the same length center-to-rear measurement regardless of size. The idea behind Gravity Tune is to counteract a fluctuation in center of gravity that occurs as rider height varies between frame sizes. Although chain stay length increases by a very slight 5mm (
less than 1/4 inch
) as sizes go up, Norco must really believe in the concept since it creates a whole new series of parts for the production lines to manufacture.
Aurum 2 Component Check
Bang for buck, the Aurum 2 is loaded with a parts spec of respectable weight and performance components Due to the trickle-down effect, bikes like the Aurum 2 get a rider into a race-ready package that was considered top of the line just a few years ago. Performance-wise, bumping up to the next tier, the Aurum 1, isn't going to net any huge gains for the intermediate rider, although it will drop some weight off the bike, as well as your wallet - the Aurum 1 retails for $5325 USD. Considering that the Aurum frame with rear shock costs two thirds of what the Aurum 2 complete bike sells for, it's easy to see the value Norco has created in the Aurum 2.


Avid Elixir 5 brakes mount up to a Norco house-brand 760mm handlebar, while a Blackspire DAS direct-mount stem finishes up the cockpit.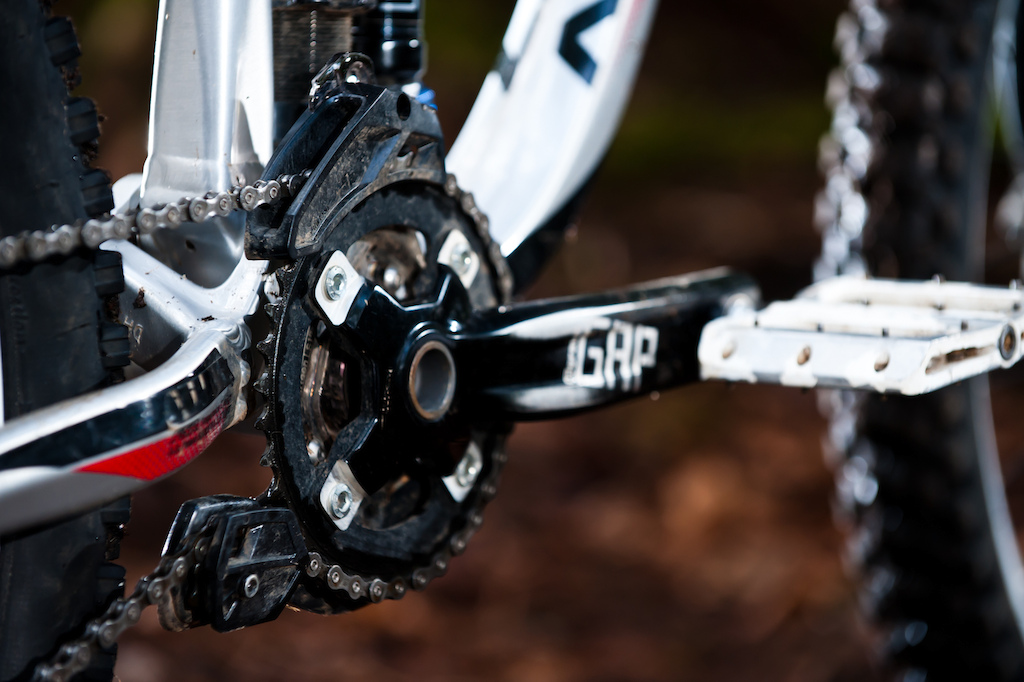 A 36 tooth ring is bolted up to FSA's Gap Mega Exo DH cranks. Norco has spec'd an e*thirteen LG1 guide, a good choice that has proven to be reliable over time.
Specifications
Release Date
2012
Price
$3550
Travel
200mm
Rear Shock
X Fusion Vector RC
Fork
Rockshox Boxxer RC Race Coil
Headset
FSA
Cassette
SRAM PG-950 9 speed cassette 11-28T
Crankarms
FSA Gap Mega Exo DH single 36T 83 mm shell
Chainguide
E.13 chainguide
Pedals
Alloy low profile flat MTB pedal
Chain
KMC Z-99 9 speed chain
Rear Derailleur
Sram X-7 short cage
Shifter Pods
Sram X7 9 speed
Handlebar
Norco 6061 alloy double butted 760 mm
Stem
Black Spire zero degree direct mount
Grips
Norco lock on grips
Brakes
Avid Elixir 5 front disc brake, 200 mm rotor
Hubs
Alloy sealed bearing 20 mm, Alloy sealed bearing 157 x 12 mm, Syntace axle
Spokes
Black stainless spokes
Rim
Sun Inferno 29 rim
Tires
Kenda Nevagal 26 x 2.50 with Stick E rubber and CAP casing
Seat
WTB Silverado Comp
Seatpost
Norco two bolt seattpost
---
Riding the Aurum 2
First impressions:
The Aurum puts out a 'I'm fast as hell' sort of vibe that we picked up on long before throwing a leg over it. Once it came time to shuttle the DH trails, it certainly lived up to those early thoughts. Long and low, supple and smooth, stiff and responsive; the Aurum tracks straight, noticeably so in rough corners and off-camber bumpy trail. Our riding comrades were quick to comment that the bike straight-up made us faster.
Suspension:
While the Aurum is an all-new sled for Norco, the four-bar linkage is not. And for good reason. It simply works well and is active on full-time duty, despite rider input via pedalling or braking. The initial travel, small bump compliance feel is excellent, offering a very forgiving sensation off the top and into the mid-travel realm. A.R.T. suspension tuning creates a natural progressiveness that allows the suspension to continue to be highly active over rooty or rutted hard compressions, lending to a very intuitive feel in high-speed rough terrain. We never really noticed the rear suspension working once we got the bike up to speed, and that's a very good thing. Ending stroke suspension action provides a mellow ramp towards the bottom out phase, which is largely controlled by rear shock compression settings, and the Aurum is surprisingly active even towards the end of it's travel.
Perhaps the most stunning aspect of the Aurum 2's component spec is not where one might expect - X-fusion's Vector RC shock was simply an eye-opener. The affordable rear damper has us re-thinking our preferred setups, with a feel right on par with the big name manufacturer's top-tier offerings. It has the usual spring preload, rebound, and compression dials, but what's different is how these dials affect the rear suspension, or should we say how easily noticed a single click is to the suspension. Starting with the Vector RC's compression circuit wide open, the shock is incredibly supple throughout it's range. Fast, tight corners resulted in sunken travel that absorbed exit speed and we noticed an occasional audible bottom-out on harsh compressions, so we added two clicks of compression damping. The bike now rides higher in the travel in hard corners, resulting in accelerated exiting as well as bottom-out resistance. The added compression damping has minimal affect on the suppleness of the suspension range. There is no air adjustment to fiddle with, and no beginning or ending stroke dials, it's just a simple, easy, and straightforward approach to rear suspension.
The Rockshox Boxxer RC Race Coil fork uses the same stout, World Cup proven BoXXer chassis, minus a few internal bells and whistles that match up well to the simplicity of the X-fusion rear shock. Like out back, the fork's adjustments are limited to spring preload, rebound, and compression, which is still sufficient for most any rider. Boxxer RC Race's preload is internal, and after our initial runs revealed that the fork is substantially firmer than the rear shock, it was time for some adjustment. We opened up the Boxxer's spring side to find three preload spacers on the coil. After removing two of these to get the sag we needed to match the rear suspension, the bike feels much more balanced.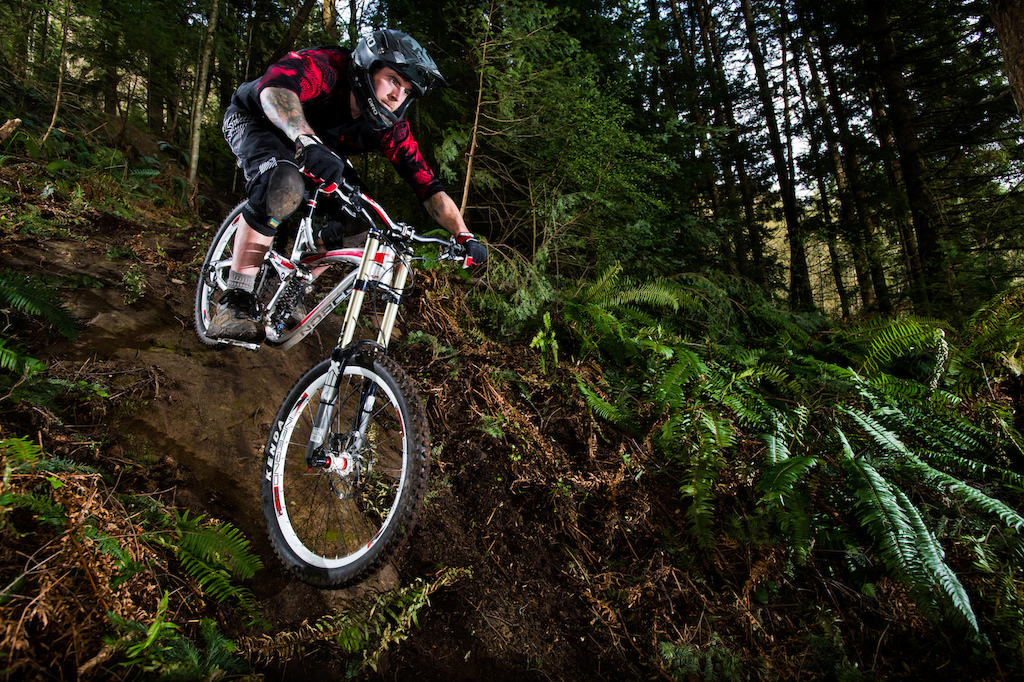 The Aurum holds it's own on the steeps by offering geometry that keeps rider weight centered in the frame.
Frame rigidity:
The defining characteristic that separates the Aurum's frame from other bikes in it's class is it's lateral rigidity. It tracks straight regardless of terrain nuances, largely thanks to the added stiffness of S-bend hydroformed tubing and the one-piece Holloform rocker. The frame feels very tight and creates the responsive, snappy ride. Cornering is the most fun attribute of having such a stiff frame, with the bike's plush suspension dipping into corners with negligible torsional force on the rear shock, thereby maintaining uncompromised suspension even under side load on the frame. Brake bumps, roots, and rocks quickly become berms under Aurum's tires. This is one train that isn't easily swayed off the rails once up to speed, but it is also far from being a monster truck of a bike.
Fit:
As large-sized bike riders, we were unsure about the measurements of our size large test Aurum. Usually a 25" top tube would fit into the "giant" size category, but the large felt just about right for a 6'2", 200-lb rider. The long top tube measurement gives the Aurum a Cadillac feel that, when combined with the sub-14" bottom bracket height, offers the rider an added element of stability at speed. Body weight is positioned in such a way as to offer the highly sought after 'in the bike feel' that gives superior control when cornering. The long and low geometry keeps the rider confidently positioned behind bars, never succumbing to the over-the-bars sensation. There were a few instances that we felt like we were hanging off the back of the bike, with the Gravity Tune geometry forcing rider weight down into the crouching monkey attack position. This requires aggressively bending the elbows and tucking into the frame, putting the rider in a position that allows for greater rider input to the suspension, rather than letting the bike do all the work.
Handling:
Traction counts for a lot and the Aurum's stiff frame coupled with supple suspension offer plenty of it. The Aurum sticks to the ground better the harder it's pushed. The deeper into the travel the frame goes, the better the rider's body position becomes. Pushing into the bottom bracket through the feet exaggerates this effect, as well as accelerates the bike. While many DH bikes have a decidedly 'dead' feel to riders of other disciplines of mountain biking, the Aurum is responsive and quick, feeling light and nimble when pumping over flowy trail. With suspension supple enough to absorb crunchy fall foliage, the Aurum isn't going to offer the quickest acceleration through the pedals, but pedalling isn't bad, nor great, but pretty average in the world of big travel bikes. As plush as the Aurum is, it's ground hugging capabilities do not totally dismiss it's playful side. Riding the Aurum gives the rider a sense of power over the bike that isn't typical of downhill machines. It has plenty of pop for jumping, and certainly feels solid when touching back down, but it doesn't have that quick, flickable feel of a short travel bike. The base model Aurum 2 doesn't compete with top level pro race bikes for weight, but it rides lighter than many more expensive, lighter offerings. It's hard to call it a fun bike when we felt like serious bad asses while riding it.
Component Selection:
We didn't suffer from any component failures throughout our time on the Aurum 2. Sun's Inferno 29 wheels are not 29" diameter for those who are wondering. The 29mm wide rim proved stout and sturdy even while running minimal tire pressure. A routine initial re-tension after the first couple rides kept the wheels taut enough to withstand the rest of the test without a need for truing. Kenda Nevegal tires are becoming a favorite in our stable, offering killer traction in nearly all conditions, and they also respond well to a variety of tire pressures without pinch flatting when run quite low. Sram's 9-speed X7 drivetrain kept us motoring along without a hitch thanks to the E.thirteen LG1 guide, but riders will want to check up on the Gap cranks occasionally, as we had ours come loose twice during the test and fortunately caught it just before loosing the crank axle bolt. Avid Elixir 5 brakes are a fine choice for a lot applications, although we would have preferred to see a quad-piston caliper like the Code R for added confidence on sustained steeps. That niggle will obviously be rider dependent, as those who weigh less than us may not find themselves wishing for any more power.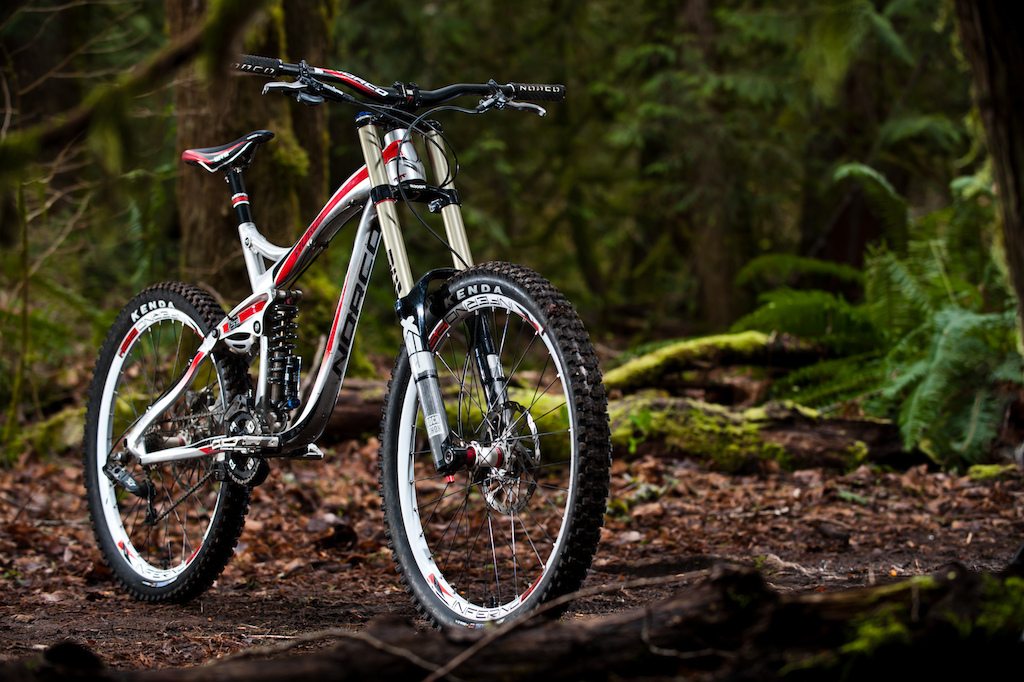 Racecar looks and performance. The Aurum looks fast just sitting still, and this is one case where looks do not deceive.
Technical report
• Fork bump stops offer a limited turning radius, making the Aurum potentially difficult to negotiate slow technical lines. This is a DH bike built for speed, however, so this is not likely to bother most riders.
• Grips look great with Norco-branded design, but the rubber cut-outs that define the word 'NORCO' in the grip peel off rather quickly, leaving distracting divots for hand ergonomics.
• E.thirteen's LG1 keeps the drivetrain focused with never a mis-shift on our test bike.
• Kenda Nevegal 2.5 tires with Stick-E rubber perform flawlessly in nearly all conditions, even in the wettest of wet. Slightly slow on the dry stuff, but they maintain a solid hold in all types of corners. CAP casing reduces pinch flat incidents, and we are happy to have never flatted our test bike despite low pressure in very rough terrain.
• Norco's in-house handlebar could be a little wider. At 760mm, it's nearly an inch shorter than the industry standard for DH.
Pinkbike's take:
| | |
| --- | --- |
| | Norco's redesign of the DH bike has left us with one heck of a podium contender. The Aurum's svelte appearance and nimble, reactive handling are sure to change brand perception for the Canadian bike giant. The chassis is light and tight, with an appearance and geometry for downhill speed, while a number of integrated features show a lot of forethought into functional design. The four-bar A.R.T suspension proves to be responsive and fully active at all times, lending to an intuitive, predictable feel whether railing corners or plowing the rough stuff, while Norco's Gravity Tune geometry, although having a gimmicky sound to it, makes complete sense and feels very well balanced. Due to it's angles and stretch, the Aurum is not a bike built for slow speed maneuverability, so freeriders look elsewhere and beginners prepare to sack up. The antithesis of a versatile steed, the Aurum 2 is a DH race bike, with a long and low feel that will detract enjoyment from anything but shuttle assisted DH trails. Norco now has a turn-key special that is sure to ramp-up the learning curve for newer riders on the DH race circuit. -Brad Walton |
www.norco.com