Warm sunny skies, steep loose shale, and the best racing of the season is in The POC Eastern States Cup. The POC ESC came home to Plattekill for Series Race #2 and USA Cycling's National Pro Tour, The Pro GRT #3. Trek World Racing's Aaron Gwin and DRD's Lauren Daney repeated their Mountain Creek wins on Plattekill's super steep terrain.
Resurrecting one of the all time favorite race trails, The Steve Porraro Memorial Track ran steep and fast in the loose shale. The course was a perfect mix of steep technical terrain, high-speed traverse, and big jumps. There was plenty to keep riders on theirtoes with this track. The POC speed trap recorded the fastest pro, Adam Morse at 37 MPH . The weekend weather was warm with sunny race day skies in the Catskills. A perfect weekend of Racing unfolded.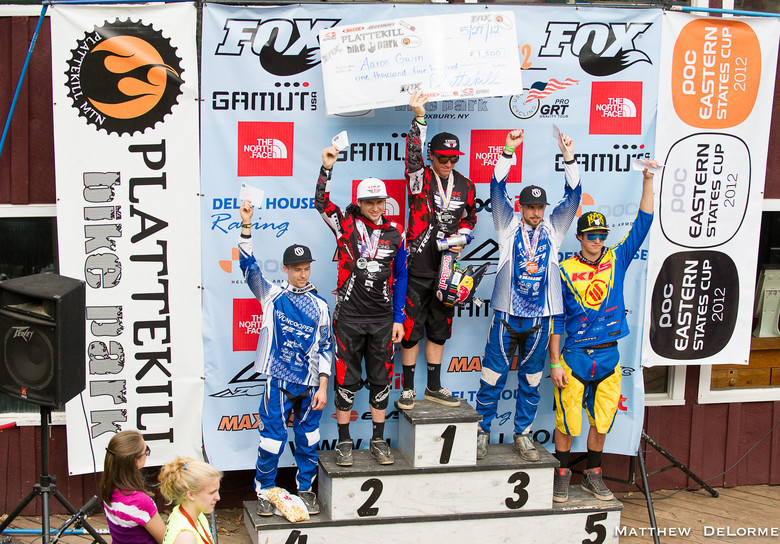 Trek World Racing, One Ghost Industries, KHS, Voncooper, Oliver Racing and other top teams were in attendance. World Cup Series Champion Aaron Gwin took 1st place at 2:11.00, TWR team mate Justin Leov was hot on his wheel with a 2:11.68. Yeti Voncooper's Phil Kmetz is on a tear with another series third place finish at 2:16.65. In the Junior Expert class Luca Shaw took top honors with a 2:21.34, and all the way from Newfoundland Jordan Hodder took Second with a 2:26.50. Walker Shaw was third at 2:29.51. Women Pro was won by Lauren Daney, 2:49.53, followed by Joanna Petterson at 2:51.53 and Rae Gandolf at 3:17.96.
It's been an amazing start to the season for the POC Eastern States Cup! Thanks to POC, Loeka and all who have come out to support us. Lets keep the momentum going, we have a great season ahead of us. Hope to see everyone next weekend at POC ESC Race #3 at Attitash Resort, New Hampshire!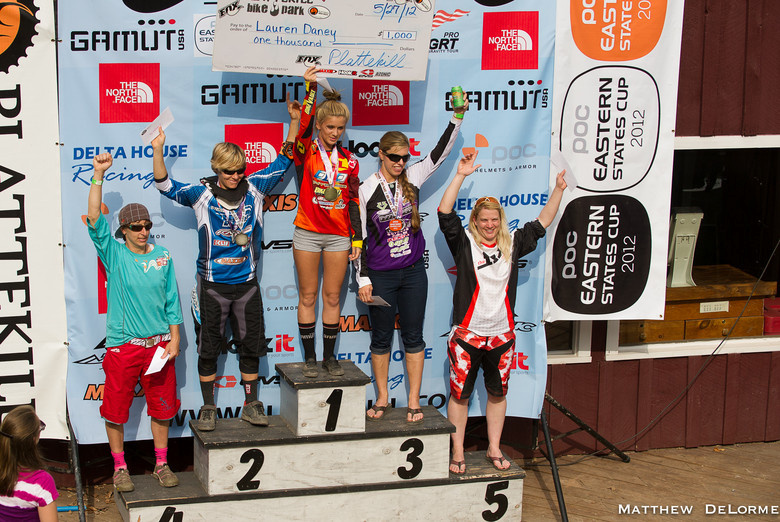 The ESC has some of the fastest racers in the world. POC ESC Men's Pro Points Leaders are Aaron Gwin, Justin Leov, Phil Kmetz and Gavin Vaugn. At Attitash this weekend the Pro Women's ProGRT leader Lauren Daney and Men's ProGRT #3 and #4 Voncooper's Phil Kmetz and Gavin Vaugn will be in attendance. Australia World Cup Racers: Matthew Dodd and Jesse Bare are racing Attitash and Pat's Peak POC ESC #4 the following weekend
For a second year, Attitash Mountain Resort will serve as a host venue for the POC Eastern States Cup downhill mountain biking series. The POC Eastern States Cup is the USA Cycling Eastern Regional Championship Series with events being held in New Hampshire, Vermont, Massachusetts, and New York. This year, Attitash Mountain Resort will host two events, a regular series points event on the weekend of June 2 & 3 and the New Hampshire State Championship Finals occurring September 15 & 16.
"We are pleased to again host the Eastern States Cup events and to showcase the downhill terrain at Attitash to a visiting field of New England riders," said Attitash Mountain Bike Programs Coordinator Nate Waterhouse. "The two weekend events, featuring the points event in June and the state championship finals event in September, should be an exciting race and fun weekend for the riders."Attitash has been offering lift-serviced, mountain biking since the late 90's.
The POC Eastern States Cup event will feature riders competing in a single run format taking the best times in age and rider level categories. The course will be a mix of descending open trails and single-track sections through the woods on Attitash Mountain. These are part of a greater network of 27 designated mountain biking trails that Attitash has continued to develop and maintain for summer & fall use. Attitash has over 20 miles of mountain bike trails including the more difficult and technically challenging downhill trails and eight cross country trails more suited to all abilities and those just beginning to discover mountain biking as a recreational activity. The mountain bike season at Attitash Mountain Resort will open, weekends only, beginning Saturday, May 26 and will then be open daily for the summer beginning Saturday, June 16. Mountain bike season passes are available for only $99. The Dirt Trax Bike Shop, located on the main floor of the Attitash Base Lodge in the South Wing, stocks a full line of mountain bike clothing and accessories, as well as a fleet of rental bikes and protective gear.
For more information on the POC Eastern States Cup events and mountain biking at Attitash, visit attitash.com and easternstatescup.com.
Attitash Mountain Resort is the original summer fun ski area in the Mount Washington Valley offering the original Alpine Slide, year-round Nor'Easter mountain coaster, waterslides, lift-service downhill and cross-country mountain biking, scenic summit chair ride, and more. Attitash Mountain Resort is also home to the Attitash Grand Summit Hotel & Conference Center providing the areas only full-service, slopeside accommodations. For further information, please visit attitash.com or call 1-800-223 SNOW.
Attitash POC ESC Race Dates:
June 2-3, 2012 POC ESC # 3
September 15-16, 2012 POC ESC #12
Address: 775 Route 302 Bartlett, NH 03812
Camping Allowed: Yes
Lodging Deals: Mention the race and get 20% off lodging at Attitash Mountain Village Resort when you are up here....great rates for condos across the street from the race course! Standard studios with kitchens from $71/night until June 14th! Call ý1-800-862-1600