Will the gearbox ever eclipse the traditional derailleur drivetrain?
The future always looks so promising. Flying cars, the Jetsons cartoon, and Marty McFly's hoverboard in Back to the Future II have done well to convince us that we'll be living a better, easier life in the near future. Gearbox bikes could also be added to that list of non-starters, with a general lack of acceptance by consumers that has been fuelled by an equal lack of commitment from both bike and component manufacturers. Sure, there have been some boutique brands making a go of it - Lahar (RIP), Pinion, Zerode with their Alfine equipped DH bikes, and the Germans at Nicolai have been pushing things for many years as well - but the average rider has never been able to pop into their local shop to choose from a number of new gearbox bikes. And, at the risk of sounding negative, we are willing to bet they they will be able to purchase that hoverboard before any major manufacturer steps up to offer a proper gearbox bike.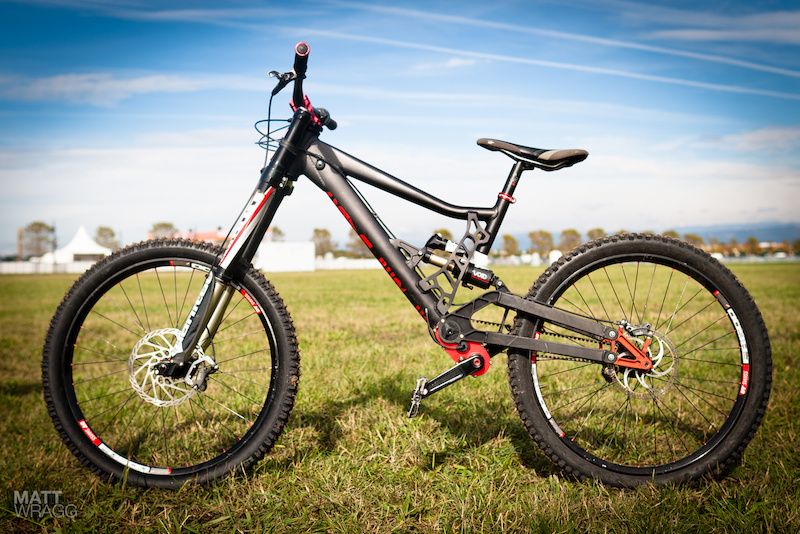 The Cavelerie Falcon DH bike ticks all the boxes: nine speeds via its Effigear transmission, proper angles, 200mm of travel, and a claimed weight of under 40lb. So why aren't we all riding bikes like this? Blame the skyrocketing evolution of the derailleur drivetrain.
Why it won't happen:
The potential was certainly there. With no derailleur or flimsy hanger to smash to bits their insane reliability should make a Unimog look fragile, and a single chain ring and cog setup means that chain management is a cinch. Factor in the centralized, if a bit hefty, weight, along with less cables to deal with, and they should have unquestionably upstaged the rickety old derailleur systems that we've been using for decades. A funny thing happend over the last five years, though; derailleur drivetrains got really, really good. We're talking about the system as a whole, from lighter weight chain guides that don't rub or bend, smartly designed derailleur hangers that won't contort from a bit of contact, and even easy to service freehubs that seem to last for seasons of abuse before needing some love. Evolution is a wonderful thing but it also weeds out the weak, and gearboxes are the slowest antelope in the herd.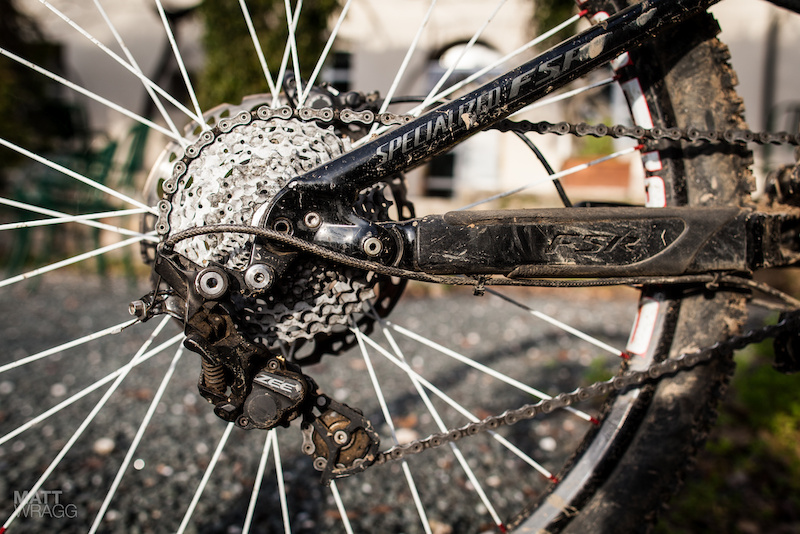 Shimano's Zee derailleur has proven to be very reliable, and its clutch system goes a long way to minimizing dropped chains.
Derailleurs are reliable... finally.
There was a time, only a few short years ago, when it wasn't uncommon to go through four or five derailleurs in a big season of riding, especially if most of your time was spent on a downhill bike. Catch your low hanging derailleur on a rock or root and you could expect it to self destruct, spraying parts over the trail and leaving you stranded. Cages cracked and twisted, putting the chain into the spokes and starting a chain reaction that would only end one way. Pivot pins would work themselves loose, especially on low-end derailleurs, and slip out, allowing the parallelogram to quickly take a different shape. No matter what company you prefer, both SRAM and Shimano have improved in leaps and bounds over the last few years, and it is fair to say that even inexpensive offerings from both companies can stand up to some serious abuse these days. We put loads of winter miles on SRAM's 10 speed X5 model, and at a very reasonable $64.00 USD, it impressed us immensely. In fact, it is still running fine to this day. And the same can be said of Shimano's SLX derailleur, especially now that it comes equipped with their Shadow Plus clutch system.
| | |
| --- | --- |
| | While high-end aftermarket parts can be expensive, competition has lowered the cost of OEM components to insanely low levels. Adding the cost of a relatively expensive gearbox at the factory level would translate into a large increase in the retail cost of the bike, a rise that would either not be accepted by the consumer, or that would have to compensated for by a down-spec on the rest of the bike's build. Deciding to purchase a mass produced gearbox bike would essentially be similar to buying an overpriced Toyota Prius, more of a declaration of higher awareness and an idealization of the future that still gets you back and forth to work on time. - Mike Levy |
Chains don't fall off like they used to.
Anyone who rode a downhill bike regularly eight to ten years ago will likely recall many frustrating moments spent trying to un-jam their chain from between any number of parts on their bike. Our weak bottom bracket spindles would bend, putting everything out of alignment, spindly crank spider tabs would do the same, and a lot of chain guides on the market at the time varied between dangerous and just plain shitty. Fast forward to today and it is pretty rare to experience any of those issues. Chain guides have also evolved into mega-light and rub-free designs, with offerings from MRP, e*13, Gamut, and others, that will keep your chain put unless you did your best to muck up the install. Clutch derailleurs have also been key, with many riders finding that they can actually get away with either using a minimalist guide or even no guide at all on their single ring setup, and SRAM's clever alternating tooth profiles - every second tooth uses a thicker and heavily stepped shape - on their X-Sync chain rings hold onto the chain like a fat kid holding onto his last Snickers bar.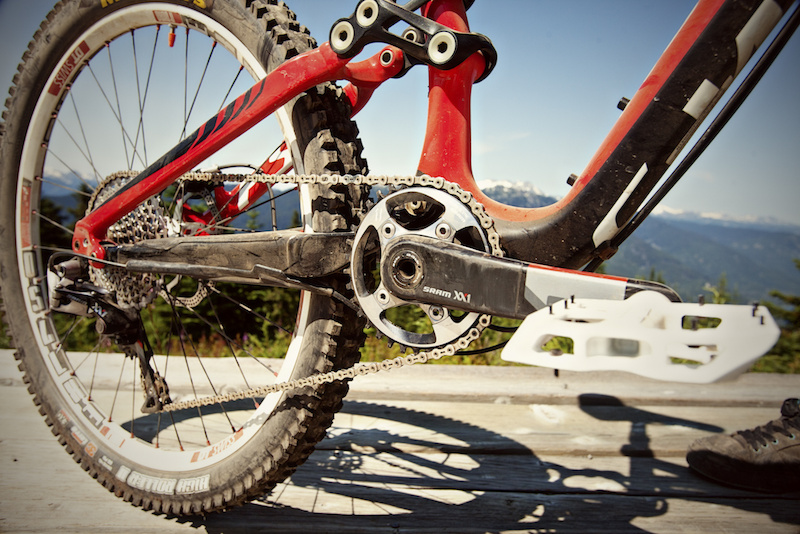 It is expensive, but SRAM's single ring, eleven speed XX1 drivetrain may be the nail in the gearbox coffin. This will be especially true if SRAM moves the technology down the line to more affordable price points, something we expect them to do in the future.
Less weight, more efficiency.
It has been proven that a chain is by far the most efficient way to transfer power, so why sacrifice that by driving it through a bunch of internal cogs that erase that advantage? True, this may not be a big concern for most freeriders and even some downhillers out there, but to the average mountain biker who is riding both up and down the hill - that is, the very large majority of people who purchase bikes - this is a big deal. You may not be racing cross-country, but you also likely don't want to be working your ass off with the thought of some of your puny horsepower going to waste. And then there is the weight factor. You don't care, you say? You'll gladly take the hit for the
perceived
advantages of a gearbox? That's great, but the amount of downhillers who would actually pony up and purchase a gearbox bike is miniscule compared to the amount of riders who would scoff at the idea, which leads us to what is likely the knockout punch for gearboxes.
Companies sell what's winning.
The fact of the matter is that many consumers want to purchase what they see being used by professional riders, be it racers on the World Cup circuit or freeriders in the latest movie. When was the last time you saw a gearbox bike take a major win in a race? To be fair, Cam Cole was on a carbon fiber, gearbox equipped Lahar when he won the Junior World Championships in Roturua, New Zealand in 2006, but that certainly isn't the norm. What about the old Honda team of Minnaar, Fairclough, and Matti Lehikoinen? Honda certainly made an impact, but they also exited the sport when they realized that their investment wasn't going to pay off. Would Aaron Gwin be as successful on a gearbox bike? There is a pretty good chance that he would be, but he is also looking for the lightest and most efficient tool for the job, and that happens to be a traditional (
although highly specialized
) drivetrain. The same goes for the rest of the field, and we'd be willing to bet that a gearbox bike won't win again anytime soon.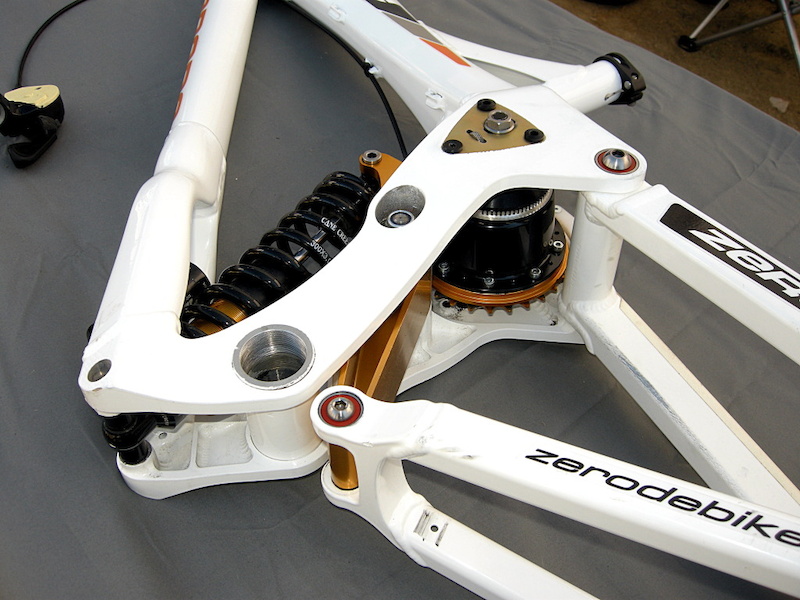 Why they might still make sense:

So, have gearbox advocates been wearing blinders then? Given all of the anti-gearbox chatter above, why bother with them? Because they do offer some advantages. Despite all the talk about derailleurs becoming much more reliable over the last few years, gearboxes will always have the upper hand on this point - the rock that just cleaved off your derailleur would have passed unnoticed if you didn't have a derailleur to start with. And then there is the weight. But they are heavier, often much heavier, than a traditional derailleur drivetrain, you say? That is true, but their weight is nearly all in one centralized unit that can be placed in the best possible location on the bike in order to hide it. More importantly, the heft of a cassette, freehub, and derailleur are moved off of the rear axle, allowing the suspension to work more
competently. Cost is often viewed as the biggest downside to a gearbox bike, with bespoke retailing for quite a bit more than a md-level derailleur setup. Shimano's Alfine internally geared hub is a great counterpoint to that, though, with the cost effective hub being used as a gearbox in Zerode's DH bike, among a few others. Are those strong enough points to propel the gearbox into the world of the everyday rider? We think that the answer is plain to see.