Crankbrothers Iodine 3 Saddle
Crankbrothers recently sent us this Iodone 3 saddle, and with good timing, for our previous five-year-old perch was beginning to scream out its last. Aimed at the trail and all mountain market the 280 gram (claimed) saddle features a smooth shape which enables you to really move around when the trail gets steeper and more technical, yet it remains comfortable enough to be fine on five-hour-plus rides. The padding is firm which, combined with the cutouts in the hull, no doubt aid this. All too often saddles feature soft padding and a shapeless plastic hull which becomes uncomfortable within a short space of time once your pelvis starts resting on it. Crankbrothers make a big point of the replaceable 7mm hollow chromoly rails on this saddle which can easily be swapped out should you bend them. Whilst currently a bigger issue for the gravity market with the advent of more aggressive trail bikes and competitive gravity enduro racing we can see the prevalence of this increasing. It has of course been tried before but this is certainly one of the neater designs which features a removable chip at the nose which enables replacement to take place. The real as opposed to faux leather covering is unlikely to make friends with the vegans among us but should ensure that the saddle wears well. Cordura patches on each side cover the areas likely to be scraped along the ground but also provide additional grip along with the slightly ribbed nose when riding in wet conditions. MSRP: £72 ($110 USD)
Crankbrothers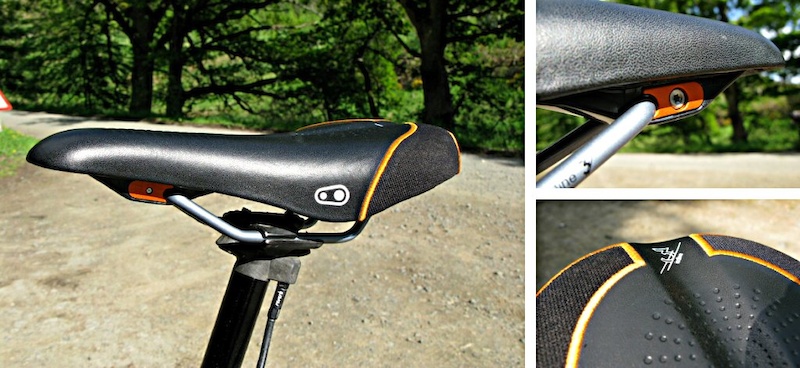 Pinkbike's Take:
| | |
| --- | --- |
| | In our time with theCrankbrothers Iodine 3, we've been left with an impression of solidity and robustness which offsets the high price and not particularly low weight. Which gives confidence that it will be long lasting. Crankbrothers have confidence too and offer a five year warranty although hopefully you won't need it. Replaceable rails aren't new but they've not been too prevalent in previous all mountain or trail saddles and so it does bring something new to the game. It's not cheap but it is comfortable and appears well made whilst featuring some neat details and toughness. As far as trail saddles go, we think it's up there. - Alasdair MacLennan |
---
Hope FR Stem
Hope have been making stems for years on their Lancashire based CNC machines and here we have their mid-weight offering called the FR which sits between, you guessed it, the XC and the DH. At 133g(claimed) the weight is pretty reasonable and it's been sat on the front of our trail bike for some time, doing its job without fuss or complaint. Machined from 2014 T6 aluminium, there is significant hollowing and scalloping to remove any unnecessary material and keep the weight reasonable. The opposing M5 steerer clamp bolts and four bolt front plate keep it all tight without resorting to gorilla strength with the tools. That front plate is also replaceable with one that features a mount to work with Hopes own lighting system. Having both the battery and light mounted up front keeps everything very neat without resorting to zipties and velcro straps. MSRP: £70 ($96 USD).
Hope Technology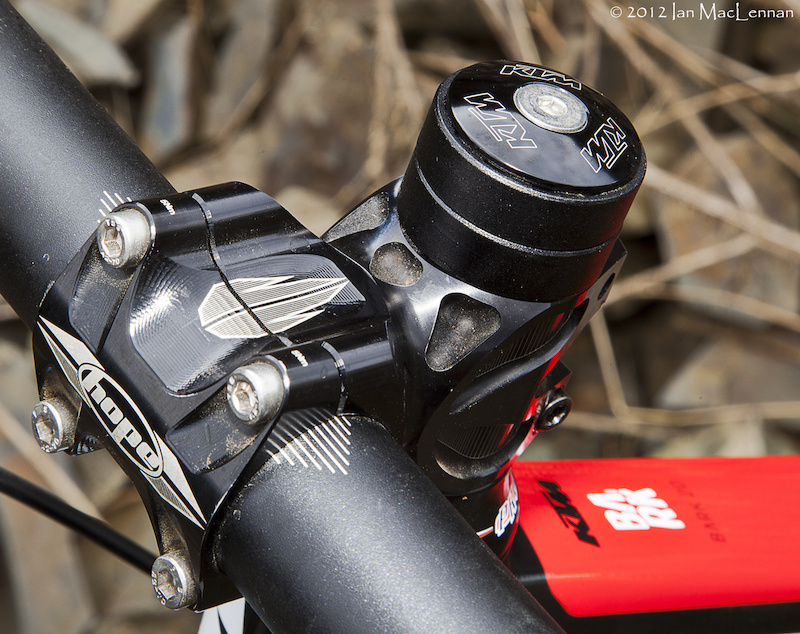 Pinkbike's Take:
| | |
| --- | --- |
| | Hope have been on the scene for longer than most yet their products are still made in house, in the UK, to a high standard and feature both high performance and good looks. Their FR stem is essentially a short version of their XC model which sits that bit lighter on your steerer than the more heavily bolted, materially more solid DH stem. At just 50mm long you wouldn't expect flex to be noticeable, and it's not. As far as trail stems go this one's worked faultlessly for the past year and is still going strong without creaks or any other worrying sounds to dull our confidence. We spent our own money on it and suffice to say would have no qualms in doing so again. - Alasdair MacLennan |
---
Continental Rubber Queen 2.2 UST Black Chili (Known as the TrailKing in North America)
And the prize for the longest tyre name goes to...
One of Continental's All-Mountain tyres, the Continental Rubber Queen seen here is a 2.2" and 820g UST offering that aims to be a true all-rounder. They feature a directional pattern which you run in reverse on the rear to gain maximum traction on the climbs while retaining maximum braking at the front. Unlike some directional tyres the ramping is minimal and the difference in traction is barely noticeable which was accidentally discovered when we mounted the rear the wrong way round after a spell of running cut spikes. In fact, it only once became noticeable on a particularly greasy climb. When it comes to sizing, Continental tyres tend to be realistic which means that they sometimes come up bigger than equivalent offerings from other brands. In this regard the Rubber Queen is no exception and we found it almost comparable to a 2.35" Maxxis. That said it's mainly in the volume for the tread is actually a hair's breadth narrower than the casing when fitted to a 23mm ID rim. What this means is that on rocky and rough, rooty trails you're able to gain maximum traction by running lower pressures. The downside though is that it can sometimes float a little on deeper mud (and by deep, we mean deep peaty trails). This trait's perhaps more noticeable than with some tyres because it performs so impressively everywhere else. MSRP: £50 ($75 USD)
Conti Tyres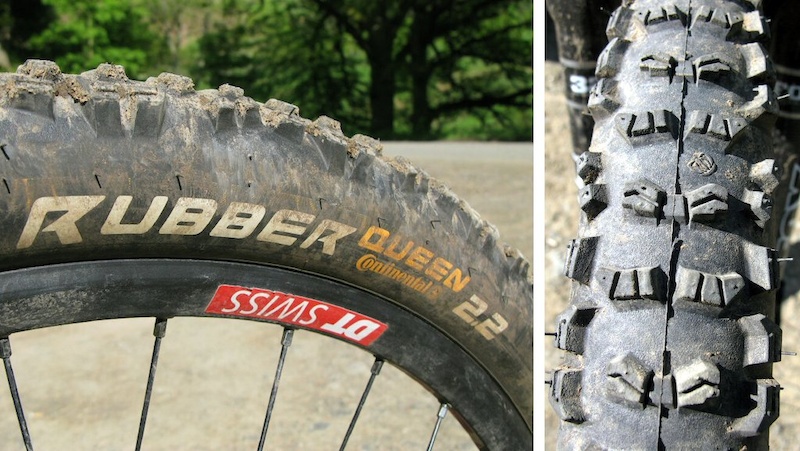 Pinkbike's Take:
| | |
| --- | --- |
| | Continental has really hit the nail on the head with the Rubber Queen as an all-round tyre. Where normally all round means jack of all trades master of none, the Rubber Queen stands out as a really capable item. The biggest highlight of the Continental range has to be the Black Chili rubber compound, which seems to be the perfect marrying of grip, toughness and longevity. This is actually our second pair of Rubber Queens, the first set being non-UST and lasting nearly 1600km of rocky and tough riding, the sidewall of the front tyre being a bigger clue to its use than tread wear. The UST tubeless versions show no sign of being any different. Getting them seated on our Deemax wheels proved painless and the slightly toughened casing (over non-UST) has so far shrugged off any punctures, despite best efforts on rocky trails. Grip is high and predictable on a wide range of surfaces, yet the Rubber Queen also produces minimal drag, competing on an equal footing with the hard=compound Larssen on hard pack yet producing the grip of a far more aggressive tyre when the trail becomes tougher. Traction on slippery pine roots is hugely impressive, while wet rocks and off camber sections pose no problem. The edge blocks occasionally feel a little small, especially on greasy hardpack where they struggle to bite, but the breakaway is so progressive that the tyre literally begs you to rag it around on the edge. At £50 ($75 USD) an end, there is no way they can be considered a cheap tyre, but given the seriously impressive durability and performance on offer, Rubber Queen tyres certainly offer a very tantalising deal and should be high on your list if you're after a single set of tyres for all occasions. - Alasdair MacLennan |
---
---