Easton Havoc UST 150 wheelset
Easton's Havoc UST 150 wheelset consists of the already existing Havoc UST front wheel teamed up with their recently developed Havoc UST 150 rear. The new rear wheel features dedicated 150/157mm spacing (
it's convertible by changing the endcaps
), along with 28 spokes instead of the older model's 24. Total weight for the pair is 1870 grams, making them one of the lightest off the shelf downhill wheelsets on the market. Despite that relative light weight, Easton is confident enough in the their strength that they have been named as the official wheel of Whistler Bike Park, a destination full of rim eating holes and fast, rough terrain. The Havoc UST 150mm employs a UST tubeless certified rim (
23mm inner width, 28mm outer
) that denotes its special bead hook shape designed to hold tubeless tires on securely when used with low pressures, as well as a sealed inner rim wall that makes for painless tubeless conversions. The front rim is laced up with 24 straight pull spokes, while the rear uses 28, with the nipples featuring external threading that sees them thread directly into the rim. The large diameter hubs are home to sealed bearings, with the front employing an adjustable bearing preload system (
the rear hub uses a different, non-adjustable layout
). The Havocs are available with either bold orange anodized hubs and matching water-transfer graphics, or a stealthy gray version that won't attract as much attention. A complete Havoc UST 150 wheelset (
12x150mm rear, 20mm front
) carries an MSRP of $1000 USD, or the new rear wheel can be bought for $555 USD on its own.
www.eastoncycling.com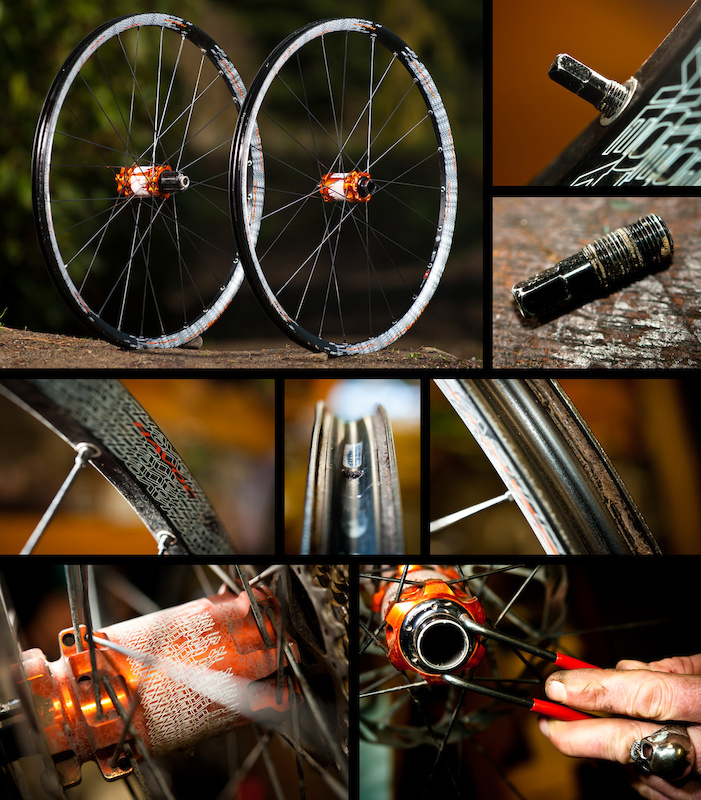 The Havoc's look great, but what's under the hood? A 28mm outer rim width with a deep 'V' profile for strength, as well as a sealed inner rim wall that doesn't require a rim strip. Proprietary alloy nipples screw into the rim, and 28 straight-pull spokes can be found front and rear. The wheel's hub bearing tension can be adjusted via spanner.
Pinkbike's Take:
There proved to be a lot to like about the Easton Havoc UST 150 wheelset. Stiff, light, relatively affordable, and they look great on the bike as well. Add in their tubeless-friendly UST compatibility that won't leave you worrying about pulling a tire off mid-run and you have a winner of a wheelset for the competitive DH racer. In fact, we handed them over to an elite lever downhiller who took two wins with the Havocs under him, all while attesting to the wheelset's stiffness and extra traction provided by the low tire pressures that a standard tubed setup can only dream of. Unfortunately, we experienced repeated loosening of the front hub bearings during our time with them. We wouldn't consider them to be ''trailside adjustable'' either, given that the job requires a spanner tool. This means that we had to ride out with loose hubs, likely causing the expedited bearing wear that we encountered. We also managed to break a spoke directly at the threads where it turns into the nipple, highlighting the fact that the nipples themselves are proprietary items that have to be sourced from Easton or a local shop. We should mention, though, that the offending wheel managed to hold completely true, sans one spoke, until another broke at the threads once again. Yes, we should have stopped riding the wheels after the first broken spoke, but with Easton recommending that users return the damaged wheels to their repair depot (even for a broken spoke), we can see riders continuing to put time on them before boxing them up. Easton does step up in a big way if repairs are needed, though, with them often rebuilding the entire wheel with new spokes even if you've only broken one, and reactivating the warranty from that point on as well. We have to dock the Havoc UST 150 wheelset points for a lack of reliability and convenience when considering overall use, but competitive downhillers who want an extremely stiff wheel that is also relatively light may be able to look past this.
- Brad Walton
---
RaceFace Atlas FR handlebar
Rising from the freeride dead comes a new take on an old school favorite - the 1 1/4'' rise Atlas FR riser handlebar. Manufactured from cold drawn, seamless Air Alloy material with an internal taper to keep material where it is needed the most, the Atlas FR measures in at a full 785mm/31'' wide. As their name suggests, this bar is intended for heavy use and therefore it isn't exactly light at 340 grams. But then again, your handlebar is the last thing that you want to be thinking about before sending it off something large. Proven angles are used, with an 8° rearward sweep and 4° upward sweep combination, and the bar can be had in black, red, blue, stealth, orange, and gold. MSRP $89 USD.
www.raceface.com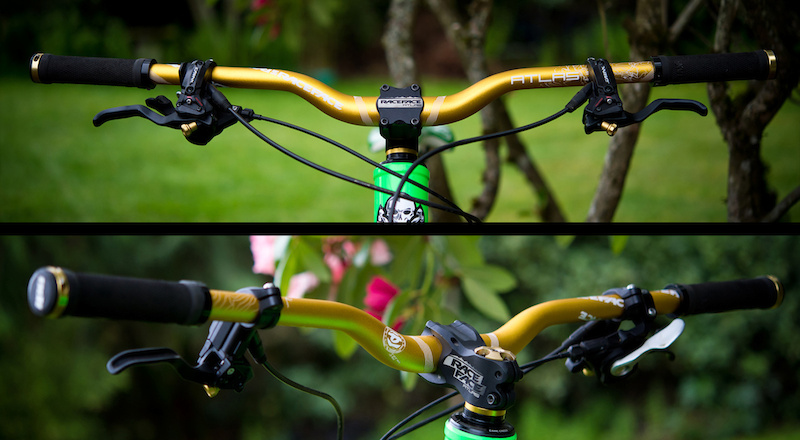 For slow techgnar riding and control on the steepest of steeps, a riser bar is the hot setup. The Atlas FR riser has all the right sweep with a boost in vert. High is the new low, didn't you know?
Pinkbike's Take:
Low bars for fast corners, high bars for technical terrain. That's the simple way of looking at it anyways. The 1 1/4" rise Atlas FR bar is a compromise between old school tall bars for slow shore skinnies, and the limbo flat bars trended at the racers out there. They could also benefit those with a short fork steer tube who want to get a little more upright postion. Whatever the case, aside from the added rise the Atlas FRs have all of the same dimensions as the regular Atlas bar, including the 31" width that can be trimmed down if one desired. The bar is one of the stiffest that we've ever used, and it also shrugged off a massive amount of abuse in the shape of some huge airs gone awry, as well as inspiring confidence in the steepest of downhill terrain thanks to its extra height that moves weight bias towards the rear of the bike. Not the lightest out there, but certainly a good option if weight isn't high on your priority list.
- Brad Walton
---
Deity Decoy 2.5 pedals
Deity's Decoy pedal offers a minimalistic, lightweight design with thin 17mm profile and concave shape. The extruded and CNC machined 6061 T6 aluminum pedal body rides on a stepped, black polished Cr-Mo axle, with DU bushing and Double Micro Sealed Bearing system. Eight allen pins per side provide traction, and the pedals are fully serviceable without requiring removal from the bike. Rebuild kits available. Uses an 8mm allen for installation. Available in bead blast black, red, green, purple anodized with laser logos, and in white powdercoat. Weight: 425 grams (
pair
). MSRP: $85 USD.
www.deitycomponents.com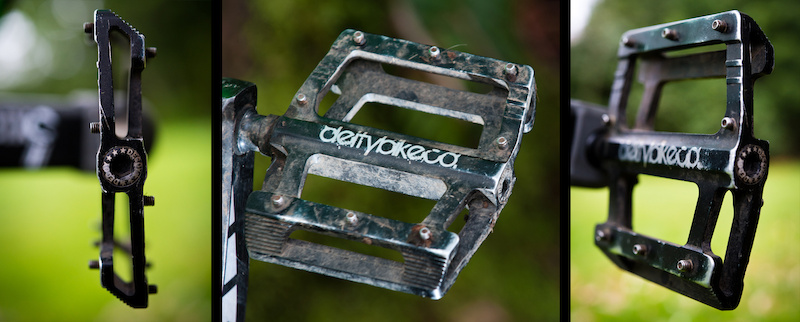 The Decoy pedal offers a slim profile and bomber construction with a well-sealed bearing/bushing system.
Pinkbike's Take:
Every now and then we have to mention a trusty standby. If we had a nickel for every pedal pin lost to the trails over the years, well, we'd have significanly more than five dollars. Which is only one of the reasons why we love the Deity Decoy pedal. Despite rock crunching and log grinding, we have yet to lose a pin on multiple sets of these pedals. But the main reason we love the Decoys is they are tough and reliable. The double micro sealed bearing system works, which strangely ins't the case on some other pedals out there. Our Decoys spin as freely as the day they were new, even after complete duluges such as the super soaker the trails experienced this past winter. They aren't the largest platform in the world, but they are sufficiently comfortable for size 13's. The only beef we have is the use of a 8mm hex for installation. Wrench flats would offer greater leverage to keep these really tight. Over time we notice a faint click in our drivetrain that eventually is pinpointed to the pedals loosening up on the cranks. A dab of grease and snugging them up again and we're back in business. For product longevity, we slap the Decoys a high five.
- Brad Walton