Uvex Crow Pro Vario Sunglass
Uvex is a German manufacturer that has been in the protective gear business for as long as I can remember being in the cycling industry. The Uvex line of protective eyewear spans a huge range, from the $169 Crow Pro Vario sport glass in this test, to task-specific eye shields for heavy industry. The Crow Pro Vario is designed for those who want the lightest possible eyewear that offers an unobstructed view and the highest standard of impact protection. 'Vario' refers to the lens' light-reactive tint, which is one of the main reasons that the Uvex sport glass is tested in this feature. The ear stems are tipped with a soft hydrophylic rubber that keeps the glass in place without requiring hooks. Molded-in wires in both the ear-stems and the nose piece ensure that the glass can be fitted to nearly every head or nose shape, and if you have a small head, the Crow Pro comes in a proportionally smaller size. Lenses are interchangeable with the many tints offered for Uvex's standard-issue Crow models. The heavily ventilated wrap-around Crow Pro Vario is said to block 100-percent of UV radiation, it comes in white or black frames and includes a carrying case.
Uvex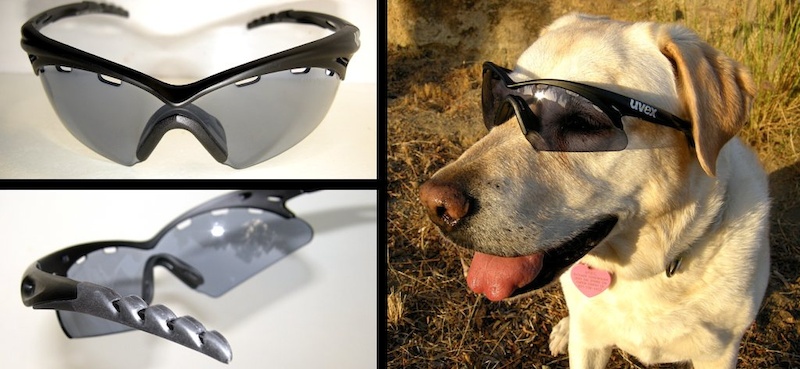 (Clockwise) From the front, the Uvex Crow Pro Vario's wraparound lens reveals ample venting and an the fact that its frame is designed to fit the head closely without contact. April gazes into the afternoon sun to demonstrate the light-responsive Vario tint. A closeup of the Crow Pro's soft ear piece. The ear-stems are bendable.
Pinkbike's Take:
| | |
| --- | --- |
| | Light-reactive lenses are quite useful where a rider may often be switching from dark shadows to open country. The speed at which the lens reacts is very important, and in the case of the Crow Pro Vario, it makes the change quickly enough so that most riders will never sense that it is occurring. Where the benefit of the automatic tint plays best, is when a ride ends near twilight. In such cases, the Crow Pro becomes wonderfully transparent and does not hinder the rider's night vision. The bendable ear stems and nose piece are very useful and the internal wires can be bent back without mutilating the sunglass in case the previous attempt was a fail. Once tuned, the glasses feel like they don't exist, with great ventilation and optical clarity. Style wise, however, the Crow Pro Vario is very German - meaning that its designers concentrated upon perfecting its function and let those functional attributes dictate the looks of the glass. Of course, Crow Pro Vario has been tastefully stylized, but its core customers will be shopping to maximize comfort and performance. - RC |
---
Park Tool Advanced Mechanic Tool Kit
Park tool is the first name in professional shop tools and a peg board that bristles with the signature blue handles and labeling suggests that its owner knows a bit about bikes. Park's Advanced Mechanic Tool Kit is a well-appointed starter ensemble that includes a rugged two-tier carry box. Inside are 35 bicycle-specific tools, as well as a tube of synthetic grease, a bottle of chain lube, some emergency tire boots and a glueless patch kit. The Advanced Mechanic kit is filled out with Park's shop-quality selections, so while its $310 USD price may seem high, it is safe to say that the blue-handled tools will be around and functioning for the remainder of a mechanic's life.
Park Tool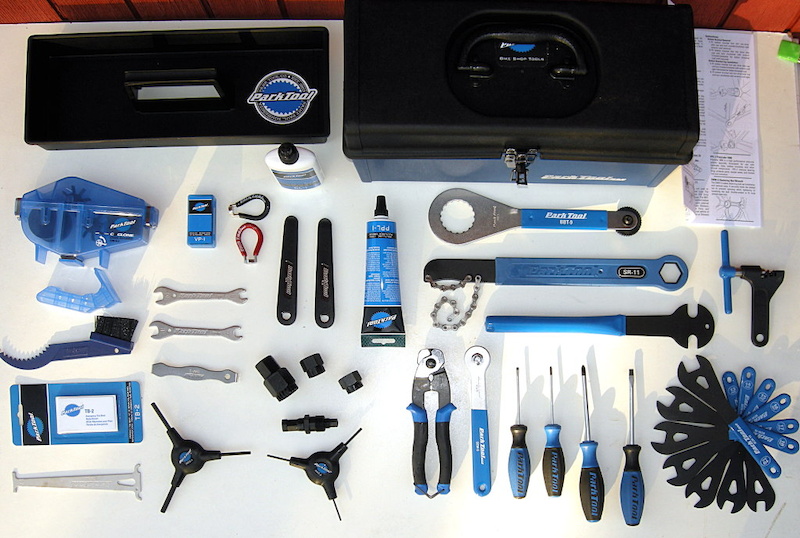 What is Inside the Box:



Park Tool's Advanced Mechanic Kit includes the following: 4, 5, 6mm Y hex wrench, 3 2, 2.5, 3mm Y hex wrench; BBT-5/FR-11 bottom bracket and freehub lock-ring tool for Campagnolo; BBT-9 bottom bracket tool for 16-notch external crankset system cups (SRAM, Shimano, FSA, Truvativ, Race Face, Zipp, etc); BBT-22 cartridge bottom bracket tool (for 20-tooth internal splines, such as Shimano, FSA, etc.); CC-3.2 Chain Checker chain wear indicator; CWP-7 crank puller for splined Octalink, ISIS Drive, and square-taper types; CCW-5 crank wrench with 14mm Socket / 8mm Hex; CBW-1 8 and 10mm open-end wrench; CBW-4 9 and 11mm open-end wrench; CL-1 Synthetic Blend chain lube; CM-5 Cyclone Chain Cleaner; CN-10 cable cutter; CNW-2 chainring nut wrench; CT-3 professional screw-type chain tool; FR-5 cassette lock-ring tool for Shimano and similar brands; GP-2 pre-glued patch kit; GSC-1 GearClean brush; PPL-1 PolyLube 1000 grease; PW-3 professional pedal wrench; Professional shop cone wrenches (SCW-13, 14, 15, 16, 17, 18, 19mm); SD-0 shop screwdriver #0 Phillips; SD-3 shop screwdriver straight-blade 3mm tip; SD-2 shop screwdriver #2 Phillips; SD-6 shop screwdriver straight-blade, 6mm tip; SR-11 chain-whip and freewheel/lock-ring wrench; SW-0 professional spoke wrench; SW-2 professional spoke wrench; TB-2 tire boot; TL-6 tire levers.
Pinkbike's Take:
| | |
| --- | --- |
| | Park Tool's Advanced Mechanic's kit is extensive enough to handle the lion's share of at-home bike setups and repairs. A few of the tools are road bike related, but those will probably come in handy when a friend needs a fix. The takeaway from the Park tool kit is that the stuff is specific to wrenching on bikes. The Philips-head screwdrivers are EXACTLY the ones that fit derailleur limit screws. The 'Y' wrenches are just the right length to give clear working space when spinning the handles. The open-end wrenches are flat, which may seems a bit cheap, but after using a set for umteen years, I reach for them first, especially where access is tight, and I need to angle the tool a bit. Many of the tools interchange, for instance: the hex in the chain whip handle fits over the hex on the cassette lock-ring spline tool, so you won't be hunting for an 'extra' tool necessary to operate the chosen one. After working for a week, using only the tools provided, however, I discovered some items that needed to be added to Park's kit. Strangely missing from the ensemble are Torx drivers - which are commonly used on drivetrain and brake components from many parts makers. We'd ask Park to include its durable shop-quality folding Allen set that features all the nagging small sizes used to adjust brake levers and get into shifter pods as well. That said; Park's Advanced Mechanic Tool Kit is a jump-start for any aspiring wrench, and if you threw a headset press and a brake bleeding kit into the box, Park's portable tool kit would be a perfect race-day ensemble. Got a birthday coming up? - RC |
---
Gore Countdown II Baggy
Those searching for a lightweight, comfortable baggy for trail riding will find quality in the Gore Cycling Wear Countdown short. The Countdown II looks like basic garment, but it is quite technical, with tightly-woven nylon main panels for durability and narrow stretch panels on the inside of each leg for ease of movement. large cargo pockets on each side of the short are also made of the stretch material to allow most of the short to conform to the body. The pocket's inside liners are breathable mesh so the two layers of fabric there do not feel bulky or hot. The seams are sonic welded, so they are small and lay flat. A standard zip fly with a large button clasp keep the naughty bits inside, while two stretch panels at the waist fix the short in place while riding. Two front pockets are almost useless, as they are quite shallow and have no security flaps. There is a curious zip pocket at the belt line in the back of the sort that appears to be a plummer's crack vent, but the party line from Gore is that the pocket is made for MP3 players and (although it seems a bit odd) energy bars.
The standout feature of the Gore Cycling Wear Countdown II is its padded liner, which uses a wicking outer layer on the pad as well as a wicking treatment on the two-way stretch material used for the liner. Both the leg band and waist bands are treated with a grippy polymer and the cut and fit of the garment is the equal of an expensive lycra racing short - but lighter and more comfortable. Snap garters suspend the liner inside the short, so it can be removed to wash separately - or not be used at all. Countdown II baggies come in five sizes from small to XX-large and in black, earth/black, earth/beige or white/black colorways. A female-specific Countdown baggy is also available. MSRP is $100 USD.
Gore Cycling Wear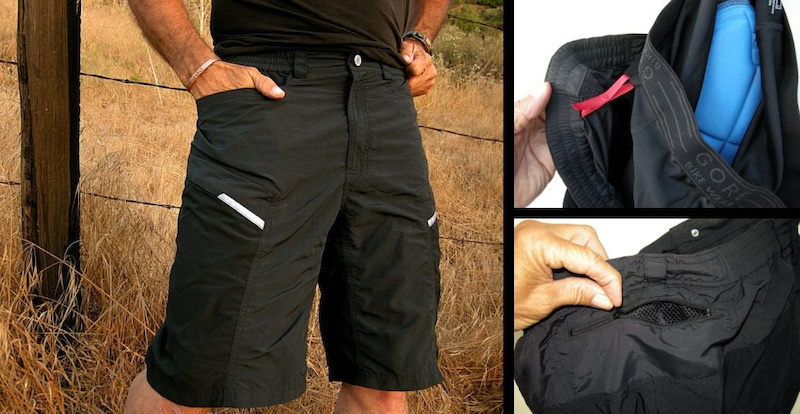 (Clockwise) Countdown II baggies are visibly well constructed, with a closer fit than a DH short and stretch panels to facilitate all-day pedaling. The comfortable liner is worth the price of the short and snap-closure loops keep it in position. A look at the curious vented zip pocket in the rear of the short.
Pinkbike's Take:
| | |
| --- | --- |
| | We tested the Countdown II baggies in mid summer and found the short to be comfortably breathable, with a non-restrictive cut that facilitated efficient pedaling. The fabric is very lightweight, so anything that is stored in the large cargo pockets becomes a bothersome pendulum, so don't even think of tucking your iPhone there. Strong hook-and-loop flaps on the main pockets make them good for stashing money and maps. A couple of crashes and a lot of drags through iron hard coastal sage-scrub proved that Gore's baggie is made tough. The liner is one of the best we've tried, and it machine-washes without self-destructing. Overall, the short feels as it it isn't there, except for a tiny bit of a flare at the leg openings that tends to flap around now and then. Gore offers the Countdown II in five sizes, so take care to choose a snug fitting waist, because there is no provision for a drawstring and the mildly strong stretch-waistband allows the outer short to work its way down in technical situations. Belt loops are included, if you are so inclined, and a belt would eliminate that complaint entirely. As mentioned, there are two docker-type front pockets about three inches deep that function only as place-holders for the hands during casual conversation, as neither will not hold anything of value longer than five pedal strokes. All test-notes tallied, Gore Cycling Wear Countdown II baggies are a worthwhile investment for warm weather trail riding. - RC |
---
---