"Are you crazy? That's insane!" People say this to me all the time, but I'm not crazy. Recently, I caught myself thinking the same thing about the top slopestyle riders, but I know better, they're not crazy either. So what's the deal?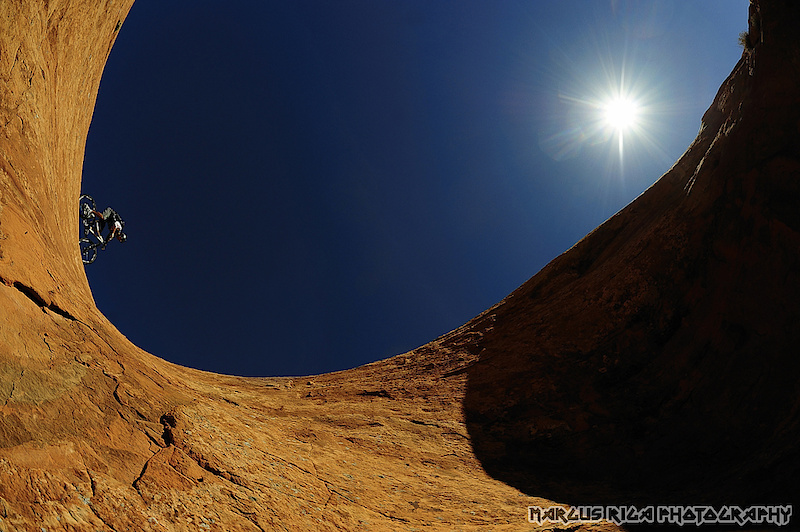 Taking the perspective of another, or 'walking in their shoes' (in this case, 'riding in a pro's shoes'), is not easy. When we see someone do something above and beyond our ability level, the tendency is to imagine
ourselves
doing the same stunt rather than imagining seeing the world through
their
eyes; it sounds simple, but takes practice.
Check out this clip from
my film CRUX
:
People often comment, "That's impossible," or "No way!" However, if you
look-as
me, then you'd get at least a small, imagined sense of what that chain looks like after well over 10,000 hours of balance practice, and then realize riding that chain is a real possibility and actually quite a logical thing to attempt.
As my teammate Sam Dueck said
:
| | |
| --- | --- |
| | They would realize that I'm not crazy if they saw that I slowly worked my way up to bigger stunts by taking calculated risks and coming up with carefully thought out progressions. - Sam Dueck |
I am amazed when watching slopestyle at just how skillful the pros are at crashing; it's unbelievable. Right? Well, no, it is unbelievable only if you imagine
yourself
doing the stunt. If you
look-as
them, then you'll see that it is actually quite believable. After all, they've crashed a zillion times on progressively bigger jumps, gaining the knowledge necessary to intimately know exactly where their bike and body are at all times, and to instantaneously know what to do if something goes wrong. The cool thing is that when I take their perspective, I experience a much higher level of respect for them as a human being.
Doing this perspective swap takes a little bit of the thrill away though, eh? Bike porn they call it, and just like real porn, the stars become objects for entertainment and pleasure, and people love it. Spectators cheer so they can continue their safe vicarious thrill. They want more and more, and that's often okay, but doing so without first
looking-as
to discover what you're encouraging the pros to do may be selfish and harming. Harming because pros often hear this as praise and thus succumb to this encouragement (I have been guilty of this), and when they do, they cross the line into crazy land.
Here's what Gully had to say about navigating his own crazy line
: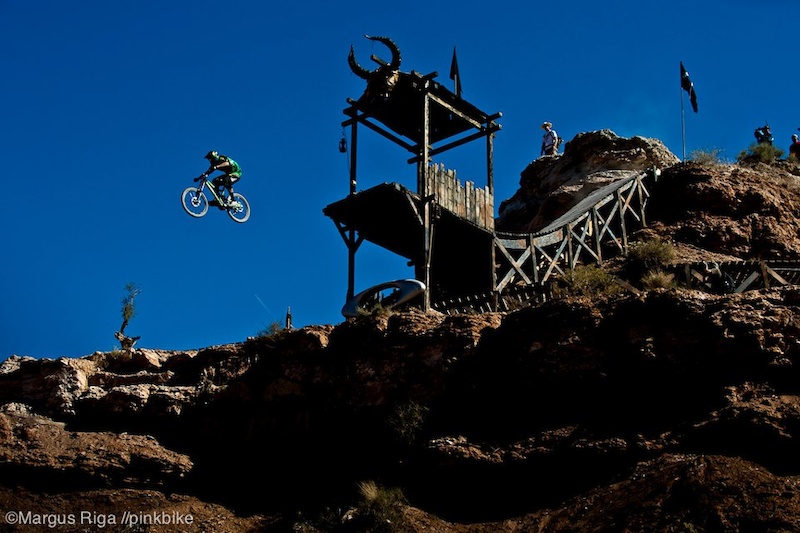 | | |
| --- | --- |
| | No, I am not crazy. I have been riding bikes since I was 12; I love everything about it. What your average Joe sees as crazy, I see as the natural progression of my ability on a bicycle. I have always been hungry to go faster, bigger and nastier and I am just going to keep going. Maybe I'm a little crazy... - Geoff Gulevich |
And Darcy Turenne
: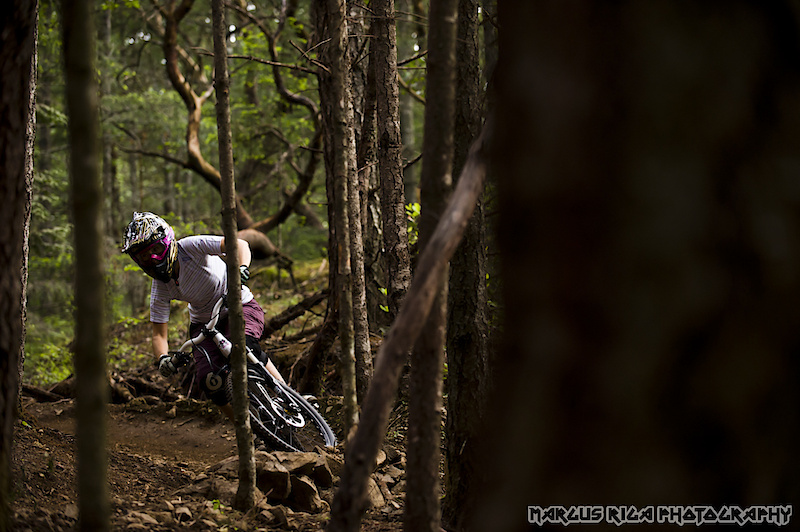 | | |
| --- | --- |
| | I'm actually one of the more calculated and cautious people out there. Despite the 'lesser known' and uncomfortable destinations I travel to and the things I do on my bike, I never enter a situation where I'm not 99% sure that I'll be OK coming out of it. I've trained a long time to acquire skills and have a really good understanding of my limits and how I can push them. I think most people labelled as crazy are just misunderstood by the person labelling them. - Darcy Turenne |
In our rapidly evolving sport the pros deserve respect, but because of mainstream influence it'll become harder for them to distinguish porn-praise from respect-praise. So, as part of the core mountain biking scene, which if you're reading this you're likely part of, I see it as our job to inject enough depth into our culture to keep pace with the sport's mainstream recognition. How?
Look-as
another, take their perspective, and we will thus have more respectful care when designing slopestyle courses, announcing events, cheering, judging, making trick choices, and deciding who our role models are. So…
Spectators
, add some
looking-as
perspective to your viewing pleasure. Developing this skill may also help you become more accurate in your own riding decisions, that goes for those who
underestimate
their abilities just as much as for those who
overestimate
.
Pro riders
, be aware of when you're being used for a cheap thrill. Ask yourself, "Is it worth it?" It's just as useful for pros to take the perspective of spectators as it is for spectators to take the perspective of pros.
-Ryan
www.ryanleech.com
Ryan Leech is widely considered to be one of the most progressive and technically skilled mountain bikers in the world. Intimate with the benefits of yoga for a thriving pro career, he got certified to teach and thus began injecting a new generation of cyclists with the body mind intelligence necessary for long term optimal performance. As a
Professional Integral Coach
™, trained up to the International Coaching Federation's master level, he works privately with professionals in the development of new competencies to navigate the most meaningful, but complex facets of life.