After this weekend's victory at the Bearclaw Invitational,
Brandon Semenuk has locked up the 2nd ever FMB crown earlier than expected
. Even though the Red Bull District Ride coming up next is a diamond event, nobody can catch Semenuk. There is still a lot that can unfold at the District Ride. How will the rest of the top 10 shape up? Can Semenuk put together a "perfect season", meaning can all 5 events which contribute to his FMB score be victories? Regardless, one thing is certain, Brandon Semenuk is your 2011 FMB Champion.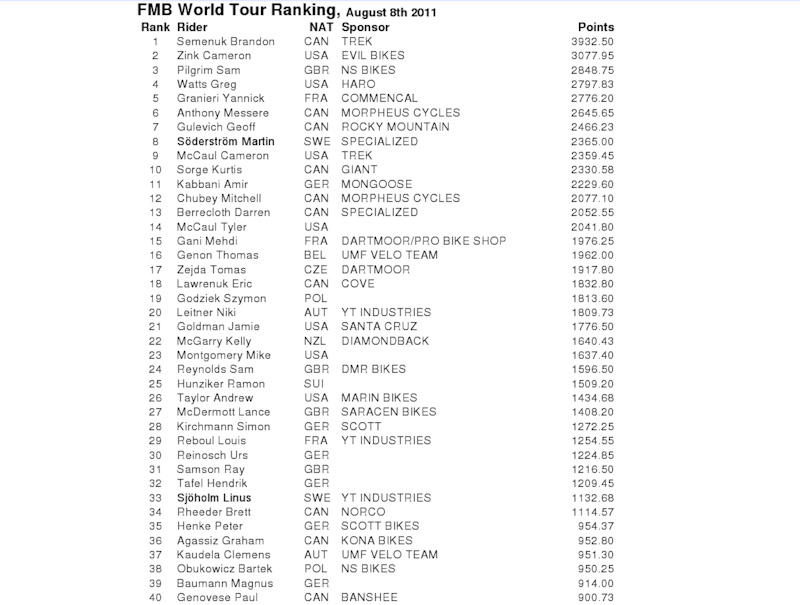 Here are shots of Semenuk from his road to winning the 2011 FMB crown (and a cool €10,000)
Jump Ship in Victoria, B.C. (1st Place)
---
26 Trix in Leogang, Austria
---
Claymore Challenge at Highland Park, USA (1st Place)
---
Chatel Mountain Style in France (4th Place)
---
Red Bull Joyride at Kokanee Crankworx, Whistler, BC (1st Place)
---
Crankworx Colorado (2nd Place)
---
Bearclaw Invitational, Mount Washington, BC (1st Place)
The next stop for the FMB World Tour will be the Red Bull District Ride in Nuremberg, Germany from September 9-10th, 2011
.