Renton Coil Springs
, based in Washington State's Seattle area, is a supplier to high tech industries, primarily aerospace, but its titanium alloy springs are also famous in both mountain bike and motorsports racing. Pinkbike asked Renton Coil Spring's Kyle Cabaya to explain the differences between steel and titanium springs, and to give us a heads up on the intricacies of their manufacturing process.

What kind of wire is used for MTB coil springs?
Typically, most of the steel springs on the market will be made out of chrome-silicon or a derivative of chrome-silicon. Renton Coil Spring exclusively makes MTB springs out of aerospace quality Beta-C Titanium.

What kind of machine makes coil springs?
The actual coiling is done with a CNC mandrel coiler that we have custom built in-house. From there, the ends are ground flat, the springs are heat-treated and then sent out for shot peen. When they return, we press them to solid to eliminate the possibility of them getting shorter under normal use. All springs are then individually inspected for proper dimensions and each is tested for spring rate.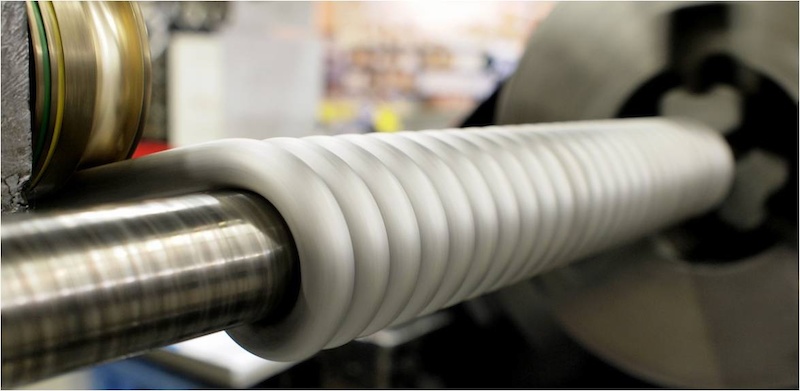 A partial view of the CNC mandrel spring coiler at RCS. The operator manually feeds the material into the rollers and the material is cold wound around a mandrel. After coiling, the operator trims the spring and sends it to the grinding station.
---
Note: Renton Coil Spring's custom-made spring coiler machine operates on a different principle. The following you tube video will give you an idea of how a typical CNC spring winder works. Video Credit here
How Most MTB Coil Springs are Made
---

Does the wire need a special heat treat before or after the spring is formed?
Yes, the aging and stress relieving process is very specific for titanium springs. Both time and accurate temperature control are crucial parameters to the heat treat operation.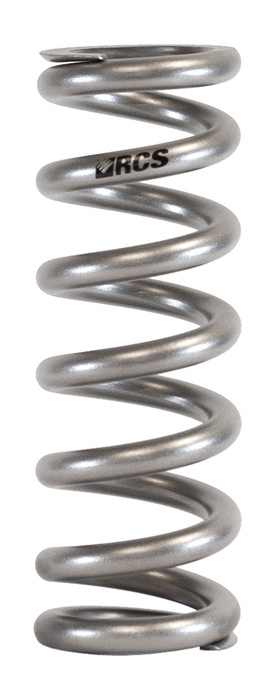 Renton Coil Spring manufactures only
titanium springs for its mountain
bike range.
Renton Coil Spring photo

Why do springs with softer rates often have thicker wire than those with stiffer rates?
The three parameters that determine spring rate are:

• SPRING DIAMETER
• WIRE DIAMETER
• NUMBER OF COILS

Adjusting any one of these three parameters in a design will change the spring rate. All RCS Ti springs utilize an optimized spring design where we design with the smallest wire diameter and fewest coils within safe stress tolerances of the material. In all RCS mountain bike spring designs we use what's called an optimized design. This means that we design the smallest, lightest spring based on the critical dimensions (inside diameter, spring travel, and spring rate). Optimized designs reduce weight and help to keep costs down as they minimize the amount of material used.

What kind of titanium wire is used for mountain bike springs?
We use a proprietary blend of Beta-C Titanium, which is the same material we use for our aerospace applications.

How do the wire thicknesses vary for titanium vs steel springs?
Because of Beta-C Titanium's low modulus, a larger wire diameter is required to achieve the same spring rate as a steel spring. But by utilizing the fact that titanium is almost twice as flexible as chrome-silicon steel, we can design the spring with larger spacing between the coils, thus fewer coils are needed.

Do titanium springs have a different fatigue life compared to steel ones?
Properly designed titanium springs have more resistance to set and longer fatigue life than the highly stressed steel springs commonly
used in suspension applications. When a spring has exceeded its fatigue life, it may break, but most likely it will just take set (get shorter). If you find yourself having to add rounds of preload to your spring to
maintain sag height, it may be time for a new spring.

Is there an average weight advantage for Ti vs steel springs?
Due to Beta-C Titanium's low modulus, low density and high strength, typical weight savings will be between 30 and 50-percent over steel springs. The performance advantages of titanium springs extend beyond the weight savings over steel springs. Advanced data recovery systems have shown that titanium springs enhance shock performance and wheel control through improved dynamic response. This is a result of the reduced mass of the titanium springs. Lower mass springs develop less inertia as the suspension is displaced. Less inertia in the spring mass enables the suspension to respond quicker, resulting in improved ground contact and traction.

What is the basic cost ratio between Ti and steel material?
The cost ratio of Beta-C Titanium vs. Chrome Silicon Steel is 70 to one.
Discover more about Renton Coil Springs