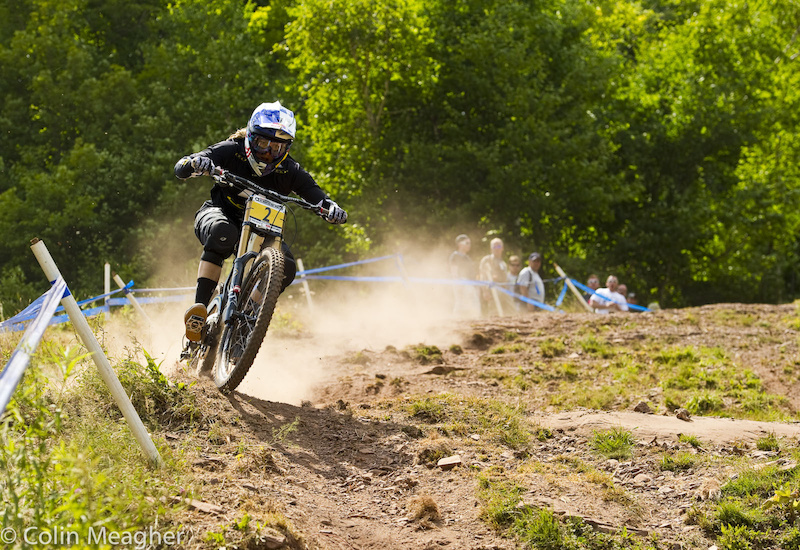 Nothing too crazy in the women's race today, the girls were fast, and the lower section of the track seemed to be where a lot of time was made or lost. Most girls chose not to hit the last jump, and many cased the one before it as well. Jill Kintner crashed somewhere in the middle of the track, no word on what happened yet but she didn't finish. Tracey Hannah was one of the first to hit the last jump, and she almost made it, but as they say close only counts in horseshoes and hand grenades. She cased it hard enough to break her seat off, smashing it into her tire. Fastest so far though and onto the hot seat with only Emmeline and Rachel to go. Emmy was fastest at the second split and charging hard but she blew up hard after casing the last jump and had to run across the line, finishing .04 behind Tracey. Rachel Atherton was last to go and she looked solid all the way down. Rachel was 5 seconds up at the second split, but she cased the first big jump a little and bounced and swapped out, going off course. She got back on track and pedaling hard she got back up to speed and was the only one of the girls to get backside on the last big jump, finishing .2 up on Tracey to take the win. There was initially a bit of a question about whether or not her run would count after she came back onto the track on the opposite side of the course marker than she went out on, but the UCI President Commissaire ruled that "the rider did not gain advantage when she went out of course. The result stands." That's the official word, you can find the ruling below.
The latest update on Jill, we're still not sure exactly what happened:
| | |
| --- | --- |
| | Headed to Albany in an ambulance with Jill, she's holding tough but got pretty beat up. Maybe a broken arm and a few other things - Bryn Atkinson on Twitter |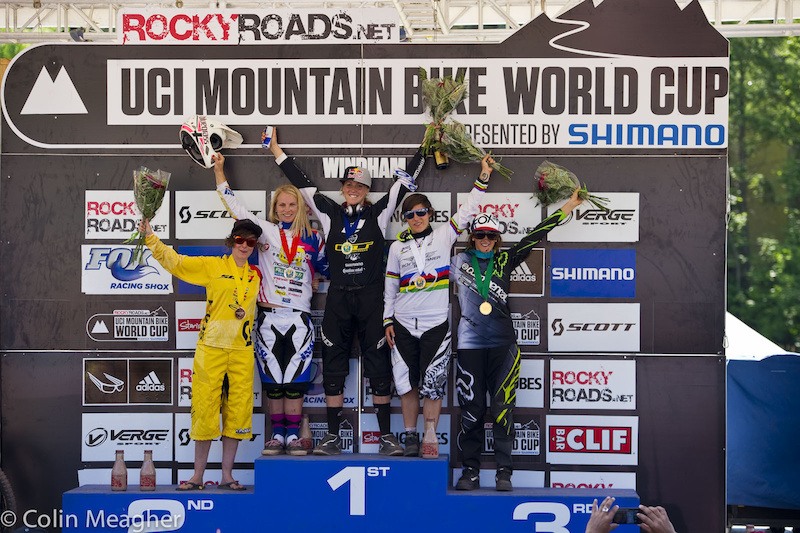 Women's Podium, L-R: Emilie Siegenthaler (4), Tracy Hannah (2), Rachel Atherton (1), Emmeline Ragot (3), Myriam Nicole (5).
42234 DHI WE Results
Decision