In just a few days, freeriders and racers alike will be arriving in Leogang for the 2008 Out of Bounds Weekend. A huge sized mountain bike dirt jump course as well as the one and only dual freeride racetrack are waiting for them.


The Out of Bounds Weekend will be in effect from June 5th – 8th at Bikepark Leogang. Besides the 26TRIX, Leogang will host the Kona Top2Bottom Terminator, a dual freeride slalom. Along with an EXPO-area, a diversified evening program and the fact, that the lift-tickets will be 30% off during the Out of Bounds Weekend, a well balanced mountain bike freeride festival is guaranteed. For further information about the tracks at Bikepark Leogang and the simple registration for the Kona Top2Bottom Terminator thru an online form, please visit:
www.bikepark-leogang.com
.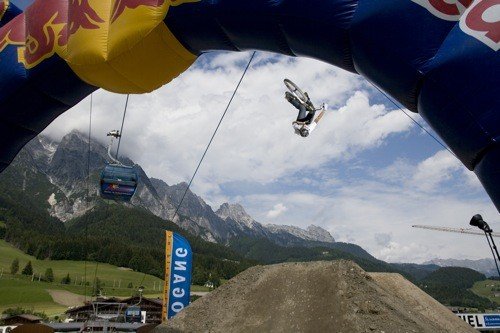 The highlight of the weekend, the 26TRIX, will unite over 40 of the world's best freeriders from throwing down on an epic dirt jump course. The jumps are mountain bike-sized, set on a hill with huge gaps and crazy hips, snaking down into the bottom of the bikepark Leogang. Most of the riders have been training and competing at the Nissan Qashqai Challenge during the last weeks, so the level of riding for the 26TRIX 2008 is already at an all-time high level. It will be great to see what can happen when these riders are used to the perfectly built dirt jump course. Last year's winners Jamie Goldman and Andreu Lacondeguy are only two of a whole bunch of well-known riders that will attempt. But the 26TRIX is not only about the big names in dirt jump only – some rookies will be given the chance to show all their skills on the track, too. Check out the full list in the following:
Alan Hepburn AUS
Chris Soinenen AUS
Andi Brewi AUT
Niki Leitner AUT
Alex Pro CAN
Pascal Breitenstein CH
Mischa Breitenstein CH
Andreu Lacondeguy ESP
David Acedo Rodriguez ESP
Inigo Yanci ESP
Antoine Dubourgnon FRA
Christopher Hatton FRA
Yannick Granieri FRA
Amir Kabbani GER
Andi Wittmann GER
Benny Korthaus GER
Flo Konietzko GER
Hendrik Tafel GER
Marius Hoppensack GER
Mike Plümacher GER
Rob J GER
Simon Kirchmann GER
Andras Szabo HUN
Balázs Mucsi HUN
Ferenc Horváth HUN
Trond Hansen NOR
Bartek Obukovic POL
Igor Putera SLO
John Alm Högmann SWE
Linus Sjöholm SWE
Martin Söderström SWE
Grant Fielder UK
Lance Mc Dermott UK
Mike Smith UK
Ricky Crompton UK
Sam Pilgrim UK
Sam Reynolds UK
Alex Reveles USA
Andrew Taylor USA
Cameron McCaul USA
Jamie Goldman USA
So be anxious to see what these guys will show on the big sized doubles providing maximum airtime. The finals of the 26TRIX are scheduled for Saturday evening (Qualifying on Friday afternoon).
But it's also the evenings of the Out Of Bounds Weekend that are promising to be just as exciting as the days: a Barbecue Party at B3 including a bunny hop contest, in which you can compete with the pros, on Friday night from 8pm, as well as the big "DE BUAM" party after the finals of the 26TRIX at Leogang's event hall on Saturday from 9pm. Be sure the riders will party hard after a day filled with dirt jump action, but be aware that some of you might have to show their best during the finals of the Kona Top2Bottom Terminator on Sunday midday.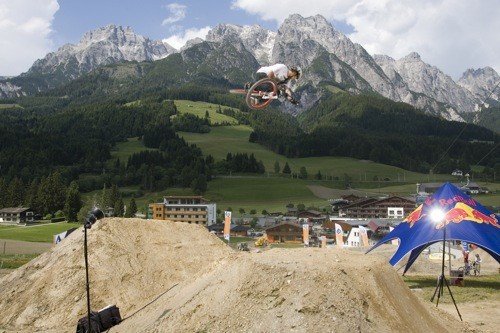 The Out of Bounds Weekend has got everything a good mountain bike freeride festival needs: perfect shaped bike park tracks for everybody, reduced prices for lift-tickets, a thrilling freeride dual race you can join, the best dirt jumpers worldwide showing their incredible skills and finally also some great parties. So be there or be square!
www.bikepark-leogang.com