The off-season is that elusive time that always passes in the blink of an eye, a time where athletes look to get a break from structured training, traveling, and racing, to refresh and top up on activities and quality cookies. For myself, the off-season is usually busier than the racing season and for good reason. I think of the off-season as the unicorn in sport and we always chase to find it but can never catch it. This year I tracked the unicorn for weeks and had one of the best off-seasons ever.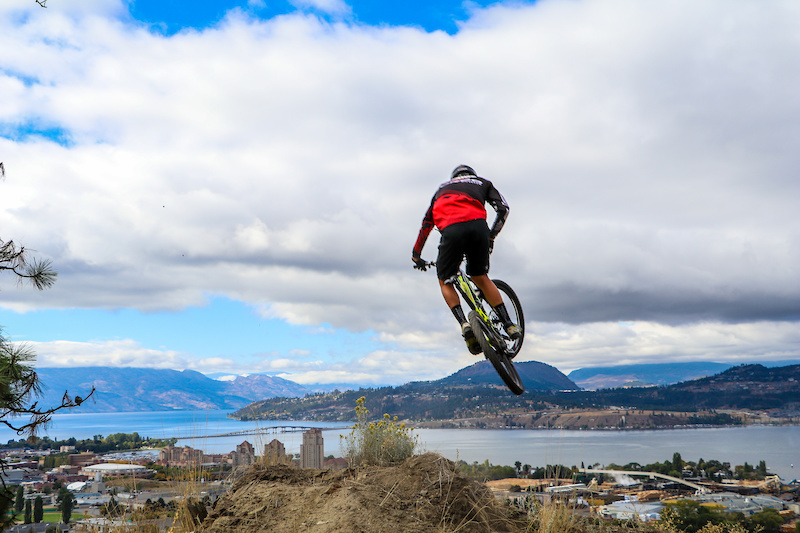 Photo: Patrick Marcel
Before heading off for the final racing trip of the year, the off-season was already beginning for me. August Luxury Motorcars and I worked together on a few projects to combine things we both have in common: luxury and speed.


The XC season ended earlier than usual this year at Crankworx, which allowed for some adventure riding and a bit of summertime activities at home in August. I still had three Enduro races planned after Crankworx though. The final trip was to Finale Ligure for the Enduro World Series finals. It marked my third year ending the season there. I can't think of a nicer place or a better event to end the season at. It turned out to be one of the best bike riding/racing trips of my life. I was seeded around legends of the sport; Greg Minnaar, Steve Peat, Loic Bruni and Sam Dale, and we had an absolute blast. Sharing two days of incredible riding with these fellas and ending the race with pizza, beer, and a swim in the ocean was one for the books. The racing was alright after a very disappointing day one ending in 59th. Day two was a lot better and back to where I wanted to be in the stages, which pulled me back to 39th overall - my worst EWS finish so far. Day two did have some great stage finishes so I'll take that.

These guys kept the fun alive - thanks; Sam, Steve, Greg, and Loic!

It was home and straight to hunting - an off-season passion of mine where I was able to carry on my unusual and lucky first-hunt-bag-a-deer streak this year. Hunting recommendation: think first how far out in the mountains you are before pulling that trigger!

Riders: Andrew L'esperance, Haley Smith, Catharine Pendrel, Keith Wilson, Sandra Walter, Ryan Newsome, and Catherine Fleury.

Then came the officially unofficial Camp Guthrie, fall edition 2016. A couple of teammates and friends got the talks going about training somewhere in October. Victoria, Moab, and other places came up but I honestly wanted to be home for a bit, and after suggesting the Okanagan the band gathered in Peachland to set up base camp.

Doctor Fleury soaking in the views on my favorite lookouts in the world.

The idea of Camp Guthrie was inspired by my friend McKay Vezina and his family. The Vezina's live in SoCal and riders train at their place all year long and they nicknamed their place Vezina Training Camps. Camp Guthrie is not meant to be the usual monk-type training, the goal is adventure, and to enjoy other activities with like-minded people. Of course, we ride every day but other activities like wine tasting, quaking, dirt biking, shooting pumpkins, and playing tourist are key elements.


Andrew and Haley riding a quad for the first time ever! Andrew said "Camp Guthrie was everything I wanted it to be. The riding, the friends, the activities and the food were top notch. Cannot wait to double my time in Peachland next year." - FYI: Peachland doesn't actually grow peaches, go figure.


A few of the days we met up with local friends of mine to ride. I think it's agreed upon by many that sharing a great day of riding with friends is one of the best parts. I speak very highly of the Okanagan but as soon as everyone arrived this year I was very judgemental on every trail we rode because I wanted the experience to be mind-blowing for them all. I think the views did all the convincing needed.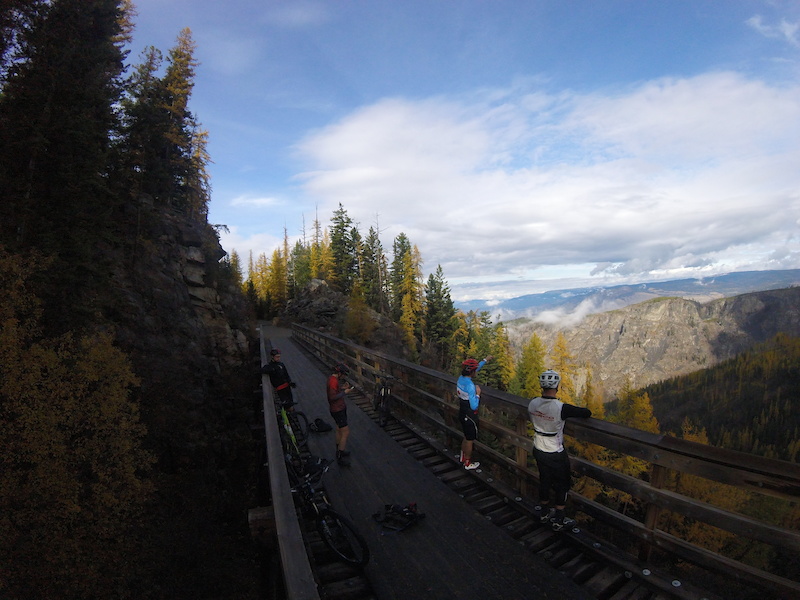 The iconic trestles of the Kettle Valley Railway with special local guest, Anthony Evans.
Fall was in full swing throughout the valley and the trail conditions were the best I can remember. Waking up to pouring rain on my tin roof in the middle of every night was a great sound because it meant good dirt. Finding loam in the desert of Canada is rare and we wasted no time shredding it. Haley spent her first full week on a trail bike and said "
I love exploring new places on my bike. We did a full week of it at Guthrie's place in the Okanagan, and it was a great way to get started on 2017 training. Being on a trail bike was so much fun - I couldn't stop grinning. Nothing is like the feeling of ripping new trails with friends on a sick bike.
"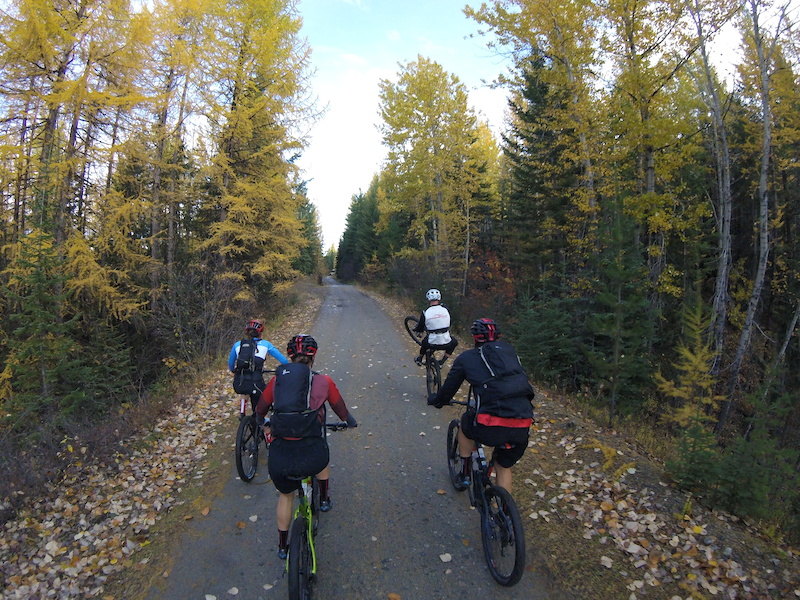 The Larch trees showcased the changing of seasons in October.
This was the first year in my life where I wasn't in school full-time or working full-time and it was magical. That said, I got home from my last racing trip on October 5th, had friends coming out for my unofficial Camp Guthrie fall edition on October 12th and I started school on November 1st. The "off-season" was busy, yes. Fun, of course. Productive, always. Memorable, one of the best yet. Thank you to everyone who made this "unicorn chasing season" a success. I just returned home from Vezina Training Camps after searching for some fitness, good coffee and possibly a cookie or twenty because we turn to winter fun season.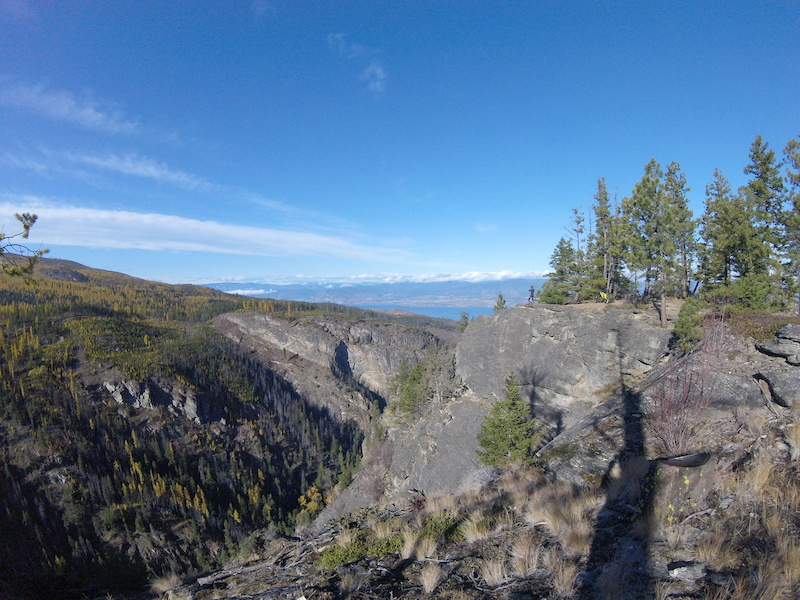 Myra-Bellevue Provincial Park. The views speak for itself and I think Ms. Fleury said this may be her new favorite place. "
Camp Guthrie was a success and that was not a surprise! From riding a big bike on sick trails to crossing a river and almost losing a bike (and Evan) to doing my first quad ride (check off the to-do list)! We had an amazing group for riding and discovering all the Okanagan on a bike! Big thanks to Evan for this success and let's start 2017
" - This was Catherine's first time on a bike bigger than 100mm!
Must Read This Week