The Demo 8 Carbon In Action
Filmed and edited by Nic Genovese Aaron Larock
Specialized's Demo 8 Carbon Explained
Filmed and edited by Nic Genovese and Aaron Larock



What's New About The Demo 8 Carbon

• Entirely new carbon fiber front triangle

• Bare Demo 8 Carbon frame weighs 0.9lbs/408grams less than alloy frame (

7.8lbs vs 8.7lbs

)

• Three position, adjustable bottom bracket height can be set 5mm lower than alloy bike

• More progressive suspension (

via altered forward shock mount

) to aid shock setup

• Employs new mandrel molding techniques

Demo 8 Carbon Details

• New model for 2013

• FACT 11m carbon front triangle on S-Works Demo 8 Team Replica, FACT 10m on Demo 8 Carbon 8 I

• Magnesium link on S-Works Demo 8 Team Replica, aluminum link on Carbon Demo 8 I

• Full length 1.5'' head tube

• ISCG-05 chain guide tabs

• Cartridge bearing rear shock mount

• Aluminum chain and seat stays

• S-Works Demo 8 Team Replica uses 135mm width hub spacing w/ 7 speed, 9-26 cassette

• Rear wheel travel: 200mm

• Frame weight: 7.8lbs (

w/o shock

), 10.2lbs (

w/ shock

)

• MSRP: TBA
S-Works Demo 8 Team Replica
The phrase ''team replica'', or some other words used to enforce the belief that your riding hero is using the very same equipment as you, is one that gets bandied about quite often. It rarely is applied to a bike that actually deserves the title, though, usually denoting that it has has simply been done up with similar colors to the team bikes. The S-Works Demo 8 Team Replica bucks that trend to come tantalizingly close to being an actual replica of one of the trickest race bikes on the World Cup race circuit. It is assembled around the very same carbon frame that is ridden by Hill and Brosnan, incorporating the identical shock eyelet cam that allows the rider access to the same geometry used by the team, as well as the slimmer 12 x 135mm rear end spacing that they requested due to its ability to not get hung up on tight sections of the track. Want that same 13.3'' ground hugging bottom bracket height that Sam is known to favour? You got it. Although, with just 250 S-Works Demo 8 Team Replica bikes being produced for 2013, the trick might be to actually track one of them down. Availability is set for this coming September, and although pricing has yet to be decided upon, it is fair to say that this is one machine that won't come cheap.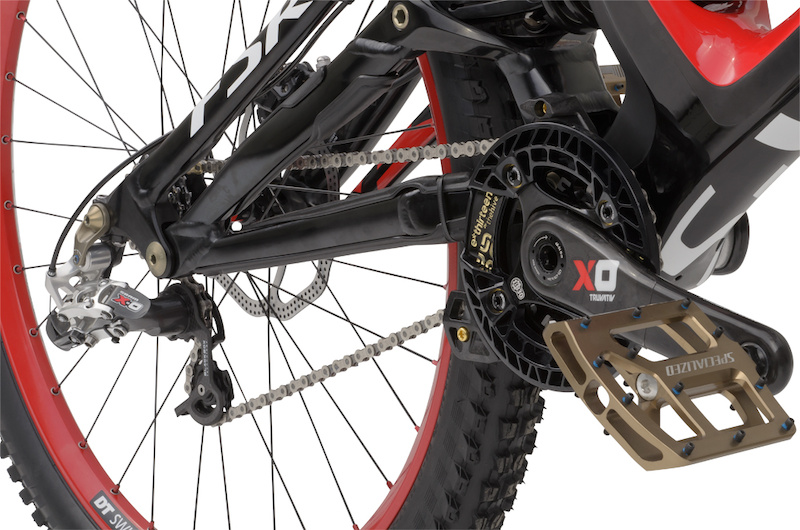 Seven Speed Drivetrain
Team Monster Energy - Specialized has been using their clever six speed drivetrain, developed by Specialized and their riders, for a while now. The system, which makes its first production appearance on the S-Works Demo 8 Team Replica with seven cogs, not only uses a much smaller, 9-26 tooth gear range that does away with the useless larger cogs of standard cassette - exactly what many riders have been asking for for years - but also allows the use of smaller 32 tooth chain ring. The compact ring lets a smaller diameter bash guard be fitted, hence more ground clearance on offer. The added room may not seem like that big of a deal, but remember that the Demo 8 Carbon is capable of being run with a low 13.3'' bottom bracket height, and that every millimeter can count when at race speed. The smaller ring doesn't sacrifice top end range thanks to the smaller than usual 9 tooth cog on the end of the cassette. This is all made possible by the use of a custom 12 x 135mm DT Swiss rear hub that has been made to be compatible with Shimano's Capreo freehub body, a stepped freehub that allows the pint-sized diameter 9 tooth cog to fit on the end (
the smallest a standard freehub will fit is an 11 tooth cog
). A burly aluminum spoke guard has been fitted in place of missing cogs on the other end of the cassette, virtually eliminating the chance of tossing a chain into the spokes during a run.
---
The goal of the BlackBox program is to develop performance technologies and products outside of production restrictions. While these developments may be less commercially viable, they also benefit us through lessons learned. We found DLC was not commercially viable for our consumer product and it led us to this new surface finish that has more commercial viability.
- Tyler Morland, SRAM MTB PR & Media Manager
---
RockShox BoXXer World Cup, BlackGold Stanchions
The super exclusive S-Works Demo 8 Team Replica is also spec'd with a very BlackBox-esque, custom RockShox BoXXer World Cup fork. The 5.9lb fork's black stanchions look to be the same as the DLC (
diamond-like carbon
) coated tubes used by the very select BlackBox development program, which is about half true. It's no secret that the ultra slippery DLC treatment also happened to be ultra expensive, and it was for this and other reasons that the DLC touch was actually scrapped from the program at the end of last year. Instead, you'll see select World Cup riders sporting this new, but still black, stanchion tube anodizing process with a proprietary additive that RockShox calls ''BlackGold''. So, yes it is BlackBox. No, it isn't the actual DLC coating. We've tinkered with a BlackGold treated fork and it felt impressively friction-free, but have yet to actually put proper time on one. Rumor is that it actually comes very close to mimicking the exceedingly slippery feel of DLC, but can be applied easier and for a much more reasonable cost. This leads us to believe that we'll see the BlackGold anodizing process applied to more production forks than just that of the S-Works Demo 8 Team Replica, but it is still likely a full season away. Want BlackGold? The S-Works Demo is going to be the only place that you'll see if for quite some time.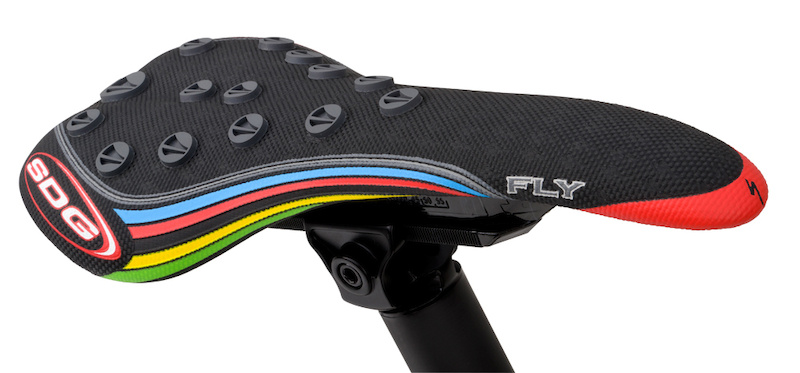 Contact Points
Word is that Sam runs his SDG I-Fly Storm saddle year round, muddy or not, so it makes sense that the rubber-lugged saddle is spec'd on the replica bike, World Champ rainbow stripes included. Renthal decks out the S-Works Demo 8 Team Replica's cockpit, with a 780mm Fat Bar being held in place with their clever, two piece Integra direct mount stem. Specialized's own half waffle Sip Grip grips are locked onto the bars, with the small sized bikes using regular diameter versions and the medium and large sizes being fitted with the thicker versions.
Specifications
Release Date
2013
Price
Travel
200mm
Rear Shock
Custom RockShox Vivid, Ti spring
Fork
Custom RockShox Boxxer World Cup, Black Gold stanchions
Headset
1-1/2" integrated for 1-1/8" steerer
Cassette
Shimano HG-70 Capreo, 9-speed, Micro 9-26
Crankarms
SRAM X0 DH, carbon arms, micro-single 32T ring
Chainguide
E.13 chainguide
Bottom Bracket
SRAM PF30 DH, 83mm shell
Pedals
Specialized Bennies
Chain
KMC X9 SL, nickel plate
Rear Derailleur
SRAM X0, 9-speed, short cage
Shifter Pods
SRAM X0, 9-speed
Handlebar
Renthal Fat Bar, 780mm wide, 7-degree backsweep, 31.8mm
Stem
Renthal Integra, direct mount, 45mm, integrated 6-bolt
Grips
Specialized Sip Grip
Brakes
Custom Avid Code X0 World Cup, hydraulic disc, Code caliper, organic pad, stainless hardware, 200mm rotors
Hubs
DT Swiss 240S, 20mm thru-axle, Custom DT Swiss, Capero compatible, Star Ratchet, 135mm,
Spokes
DT Swiss Competition, stainless, 2.0/1.8/2.0mm front, 2.0 rear
Rim
Custom DT Swiss FR 600, 32h
Tires
Specialized Butcher DH, 60 TPI, wire bead, soft dual-compound, 26x2.3"
Seat
Custom SDG I-Fly, World Champion stripes
Seatpost
SDG Storm I-Fly, 300mm
Specifications
Release Date
2013
Price
Travel
200mm
Rear Shock
Custom FOX DHX RC4
Fork
RockShox Boxxer RC
Headset
1-1/2" integrated for 1-1/8" steerer
Cassette
Shimano Tiagra, 10-speed, 11-25
Crankarms
Custom SRAM Descendant PF30
Chainguide
Gamut P-30 chain guide
Bottom Bracket
SRAM PF30 DH, 83mm shell
Pedals
Specialized Bennies
Chain
KMC X10
Rear Derailleur
SRAM X9 Type 2, 10-speed, short cage
Shifter Pods
SRAM X7, 10-speed
Handlebar
Specialized Demo low-rise bar, 750mm
Stem
Specialized Direct Mount
Grips
Specialized Sip Grip
Brakes
Custom Avid Elixir 5 R
Hubs
Specialized Hi Lo,
Spokes
DT Swiss
Rim
Roval DH 26, alloy disc, 30mm wide
Tires
Specialized Butcher DH, 60 TPI, wire bead, soft dual-compound, 26x2.3"
Seat
Specialized DH, 8mm hollow Cr-Mo rails
Seatpost
Specialized 6061 alloy, two bolt micro adjust,

The Carbon Demo 8 I may not garner as much attention as the S-Works Demo 8 Team Replica, but its less expensive entry price will make the black and white bike a more realistic option for most riders. It uses the exact same geometry, including the three positon shock eyelet cam, but is built around a slightly heavier FACT 10m carbon frame. How much heavier is it? Specialized claims that the Carbon Demo 8 I frame weighs just 50 grams more. The bike's main link is aluminum - the Team Replica uses a magnesium link - and the rear end spacing is a more common 150mm in place of the S-Works' 135mm. You also won't find the trick six speed cassette and tiny chain ring.

What the Carbon Demo 8 I does offer, though, is a very similar build kit to the standard alloy version, expect that it is all assembled around a carbon frame that is nearly a full pound lighter than the aluminum version. Pricing is still unavailable, but we're looking forward to seeing what the Carbon Demo 8 I comes in at - it could end up being quite the steal for a carbon downhill bike. Expect an August release date.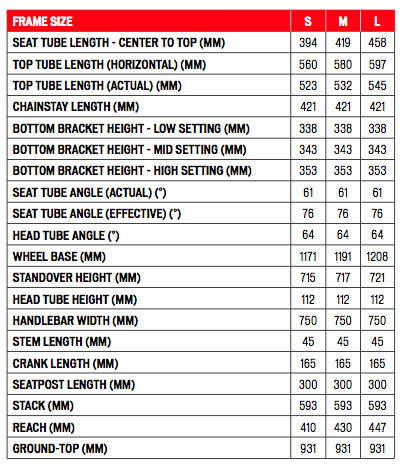 S-Works Demo 8 Team Replica Frame
Want to build your own Demo 8 Carbon up as you see fit? If so, you'll get to base it around the red and black, FACT 11m S-Works Demo 8 Team Replica frame that comes from Specialized fitted with Cane Creek's Double Barrel rear shock - not exactly a shabby platform to start from given its 7.8lb frame weight (
w/o shock
) The aluminum rear end uses standard 150mm spacing as opposed to the team spec 135mm width on the complete bike, clearly with an eye on giving the owner a wider hub selection to choose from for their build. Extras include a SRAM PF30 to BSA 83mm adapter that will allow common cranks to be fitted, as well as a 30.9mm Thomson seat post. The rest is up to you.
As with the S-Works Demo 8 Team Replica and Carbon Demo 8 I, the frame's price has yet to be decided upon.
---
Demo Evolution
The Demo platform has been in use since 2004, the year that Specialized first released the Demo 9. That early version, designed during a time when weight was of less concern, was suited more toward going large than going fast between the tape. What it did do, though, was prove that the bike's novelly arranged, four-bar FSR suspension system was very adapt at handling the terrain. The design lost weight over the years, trimming down as the times demanded, but it wasn't until Specialized signed Sam Hill that the entire focus of the Demo platform changed. The design now shifted from an all-around ethos (
as 'all-around' as a downhill bike could be anyways
) to one that was purely focused on racing. Hill wanted the bike lower, closer to the ground than nearly anything else out there, as well as slacker to handle the speeds of racing at the top level. Specialized accommodated Hill's wishes and the next generation Demo was raced to wins by the entire team - National wins, World Cup overalls, and World Championships were all taken aboard the new bike. The next logical step, of course, is carbon fiber.
Aluminum Head Tube Sleeve
There are many carbon frames out there that see their headsets pressed in to mate directly against the carbon, a layout that has proven to be trouble free over time. Regardless, Specialized wanted to absolutely eliminate any chance of an issue arising on the Demo. The choice was made to utilize an aluminum sleeve (
above, right
) throughout the full length of the head tube, providing a metal contact surface for the headset cup to interface with. This route wasn't necessarily taken because the project's engineers were concerned about the carbon tube's ability to withstand riding abuse, but more to facilitate the consumers who might be removing and installing angle adjusting headsets more often than they would on a bike designed for a different purpose. The sleeve may add a few grams, but it is in line with Specialized's goal of creating a frame that exceeded their strength and durability goals. A threaded aluminum insert (
above, left
) is also home to the main link's forward attachment point on the front triangle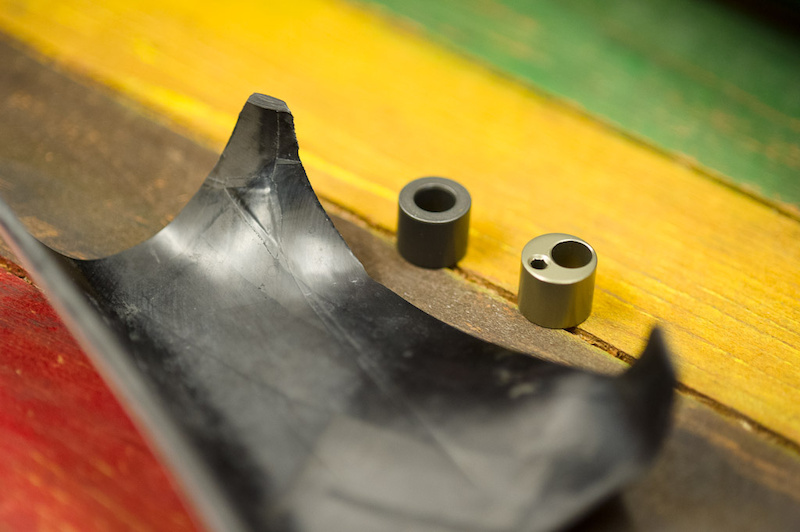 Lower Bottom Bracket, More Progressive Suspension
The riders on Team Monster Energy - Specialized are known for preferring some of the lowest bottom bracket heights on the World Cup race circuit, a design point that made its way onto the latest generation of alloy Demos over the last few seasons. Hill requested an even lower setting, though, to meet his liking of a easy to turn but stable bike. Demo 8 Carbon owners will have the option of running that same geometry thanks to Specialized shifting the forward shock mount's position slightly on the down tube, a change the dropped the bottom bracket by 5mm to put it at 338mm/13.3''. Nervous about catching your pedals due to that ultra low BB height? The rear shock mount employs an eccentric cam (
shown ar right
)that can be turned to raise the bottom bracket to 353mm/13.9'', or the included concentric cam can be fitted to attain a middle-of-the road 343mm/13.5'' height.
By moving the forward shock mount Specialized was also able to build in more progressivity to the suspension rate, another request from the World Cup team that
makes its way onto the production Demo 8 Carbon. ''That makes the tuning of the shock a little bit easier for the World Cup level course,'' says Specialized's senior suspension engineer Jason Chamberlain, but we also suspect that it will allow the average rider to run a slightly more forgiving setup without sacrificing bottom out control or depending on the shock to compensate as much as it would have to on last year's Demo.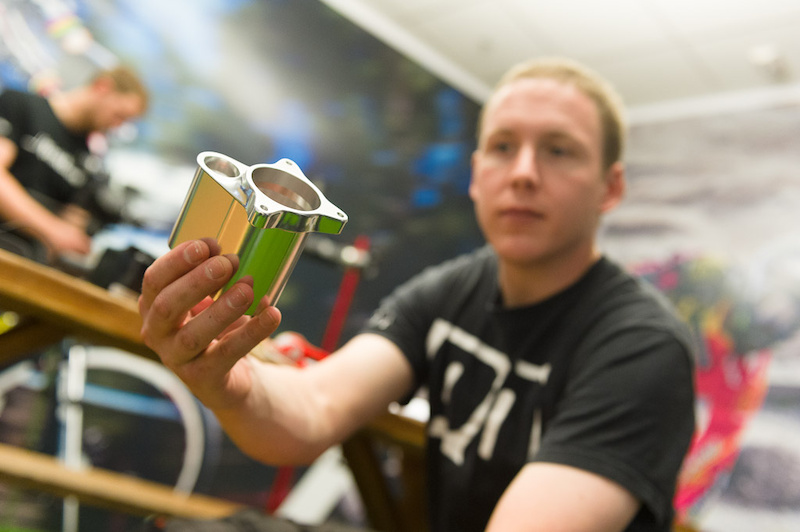 One Piece Bottom Bracket Assembly
Specialized considered multiple options when it came time to determine how the bottom bracket area of the Demo 8 Carbon would be laid out. They settled on a massive, forged aluminum section that acts as the hard mounting point for both the bike's Press-Fit bottom bracket bearings and ISCG-05 chain guide tabs, as well as being home to the main pivot location. This layout not only ensures that all of those key components will be in perfect alignment with each other, but it also meets Specialized's wish to have metal-on-metal interfaces for crucial bearing locations.
The entire aluminum bottom bracket assembly is slid firmly into place from the drive side of the bike, with the tolerances being incredibly tight - we pushed a BB assembly home into a bare frame and it went in smoothly, but there was zero ability for it to move within the frame. Channels shaped into the bottom bracket section provide area for the bonding agent to fuse it permanently into the frame.
Aluminum Rear End
Specialized chose to continue using an aluminum rear end for the new Demo, which may come as a surprise to some given that they do offer other full suspension models with carbon stays. ''
In the end we determined that the biggest benefits could be had in the front triangle,
'' Chamberlain told us, "
Carbon chain stays and carbon seat stays didn't provide as big a benefit as we wanted, so for the time being we decided to focus on just the front triangle.
'' Having said that, there was certainly a knowing smile on Chamberlain's face as finished that sentence. We're willing to bet that they most certainly tested a carbon rear end, even if they wouldn't admit to it, and that it will make an appearance at some point in the future. The weight loss in a carbon rear end is likely to be relatively small, but the fact that it would come in lighter at all basically ensures that they will be pursuing the concept in the long run.
Unidirectional Carbon and Mandrel Technology
Sometimes it is actually what's missing from a design can be a most telling, and what's absent from the Demo 8 Carbon is the weave finish that many carbon neophytes associate with the ordained material. That typical carbon fiber weave appearance is a product of the alignment of the cloth fibers, and although that particular layup has benefits when it comes to certain applications, it often isn't the best choice in the bicycle world. Unidirectional carbon is just as its name would have you believe: all of the material's filaments are aligned in the same direction. This is especially important to note when you consider that carbon is at its strongest when loaded along its axis, meaning that laying up the UD carbon in a particular way will allow its strength to be fully taken advantage of. The end result should not only be a stronger finished product, but one that will also require less material to meet the design and strength goals. This is especially true when dealing with the tight curves and challenging shapes found on the Demo 8 Carbon frame, a job that is much better suited to the more pliable nature of unidirectional carbon. While this is accurate when talking about most mountain bike frames and components, it isn't uncommon for a manufacturer to apply a carbon weave to the outside of the product simply to make it abundantly clear to anyone and everyone that their goods are made with carbon fiber. This, of course, adds useless weight to the final product, weight that serves no purpose other than to yell ''look at me, I'm carbon.'' Inspect the bare sections of carbon on both the S-Works Demo 8 Team Replica and Carbon Demo 8 I bikes and you'll see none of this, with Specialized merely giving the frame a spay of protective clear coat.
---
We've put a lot of time and a lot of effort into our mandrel technology. It's not something that the customer can see when they look at the final bike, but if you could look at the inside of the frame it looks as nice on the inside as it does on the outside, and that's an artifact of all our work.
- Brad Paquin, composite design engineer
---
It's generally agreed upon that a well made carbon frame can surpass an alloy frame of similar design and intention when talking strength, rigidity, and weight. However, alloy frame manufacturing, especially when done robotically as is often the case, can be performed on a more consistent level. A carbon frame, on the other hand, requires its separate carbon cloth sheets to be laid down in exactly the correct orientation in order for the frame to be as strong as the designer intended. This is a point that all manufacturers focus on, and Specialized has put a large priority on this with the Demo. Changes to the layup and mold components ensure that the carbon sheets don't shift during frame construction, but a new mandrel technique also come into play. Many carbon frames are made using a latex bladder that the carbon sheets are laid over, followed by pressure and heat being applied from all sides by a two-piece steel mold. The issue arrises when using the latex bladder method to construct complicated carbon shapes, a task that is possible but also one that often requires more carbon and results in the bladder being trapped within the frame. Instead, complicated sections of the Demo front triangle, which is built by joining separate front and rear sections, are formed using a very special type of foam in place of a bladder. The foam used has a specific melting point that allows it to be removed from the frame when heated to a certain temperature. The result is not only a lighter frame due to there not being a latex bladder jammed inside of it, but also more even compaction of the unidirectional carbon cloth that equals a void-free, and therefore stronger, frame.
---
In-house Testing
---
The goals, in order of importance, were: exceed the strength of the current bike, exceed the durability of the current bike, and make it significantly lighter than the current bike. The fourth thing is probably the stiffness. We wanted to match the stiffness of the current bike. We had to prove that we could build a better bike than the alloy bike, we had to prove that it would justify a consumer's money to pay for it.
- Jason Chamberlain, senior engineer
---
Specialized isn't shy about their carbon frames being manufactured in Asia, especially in this day and age when many top quality carbon frames and components hail from overseas. One point that they are quick to point out, though, is that although their frames are fabricated in Asia, Specialized actually puts each design through their own demanding tests in their in-house test lab in Morgan Hill, California. This is a step that some other companies use a third party for, or even leave it up to the Asian manufacturer themselves (
producing not so objective results, no doubt
). This test lab played a large role throughout the carbon Demo's development, allowing the engineers on the project to test the stiffness and strength of each version of the frame. In all, seven different carbon layup revisions were assessed, with the final version being ''
...by far the strongest bike we've ever made
'', according to Chamberlain. ''
So we wanted to make sure that it exceeded the strength of the alloy bike,
'' he continues, "
as well as exceeded all of our internal test standards
''. This is on top of the fifteen to twenty different virtual renditions that were run through computer simulations long before a single piece of carbon was laid down. All told, the Demo 8 Carbon frame has two years of development and testing behind it, much of which took place in the test lab pictured above.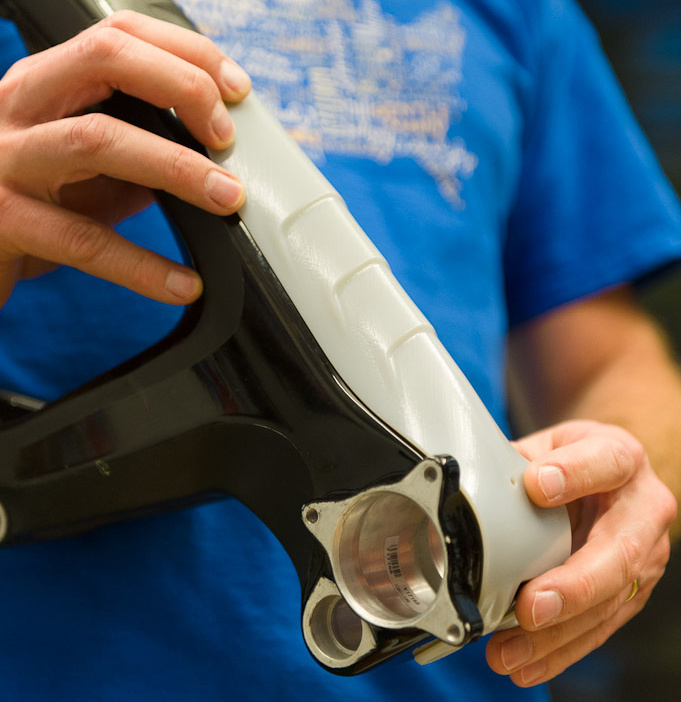 Impact Testing
Downhill bikes, especially those that are being raced on rough, rocky tracks, are subjected to an incredible amount of abuse, but there is one area of the bike that is surely considered to be most vulnerable: the down tube. We've all seen photos of aluminum downhill frames sporting large dents on the lower portion of the down tube, but this is often not fatal for the aluminum frames so long as the dent isn't overly deep. Carbon frames, on the other hand, can be built to withstand much more abuse in this area, which is essential due to the material's ability to hide internal damage from inspection. The down tube impact testing shown above was a major focus when designing and assessing the new Demo 8 Carbon, with the frame being held stationary in a sand box while a weighted steel head is dropped from above to simulate rock strikes or the down tube bottoming on the ground. The result of this testing is a significantly reinforced zone on the lower section of the tube that features a much more robust, 4mm thick carbon layup, as well as a specially designed protector that is fitted over top.
The protector itself (
shown to the right
) is quite clever, employing an angled 'V' shape that works to deflect debris off to the side. It is also spaced away from the frame slightly, adding a buffer zone that allows for flexing of the guard when it is struck, as well as making use of a padded section between the frame and protector to further absorb and displace impacts. Having said that, Specialized is so confident in the frame's ability to withstand down tube impacts that they admit that the protector isn't actually required, but is an extra level of protection that adds minimal weight to the entire package.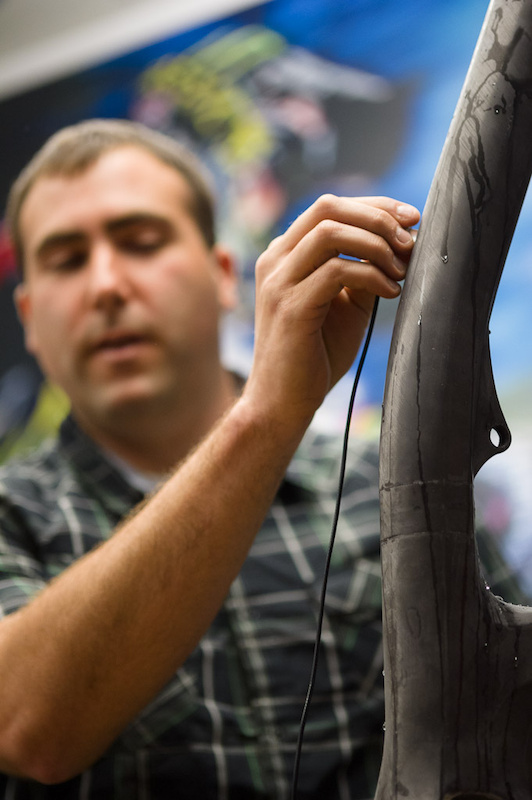 Ultrasonic Testing
The Specialized in-house test lab is capable of putting the carbon Demo frame through multiple rigorous tests, but the key to really understanding these tests is to know how the frame is reacting to the loads internally - pushing the frame until it fails on a test rig only tells part of the story, with the test lab engineers also needing to know what is happening within the carbon layup before the frame fails externally. This is where their ultrasonic test machine comes into play, a tool that can cost well over $10,000 USD, but also one that Specialized considers vital to development. "
We can scan a part relatively quickly and see if there is any damage in it,
'' says Specialized's composite engineer Brad Paquin, "
And also one of the key features that it allows you to do is monitor damage after it happend.
'' The ultrasonic tester used by Specialized, which also happens to be the one of the very same models used by the McLaren Formula 1 team (
Paquin worked with McLaren during their Venge road bike project
), utilizes a reflection method whereby it passes sound through the laminate and measures the amount of time that it takes for the sound to return to the transducer. Because sound generally travels faster through solids than through gases, the ultrasonic tester is then able to tell the operator where internal delamination has occurred due to the small air pockets that form between the damaged layers of carbon. The tool's effectiveness is increased by coating the carbon in water (
see photo at right
), a step that limits lost ultrasonic wave energy due to separation between surfaces. In other words, it improves conductivity. If all that sounds a bit technical, the basic principles are the very same as when you tap the edge of a coin on a solid object and then do the same on a hollow object - the sound that the coin makes on each is very different .
Specialized employs the ultrasonic tool throughout a frame's lifespan on the test rig by checking its laminate during the test interval, be it load testing of the front end or impact testing of the down tube. Once an area of delamination has been found it can be monitored right up until the point of failure, allowing the engineers to better understand exactly how the carbon failed and, even more importantly, how the carbon reacted in the long run subsequent to the initial damage. The rather expensive ultrasonic tester is obviously far out of the realm of a local shop, and it's fair to say that many other bike companies don't even possess the pricey tool, but it allows Specialized to perform and better understand their own testing instead of depending solely on a third party.
---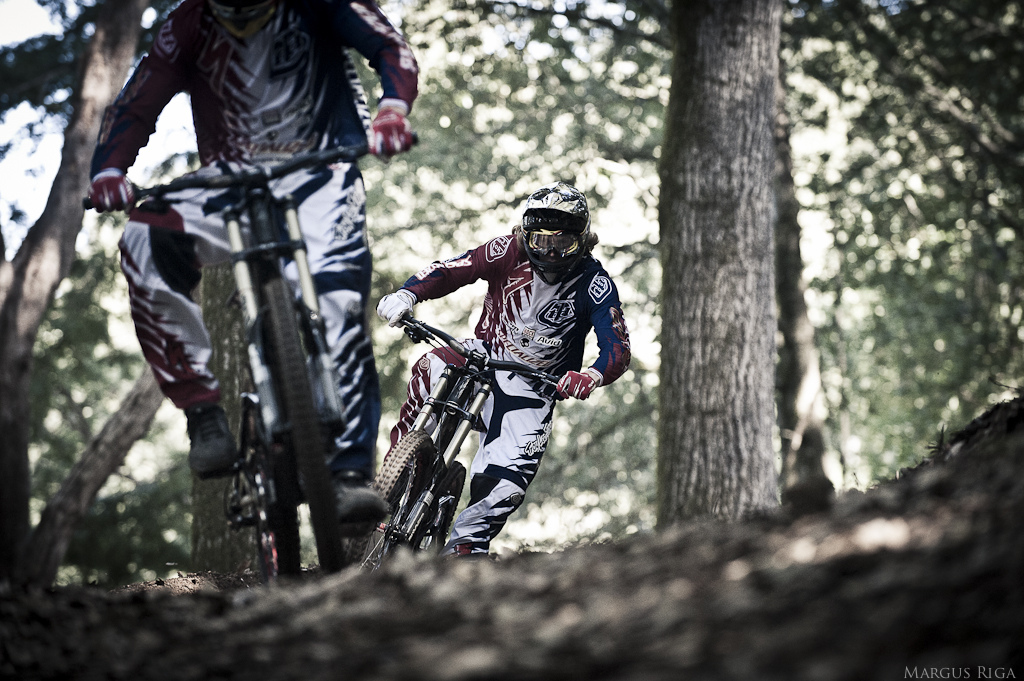 Curtis Keene and Brad Benedict, development riders for Specialized, both played a large part in the bike's evolution.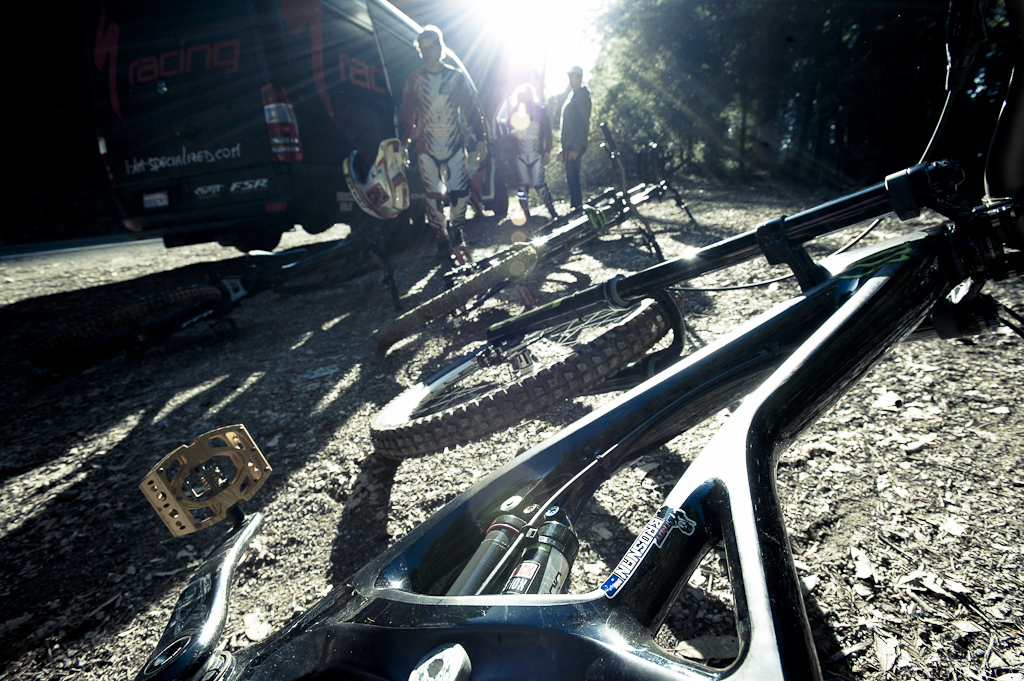 The end of a long day shooting photos and video for this article with Sam Hill, Troy Brosnan, Curtis Keene, and Brad Benedict.
www.specialized.com