SRAM TRAIL HOUSE: SEDONA, ARIZONA
RAIL and ROAM
Wheels


WORDS
Mike Levy
PHOTOS
Adrian Marcoux and Sebastian Schieck
A Different Approach
Last month we visited Sedona, Arizona, for SRAM's annual 'Trail House' press camp event that puts a focus on riding product instead of just talking about it, and while there we were able to
ride and gather a first impression of RockShox's 2014 Pike fork
. We also got the chance to put some miles on new wheel offerings from SRAM, with a set of their 2014 Rail 50 wheels fitted to our Santa Cruz Tallboy LT Carbon, as well as gather some first hand knowledge from the minds behind those and the new carbon fiber Roam 60 wheels. Many miles were ridden on Sedona's dusty and rocky singletrack, a lot of fun was had, and we managed to escape with only third degree burns to our pale Canadian skin.


School's in session. SRAM's wheel project manager, Bastian Donz, talks to the group about the new wheels before heading out to kick up some dust.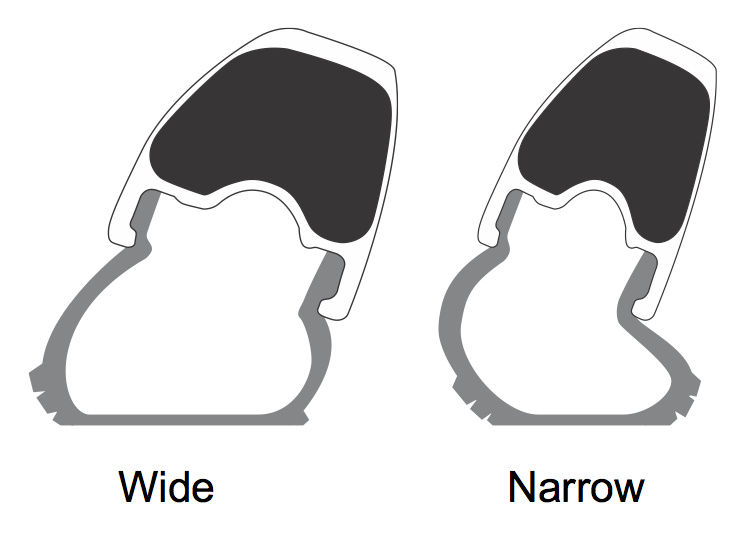 Wider is Better?
While the answer to that question is often a clear "no" when talking about certain things in life, the general consensus these days is that a few millimeters of added rim width truly does offer some benefits over a rim with more traditional dimensions. SRAM apparently agrees, with their new Roam and Rail wheel series sporting inner profiles that are a few millimeters wider than usual: 21mm for the Roam, and 23mm for the Rail. Pinkbike's own Richard Cunningham recently laid out
his arguments for the acceptance of wider rims
, making some very good points that are certainly relevant here considering SRAM's move to slightly wider profiles.
•
More tread contact
because the tread deflects less dramatically under lateral loads and remains more parallel to the rim.
•
Stability is increased
because rims add a significant amount of lateral support to a tire - especially large volume tires like the 2.35'' and 2.4'' rubber that has become regular fare for XC/Trail and AM riders. A tire casing could be made lighter weight and boosting the tire's lateral stability should eliminate burping.
•
Weight savings
. Consider the tire and wheel as an integrated unit. The tire weighs much more than the rim, so a wider rim, though slightly heavier, adds volume to the tire without adding additional rubber and tire casing. This could be especially beneficial to 29ers because the big wheel already spins way too much rubber.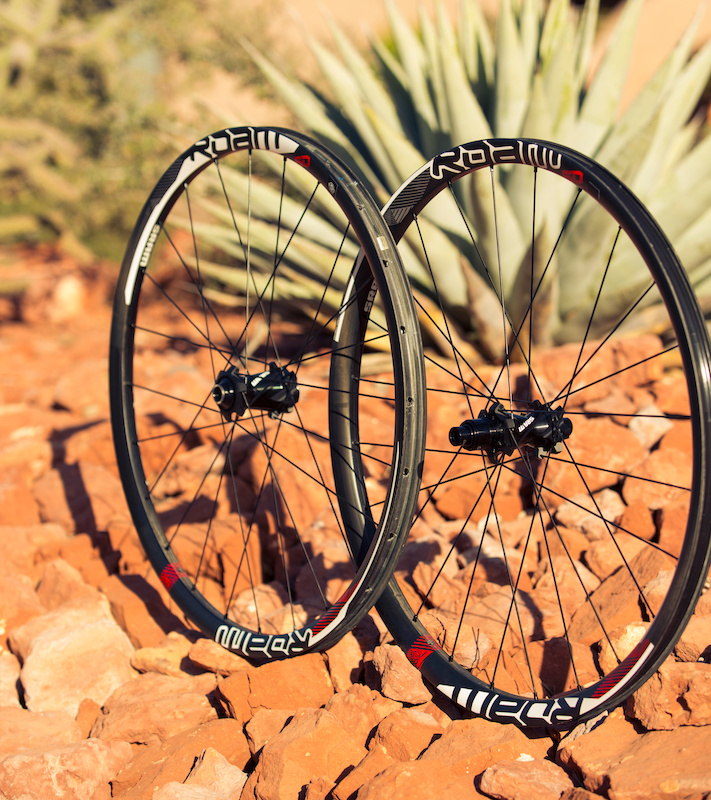 Roam 60 - Strength Before Weight
Ask the average rider what type of use carbon fiber rims are best suited for and there is a good chance that you'll hear cross-country racing as their answer, although that train of thought is slowly changing as burlier carbon rims become available. And while there is no argument that there are already carbon rim and wheel options out there intended to be used for some aggressive riding, the $2199 USD Roam 60 marks SRAM's first foray into such territory, with their older Rise series of carbon rimmed wheels being aimed at the cross-country set. In fact, SRAM is confident enough in the their new Roam 60 wheels to state that the are "
strong enough for the toughest enduro races
''. The 1495 gram (
26'' set, claimed
) Roam 60 wheelset is far from being heavy, although SRAM's wheel project manager, Bastian Donz, told us that the carbon fiber was actually added to the rim to greatly increase strength - they could have been even lighter.
2014 SRAM Roam 60 Details
• Intended use: trail/all-mountain/enduro
• Available in 26'', 27.5'', 29'' sizes
• Asymmetrical, Taper Core carbon fiber rim
• 21mm internal width, 29mm outer
• UST rim bed shape
• Double butted, straight-pull stainless steel spokes
• Locking aluminum nipples
• Tool-less axle conversion to all sizes
• 9, 10, and 11 speed XX1 compatible
• Uses DT swiss' 36 tooth Star Ratchet driver
• 26'' - 1495g, 27.5'' - 1550g, 29'' - 1625g
• Available this July
• MSRP: $2199 USD
Rail 50 - More Aluminum, More Aggressive

While the carbon rimmed Roam 60s shown above are a lightweight option for those who are looking for a feathery wheelset that can stand up to some solid riding, the $1072 USD Rail 50s are an aluminum option that SRAM claims can ''

can withstand the most aggressive all-mountain/enduro riding...

''. At a more than respectable 1690 grams for the 26'' size, they are also light enough to not put off most of us gram counters. The key difference between the two wheelsets, besides the carbon and aluminum rims and the price gap that comes with that, is the rim width: internally, the Roam rim measures 21mm while the Rail comes in at 23mm. It may only be two millimeters, but that can make a big difference when an aggressive rider is using a wide, 2.4'' tire as so many do these days. The result should be more support for the tire casing, a larger footprint, and less chance of burping tubeless setups.

Both the rim material and rim width may be different, but the same principles found on the Roam series can also be spotted on the Rail 50 and Rail 60 (

SRAM didn't comment on a carbon rimmed version of the Rail, but we can assume that there will be one and it will be called the Rail 60

). Stainless steel, straight pull spokes are used, leading down to smart looking hubs that can be converted to any axle size without requiring tools, and the rear hub employs DT's Star Ratchet driver system. The Rail rim uses a UST rim bed profile, and 26'', 27.5'', and 29'' sizes will be available when the wheels hit the market this coming July.

2014 SRAM Rail 50 Details

• Intended use: aggressive all-mountain/enduro
• Available in 26'', 27.5'', 29'' sizes
• Asymmetrical, Taper Core aluminum rim
• 23mm internal width, 28mm outer
• UST rim bed shape
• Double butted, straight-pull stainless steel spokes
• Locking aluminum nipples
• Tool-less axle conversion to all sizes
• 9, 10, and 11 speed XX1 compatible
• Uses DT swiss' Star Ratchet driver
• 26'' - 1690g, 27.5'' - 1750g, 29'' - 1830g
• Available this July
• MSRP: $1072 USD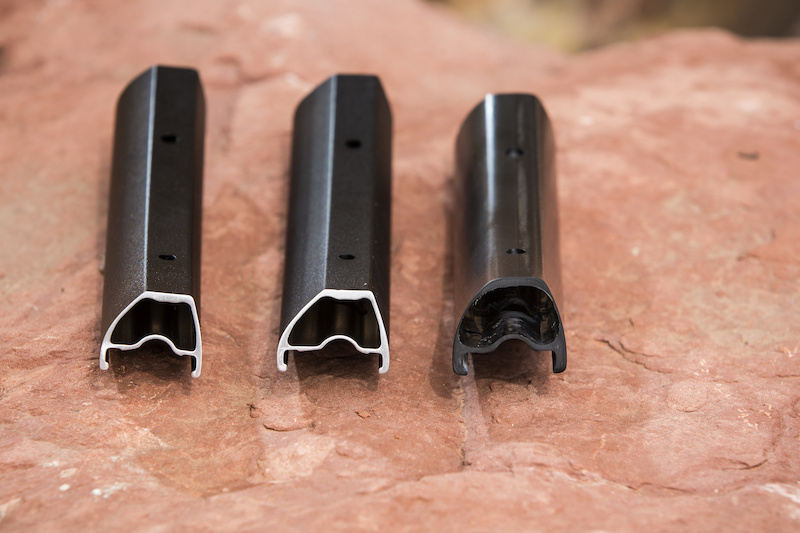 Taper Core and UST
Being able to put extra material only where it is required is key to manufacturing a component that is both relatively light and strong, but doing that isn't exactly easy. From the outside, SRAM's three new rims, the aluminum Rail and both the aluminum and carbon Roam rims, appear to use a somewhat standard shape. The cross-section view (
shown at right
) of each reveals more of the story, though, with it being clear that there is some internal trickery going on. Did you spot the varying thickness of each rim's sidewall? Much like the butted tubes of a bike frame, SRAM's extrusion shape (
and mold for the carbon Roam 60 rim
) places material at the sidewall and rim bed junction where it adds support to the sidewall itself. The result should be increased dent resistance, although we'll need to put some proper trail time on the new wheels to see if it really does help. Arguably more important than the Taper Core rim wall shape, SRAM has chosen to use a UST rim bed and bead hook on all of their new rims. This is a welcome change that will greatly limit the chance of burping a tire, not to mention making tubeless installs much easier.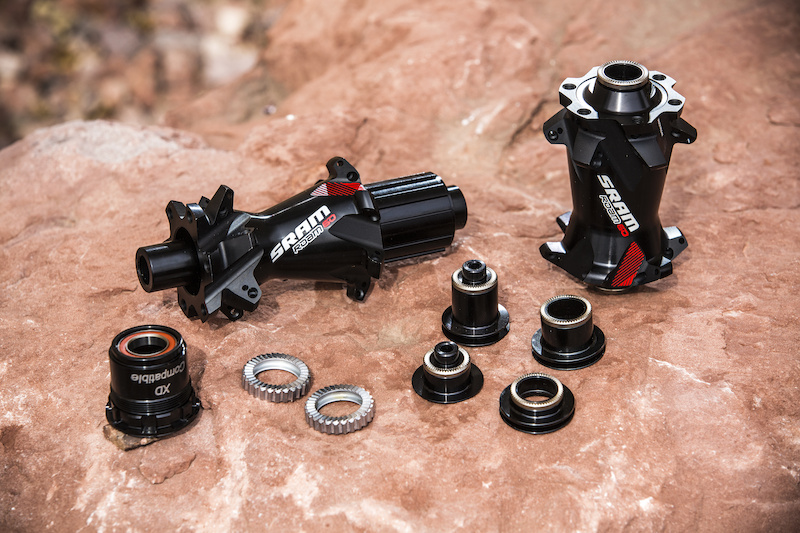 New Hubs, One Spoke
The fresh rims aren't the only talking point, with SRAM designing completely new hubs for both the Roam and Rail wheelsets. Yes, they still use straight pull spokes, but that is about the only thing that they have in common with the older hubs employed on their Rise wheels. The shell features stacked flanges that allow the spokes for each side of the rim to sit as outboard as possible for better dishing and a stronger build, and SRAM told us that this also allows for slightly better vertical compliance without sacrificing lateral rigidity. Precise flange height dimensions also mean that only a single spoke length is required for the entire wheelset. Front, rear, drive, and non-drive all use the very same length - 270mm for 26'', 281mm for 27.5'', and 300mm for 29'' - cue golf claps from mechanics all around the world.
Internally, SRAM has made a big change from the traditional pawl layout employed in their older hubs to DT Swiss' proven Star Ratchet driver. We're
excited about this move as, like many riders who have used DT's hubs, we've had zero trouble with their simple two spring and twin ratchets. This will also make getting parts quite easy, with the Star Ratchet system being widely used for many years.

If you're a fan of racing you'll likely know of Duncan Riffle, one of the fastest American downhillers. Although he will likely contend the Enduro World Series, Riffle has taken a step back from racing downhill fulltime and taken a positon at SRAM - the pace at press camps is going to go up! A small off-trail excursion, a costly error in Sedona, put Riffle into the cactus and required twenty minutes of trail-side tweezer time to remove the offending spikes during one of our rides.
Rail 50 Ridden:
| | |
| --- | --- |
| | We spent two solid days in Sedona with our Santa Cruz Tallboy LT Carbon sporting a set of the new Rail 50 wheels, and that is far from being enough for genuine review, we most certainly went out of our way to take some questionable lines in the name of testing. The result? Nothing, and we mean that in a good way. The wheels were invisible under us, which definitely counts for something in our books. Shod with Schwalbe's sticky Hans Dampf tires, they felt rigid and didn't make a single pop or squeak. The front tire, a burly 2.4'' pick, looked imposing mounted on the 23mm wide (internal ) rim, as did the 2.2'' rear tire, and the wide profile surely helped to protect the rim despite the relatively low tire pressure that we chose to run. One particular section featured an extremely hard mid-corner compression that had us wondering if we were going to pull the tires off given their soft pressure, something that more than one rider in the group openly questioned, but none of us managed to burp either the front or rear tires during either day of riding - moving to a UST inner rim profile was a smart choice by SRAM. The same could be said of them going to DT's Star Ratchet hub internals - why try and reinvent the wheel if something works so well to begin with? While SRAM isn't the first company to begin producing slightly wider rims, we feel that it is a trend that makes a lot of sense. We're looking forward to being able to perform a proper test of the new wheels that should flesh out any potential issues, so stay tuned for long term evaluation down the road. - Mike Levy |
www.sram.com