From a distance
Trek's 2011 Session 88
looks very similar to last year's model, but a closer look reveals some major changes. Included in the list is an entirely new tube set with different profiles, as well as some slick frame mounted fork bumpers.
The biggest addition to the package may be hidden from sight though, that being a Fox DHX RC4 shock that features some very special custom valving that drastically alters the rear suspension's performance.
Inside you can see the photos and read about the 88's changes for 2011, as well as
listen to audio explaining the hows and whys of the new Fox damper tuning.
Read on...
2011 Trek Session 88
Watch the video to learn more about the 2011 Session 88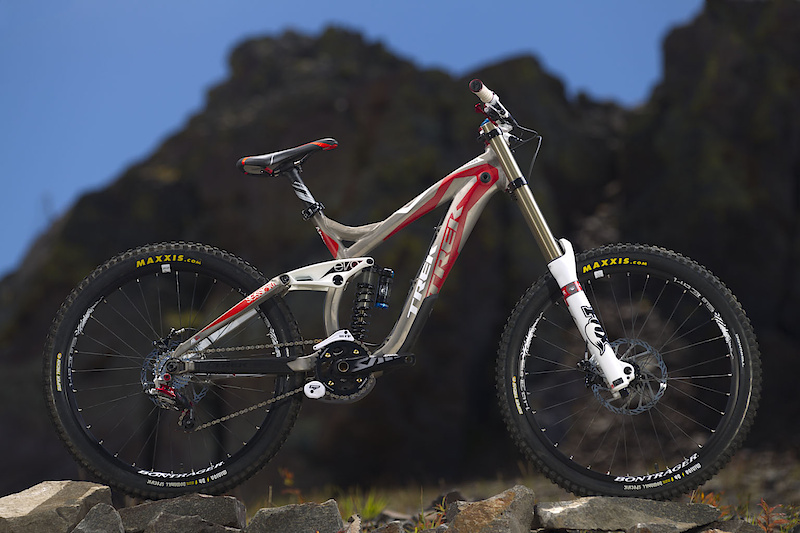 Do bikes get any more stunning than this looker? This is Trek's 2011 Session 88, a machine that apparently has no qualms about both looking great and being fast as hell. While the 88's lines look very similar to previous year's offerings, there are many big changes that have been made in the name of all out speed and control. Trek has employed a brand new large diameter downtube that has a much taller (and more aerodynamic) cross section, a lighter toptube and seattube, new box section stays that give added tire clearance, and even some very clean looking integrated fork bumpers. That's all well and good, but you tech heads out there may be most interested in the very special tuning that has been done to the Fox DHX RC4's insides, which you can read and hear more about down below. All the new frame and shock changes are great, but I know some of you are still staring at the new bike's graphics instead of reading these words. You'd be mistaken if you thought that the bike has a matte gray finish to it, it's actually bare brushed aluminum with red and white highlights and finished off with a protective clear-coat. Can a bike be considered hot? Apparently so.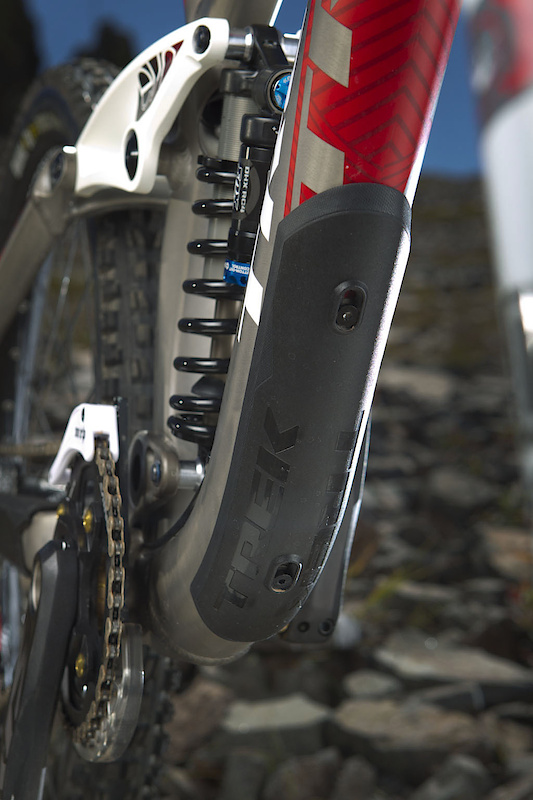 The view from down below isn't bad either. You're looking at the downtube and protective fender on the '11 Session 88. Those of you who are intimately familiar with the previous iteration of the 88 should quickly spot the very different shape of the downtube. Gone is the square shape of last year, in its place is a rounder downtube with a much taller profile that has added strength that allows lighter tubing to be used elsewhere in the frame, as well as being more aerodynamic. Do you remember the wind tunnel testing that Trek did with the 88? You're seeing the results here, and while aero concerns may yield only small gains in the real world, it is very cool to see Trek taking it into account. Rather than just sitting back and being happy, Trek's engineers looked at the effects of adding the new downtube had on the rest of the frame and realized that a lighter toptube and seattube could now be used without sacrificing an ounce of strength. Remember, it's all about the total package.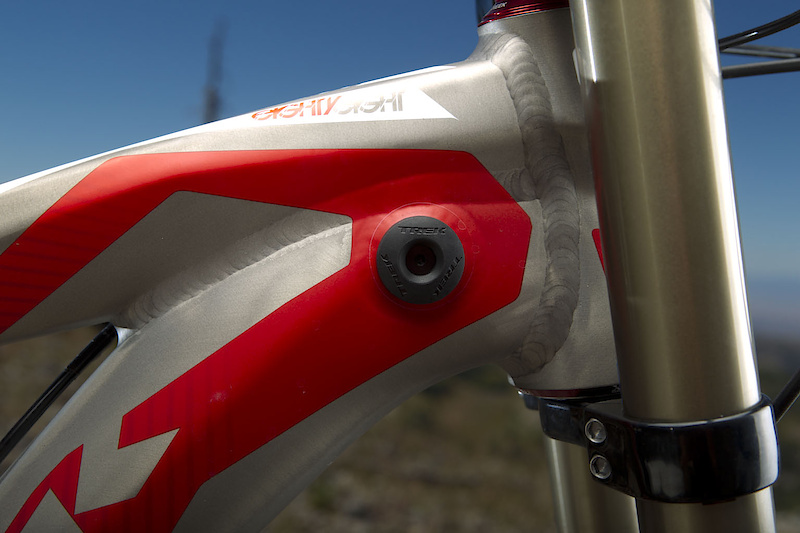 I love details and have no shame admitting that I'll happily toil for hours over the smallest part on my personal bike, which is why I'm getting all aroused by these small black rubber additions to the '11 Session. What are they, you ask? Built in fork bumpers that keep your stanchions from coming into direct contact with your frame. They do the same job as the rubber bumpers that are found on all double crown forks, but unlike those, they won't rotate or slide around and will always be in correct spot. A much cleaner solution I must say. While they may look to be simple, glued on pieces, they are actually a structural part of the frame and are connected to each other via a threaded fastener that runs through the downtube. Trek's engineers have said that rather than the tube's strength being compromised by having two holes on each side, it is actually more robust with the addition of the bolted together bumpers.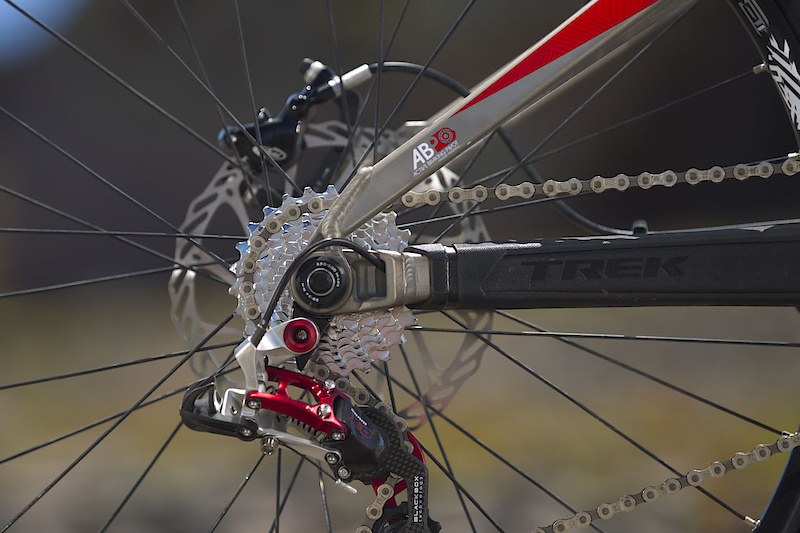 If you know Trek, you probably know ABP. If not, ABP is short for Active Braking Pivot and is exactly what it says. The chainstays and seatstays pivot directly in line with the rear axle which lessens the amount of rotation between the caliper and rotor, making for a more active system under braking. The less the distance changes between the caliper and the rotor as the suspension compresses, the more active the bike will be under braking. Simply put, it is a sort of built in floating brake. If you haven't spotted it yet, look at the rear wheel dropout in the photo above. You're also looking at the 88's rear pivot as well. ABP is used throughout Trek's full suspension line and has proved to be an excellent way of reducing braking effects on the suspension, something that is especially important on a World Cup caliber race bike like the 88.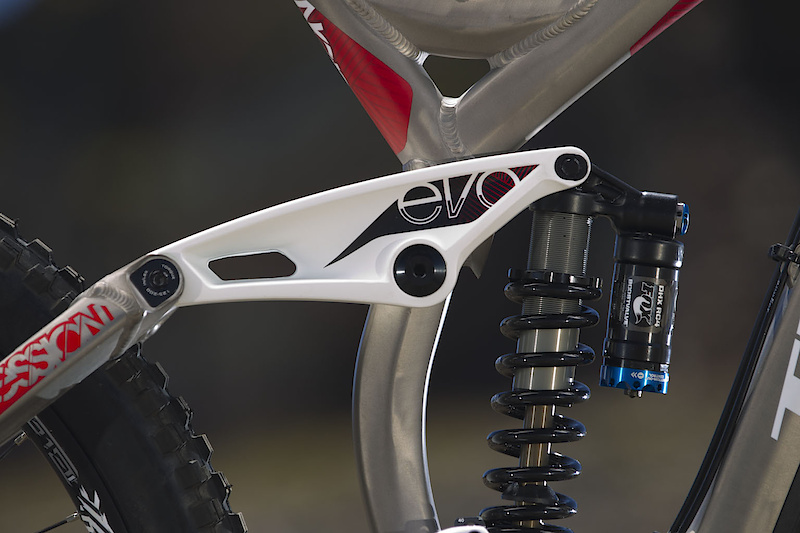 While the frame sees some significant changes, the alteration that should have the biggest effect on the '11 Session 88's performance is the work that has been done inside its Fox DHX RC4 damper. Trek's Advanced Concepts Group (ACG) has their own purpose built facility in Southern California that focuses on suspension performance, who working with the Trek World Racing team, have spent well over a year and a half working on this specific shock tune. The goal was to create not only a more active ride, but also one that uses its mid-stroke more intelligently, mainly being able to absorb more of the terrain while already deep into its travel. This is the perfect example of racing improving the breed - this shock tune was used by the TWR world Cup team at the Canberra World Champs and now you can benefit from it. Listen to the audio to hear Jose Gonzalez, lead suspension engineer at ACG, explain the 88's custom shock tuning.
---
Riding Impressions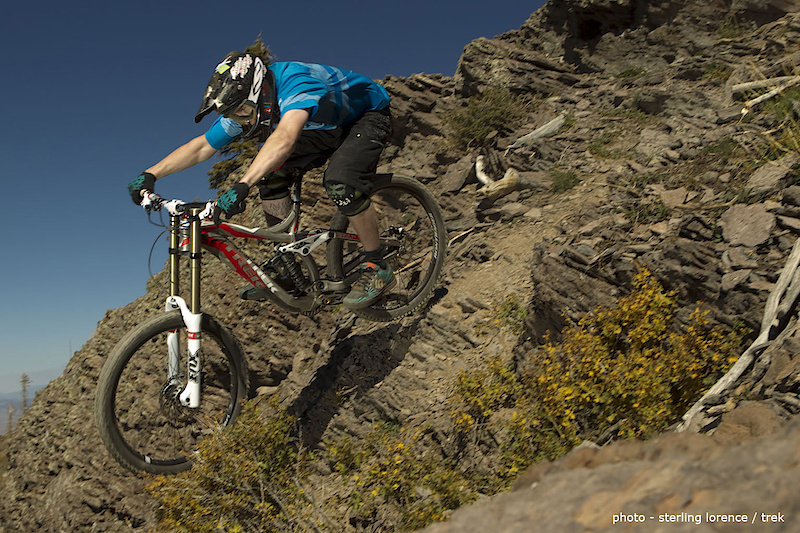 I spent two full days on the 2011 Session 88 riding at Utah's Brian Head resort. While a fair bit smaller than some other lift accessed locations, Brian Head's terrain is nothing to laugh at. There are no smooth warm up runs here, just serious terrain that kept everyone on their toes. The rough and demanding tracks made for the ideal place to wrap ones head around the 88's suspension. Messing up here would be akin to hitting the reef hard while surfing - a whole lot of missing skin. I'm a loam lover just like the rest of you, but it was rad to get up to speed on this moonscape and it was insane how fast the rocks came at you. Did I mention that you get off the lift at 11,000 feet? It was hard work for this sea level dweller to cope with the thin air and I found myself having to concentrate on breathing as I made my way down the hill. I think I sounded very much like a plugged vacuum cleaner, but I was having a blast regardless.
A quick clip of myself on the 2011 Session 88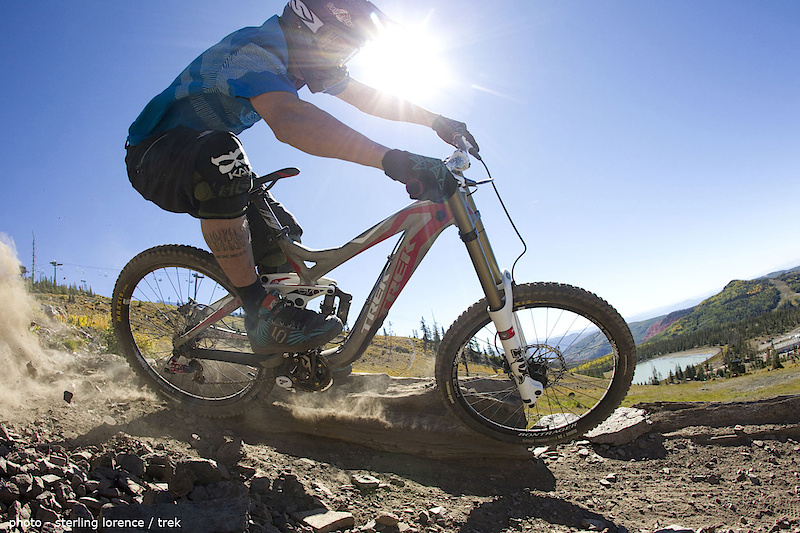 So how did the bike ride? I was very impressed, especially considering the demanding and unfamiliar terrain. Jumping on a new bike and riding hard on very foreign trails is always a challenge when trying to get a feel for any new bike, but I found the 88 to be a confidence inspiring machine. Those who are already familiar with the bike's neutral handling will be pleased to find that this hasn't changed. I have always been a fan of 88's quirk free personality, something that not a lot of DH bikes can brag about. The angles remain the same as previous years which results in a bike that is easy to move around when the time demands, but also happy to be straight lined through the worst a trail has to offer. If I was happy that Trek didn't muck about with the 88's geometry, I was even more stoked about what was done inside the Fox DHX RC4 damper that is bolted to the bike. To be clear, I was pleased with how last years bike performed and didn't expect a drastic improvement over that bike's performance in this regard, but the Fox shock's action on the 88 for 2011 is substantially different from 2010 and earlier. The trails at Brian Head are littered with rock debris and there is nary a smooth bit to be found, which made the improved sensitivity of the rear end very evident. It is one thing for someone to tell you the changes and that you're sure to notice them, but it is an entirely different thing when they are this noticeable. After a few break-in runs on the bike it was very clear that the rear wheel was more eager to enter the first parts of its travel than the previous bike. But this is where Jose's and Fox's know how comes into play. Despite the forgiving early stroke, I didn't feel that under damped sensation that you'd expect to be associated with it. The Fox shock was also noticeably more forgiving when already deep into its travel as well. Picture coming into a boulder strewn section of trail of substantial length, with that first big hit using up much of the bike's travel. The next few hits come hard and fast and the average bike would be very susceptible to getting knocked off line or at least passing a harsh feeling through to the rider. The 2011 88 seemed to deal especially well in the situations, which isn't surprising considering that both Fox and Trek's ACG spent a year and a half working to remedy this issue. The result is a shock tune that noticeably lessens that harsh spike when hits come fast and hard when the bike is already deep into its travel. Having spent time on older Sessions, I can confidently say that there is quite a difference in this regard between the two.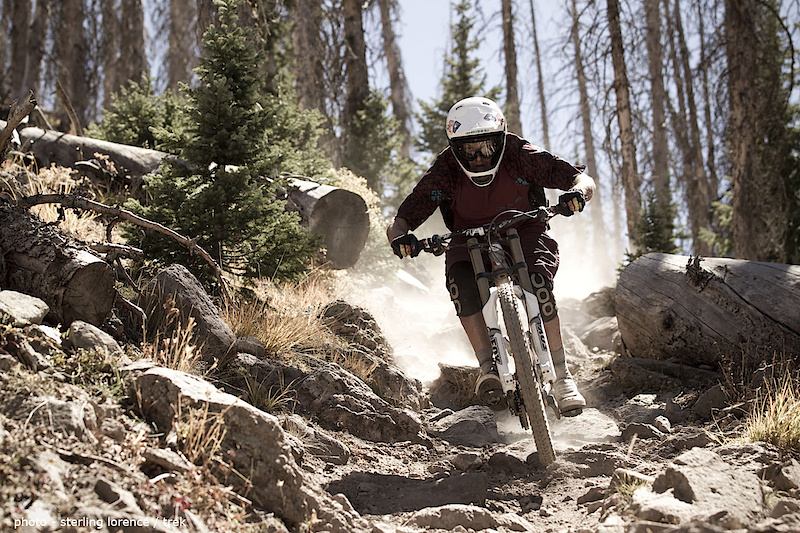 Shandro blasting through the gnarly. You think you're fast and then try and keep up with someone who really is fast, only to have your dreams shattered - I love it! This run was out of the park and offered a bit of everything, perfect for getting a feel for the new bike. The top had some serious rock sections that you could come in to much faster than you should, and the bottom had plenty of fast singletrack and tricky corners filled with loose chunder. This run took a full hour from top to bottom with our big group and I'm pretty sure that I had a shit eating grin during the entire time, it was simply too much fun! Andrew Neethling and Worlds Jr. silver medalist Neko Mulally were in the group as well and it was a blast watching them come through boulder fields that I tiptoe through. Getting to watch a DH race bike get ridden by top World Cup racers is something that every rider should experience at least once.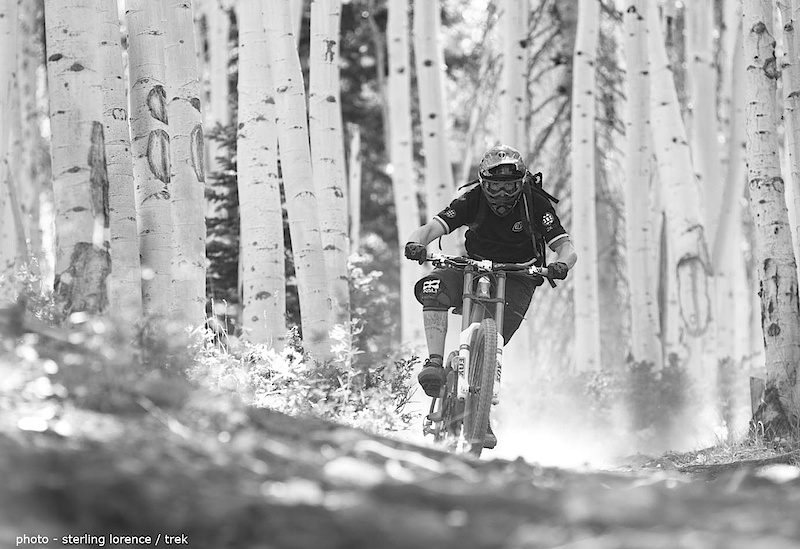 Now we're talking. I'm sure you've all had that one section of trail that will stick in your head forever. You're looking at mine. Surrounded by aspens and riding a bit over my head, you get a glimpse into my personal heaven with this picture.
Visit the
Trek website
to see their entire range of bikes.
If you've managed to read all of the text above you'll know that I'm impressed with the new Session 88. It's light, has great geometry, and they have somehow managed to improve the suspension even over last year's impressive performance. Are you as stoked as me about the next generation 88? Let's hear what you think about the bike below!
All photos by Sterling Lorence