Late February I decided to escape the cold snowy climate in my hometown Lahnvalley, Austria, to finally kick off the downhill season in southern France. My friend Martin was also fascinated with the idea of an early season start and joined in on the trip.


To escape the cold, snowy climate in my hometown Lahnvalley, Austria, I met up with Martin Schüller, Team Rider for Rotwild Bikes, to go on a trip to Nice at the Côte d'Azur in France, where our fellow friend Daniel currently lives. The plan to go and visit Daniel arose from the frustration both Martin and I had about the long winter in northern Europe and was nourished by what Daniel told us about both weather and trails in and around Nice.
The town of Nice is nestled in the beautiful Mediterranean Alps right at the sea side, which makes the town perfect for riding as well as chilling on the beach. When Martin and I arrived at Nice we were welcomed by blue sky and boardshort temperatures in February. Despite the perfect conditions we didn't touch our bikes for the first two days as the intense party life in Nice got the best of us! After regenerating from the hangover we finally got the bikes out and were blown away by the terrain awaiting us. The first stop was the local home depot to buy a good old $8 shovel and shape up some berms. All together the terrain in the mountains around Nice is just awesome, it features everything from smooth flowy trails, to gnarly technical tracks. All this combined with perfect vista of the Mediterranean Sea. The mountains around Nice have perfect forest service roads that are not blocked off and which can be used as shuttle roads, that way blood sweat and tears are saved for the downhill only.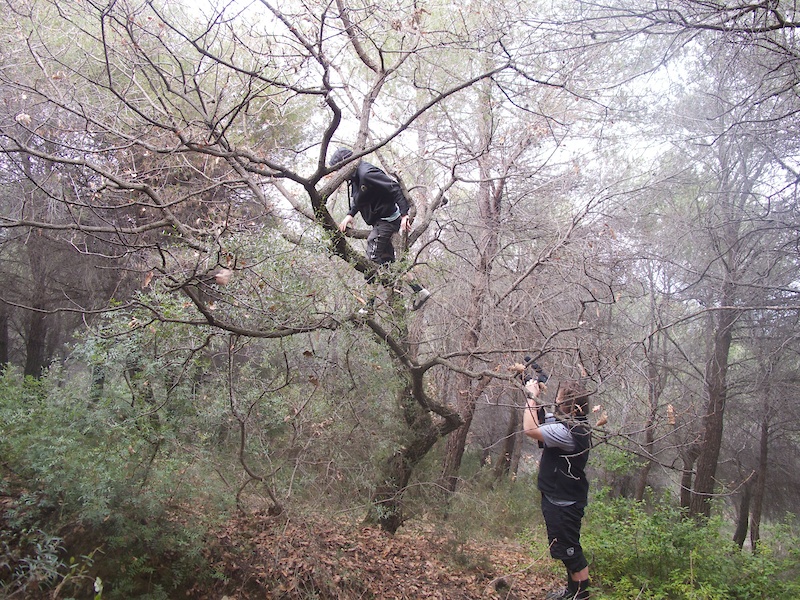 Martin playing a little Tarzan and Jane in the woods! Sure enough the Lahnvalley Crew doesn't shy away from any challenge to bring you the shots!
Being exhausted from a whole day of full on downhill riding, Spanish style tapas prepared by some hot ass Canadian chicks, studying in Nice, couldn't stop the crew from crashing the place and trying to prove themselves in bad behavior. Waking up from another bad hangover we decided to take it easy and explore some new terrain. As most frenchies are not known for too much hospitality towards foreigners, we experienced the opposite with the bike shop owners in Nice, these guys rock! Our good friend Antoine ("oder wie er heißt", german for: we do not really remember the dude's name) drew us a picture perfect map of all the sickest trails around town. Sure thing he was right about the trails and we were totally stoked. Now being equipped with our trail map which was still kind of vague as to where to go exactly as it basically only showed pinpoints on top of mountains, we figured our way around and stumbled upon some of the best trails the Côte d'Azur has to offer. To tell you the truth we are talking everything from like fast flowy to über steep technical stuff that is likely as gnarly as it gets.
Overall it's been a great trip that ended with a (you guessed right!) big party. The next morning Martin and I switched on the auto pilot and made it home safely. One thing is for sure this hasn't been the last time we will visit the Côte d'Azur for some awesome pre-season trail riding!
Check us out at out:
www.lahnvalleycrew.com
vimeo.com/lahnvalley
www.facebook.com