LindLTaylor
Member since Jan 30, 2011

Male / 27
Concord , New Hampshire
Life is too short to spend it on the Internet, posting about what you love doing, instead of doing what you love doing.

TL;DR
go ride yo bike
Block user
Recent

Selling
Jul 19, 2016 at 4:32
Jul 19, 2016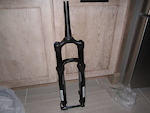 $450 USD
PRICE IS NOT COMING DOWN FURTHER! I've been steadily dropping the price hoping to move it but now I've reached the lowest amount of money I'll take for it. Unsure of the model year (I think it's a 2015). This is a RockShox Pike DJ with an RC charger damper. Has a few spots on the lowers where the decals have come off and a few scratches on the lowers, but the stanchions are absolutely flawless. The damper has a fresh bled and feels fantastic. I recently bought it from a local rider who had only ridden it for a few jump sessions, but I don't need a $1100 MSRP fork on my (wife's) dirt jumper. Steer tube is really long- I have at least an inch and a half extra steerer with my Two-6 Player. Not much else to say about it- if you're looking at this ad, you probably already know everything there is to know about this fork. Tapered steerer (measuring 193mm or 7-5/8"), 15mm through-axle, 100mm travel. Superb condition. Local cash pickup or paypal only, shipping is on the buyer. I can meet or deliver within a reasonable distance of Concord NH.

Selling
Jun 28, 2016 at 14:17
Jun 28, 2016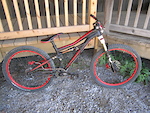 $1900 USD
PRICE IS NOT COMING DOWN FURTHER! I've been steadily dropping the price hoping to move it but now I've reached the lowest amount of money I'll take for it. Decided to go ahead and try to sell it complete. Will part out, but prefer to sell complete; this bike absolutely shreds! I don't want to sell it, but I want a bigger bike for running the lift and a smaller bike for hitting the dirt jumps. Set up normally, it'll bring you podiums at your local dual slalom or 4x race, or if you air up the tires and suspension a bit, it makes a great dirt jump or slopestyle rig. Specialized no longer makes this frame in the actually good black+red color scheme, grab this one now while it's still awesome. Unless otherwise noted, all parts are in perfect working condition with only cosmetic blemishes. Parts list as follows: Frame: 2014 Enduro SX w/ Fox RP23 Boost Valve, Kashima coated. 100mm travel. Fork: X-Fusion Vengeance RC, 100mm. Some small scratches on the stanchions currently, will be buffing these out soon. They're very shallow and look worse than they actually are. Headset: Cane Creek 40 tapered/integrated Stem: Limited edition RaceFace D2. 31.8mm bore, 35mm length. Absolutely nukeproof. Bar: RaceFace Atlas 780 or 800mm, not measured but certainly should be wide enough for you. Seatpost: No-name 30.9 seat post cut to a very short length. Crankset: RaceFace Respond in 170mm. Some paint wear from removing pedals but otherwise in great condition. PF30 RaceFace bottom bracket as well. Chainring: RaceFace Single N/W in 32t, black. Tensioner: Kind of cobbled together out of a spare parts bin, to be honest. In its current incarnation, it's never lost the chain so I'm not worried. Chain: SRAM PC971. Cassette: Shimano HG70-9, 9 speed with a spread of 11-23. Shifter: SRAM X5 9-speed. Derailleur: SRAM X7 9-speed. Wheelset: Front is a Hope Pro 2 Evo with a red Octane One Solar 31. Rear is a SunRingle Dirty Flea laced to a Mavic XM 321 rim in black (NOT PICTURED). Can put the Pro 2 Evo/Octane One Solar 31 rear wheel from the photos back on for an extra $150. Brakes: Older gen Avid Code 7's matched with G3CS 185mm rotors. Have been spraypainted red at the levers and calipers but they function perfectly and have been bled recently. Tires: Full set of Specialized Butcher Grid 26"x2.3". Can be run tubeless but currently has tubes. Also includes a full set of Maxxis Crossmark tires for dirt jumping. This bike has been maintained by a shop mechanic its entire lifespan and has been hucked all of twice in its entire lifetime. It has maybe 15 miles under it. Sale does not and will not include the grips, saddle or pedals, so please take note! Local pickup is preferred, but I have paypal and will ship within the United States- on your dime. I live in Concord, NH and am at Highland nearly every day of every week. Can snap more photos on request. Thanks for looking!

Selling
Jun 24, 2016 at 18:03
Jun 24, 2016
$1100 USD
PRICE IS NOT COMING DOWN FURTHER! I've been steadily dropping the price hoping to move it but now I've reached the lowest amount of money I'll take for it. Sale includes: Fox RP23 Boost Valve shock, Kashima coated Cane Creek 40 headset RaceFace PF30 - X-Type bottom bracket RaceFace Respond cranks +32t n/w chainring 30.9mm seatpost and clamp 9-speed drivetrain (X7 short cage, 11-23t cassette, PC1051 chain, x5 shifter) Selling to fund my next dirt jump bike. This was pulling double duty at Highland as a slalom/dirt jump bike, but I got tired of setting and re-setting air pressures and everything for dirt jumping and running the lift. This bike has had, at max, 15 hours of ride time and has absolutely no dents. All damage is merely cosmetic with a few of the red decals starting to fade off, and with some wear marks in the anodizing from being transported on its side in the back of my car. I never charged hard or really sent it on this frame. All of the parts will show similar usage without being abused. Price is firm. Local pickup is preferred, but I'm willing to ship at the buyer's cost. Have paypal. I'm at Highland most days of the week. Also selling it complete, check it out! Thanks for looking!
Load more...