MoMoney
Member since Nov 13, 2010

Vancouver , British Columbia
Male / 36
Block user
Recent

Dec 19, 2012 at 11:23
Dec 19, 2012

Selling
Jul 28, 2012 at 12:07
Jul 28, 2012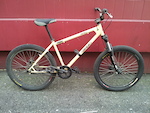 $150 CAD
2006 Brodie Heathen for sale. All parts are stock except the brakes. Upgraded to Hayes mechanical disc on the front and rear. There are some black scuff marks from the lock holder and couple of scratches from being parked in my bike locker. The black marks will come off with a good cleaning. No dents or dings. For the full component spec list, please go to this link: http://www.brodiebikes.com/2012/archive/bike.php?model=heathen&year=06 This is a great cruiser for around town and a very capable dirt jumper. It's like a big BMX with 24 inch wheels. I just have way too many bikes and the Heathen never gets ridden. Price is $150.

Nov 13, 2010 at 19:17
Nov 13, 2010
Urge Cabo Verde - Mark Weir!
Such poor grammar in this post. Pinkbike, please review your articles before publishing online. Also, please use proper formatting for an interview where the question gets bolded and prefaced with "PB:" and Mark Weir's answers get prefaced with "MW:". You used to do this in the past. Please don't get lazy on us.
Load more...