davidfravigar
Member since Nov 26, 2012

Louth , United Kingdom
Male / 33
Block user
Recent

Nov 27, 2012 at 1:04
Nov 27, 2012
The Argument For Short Travel Bikes - Opinion
After spending 10years away from mtbing, and riding nothing but hard-tails (suspension was to expensive) i learnt the hard way when you got it wrong. I recently decided it was about time to get back on a bike, I bought a stinky air and my boyhood dreams of owning a proper dh bike are fulfilled and love it, but I have started riding with a bunch of people who are more about cross country/all mountain, so i bought a secondhand trance so i could climb and keep up with them! I went out on it sunday and did my local trails and came back with the biggest smile on my face, the shorter travel was a lot more responsive and i knew what was underneath me and in some sections made me pick my lines a lot more carefully, which to me is all part of the fun of riding. needless to say the kona is now up for sale, and i think a reign would be perfect(even a little over kill) for most trails in the uk.

Nov 26, 2012 at 11:59
Nov 26, 2012

Selling
Nov 26, 2012 at 11:56
Nov 26, 2012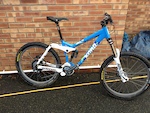 $1200 GPB
Hi so I bought a large stinky deluxe air in blue and white from chain reaction brand new 3 months ago. Reason for selling, too much travel for my needs and have recently bought an older 2007 giant trance, all sensible offers are welcome. or id consider swapping for a 2011 or onward trance x2, i will not swap the bike for things like mobile phones or macbook pros. bike includes: Marzocchi 66 ATA 140-180mm Travel Fork Kona D.O.P.E./Brake Therapy Floating Caliper System Fox DHX Air 5.0 Rear Shock Mavic Crossmax SX Wheelset Shimano Saint Hydraulic Disc Brakes Shimano XT (right hand side only) shifter, E.Thirteen LG1 front chain guide Shimano XTR Shadow rear derailleur, RaceFace Atlas FR chainset 36 tooth chainring Shimano XT 11/32 tooth cassette 9 speed I may consider splitting the bike but would like to sell it complete looking for £1200 firm. If you would like more pictures please message me.
Load more...