The Giant Air DH, supported by Fox, sent the best downhill riders in the world through their paces on "Fury", a track newly built for Crankworx Les 2 Alpes.
Great Britain's Gee Atherton held on with the fastest times in both the qualifications and the finals to take the title of the inaugural Giant Air DH supported by Fox with a time of 4:26.87. New Zealand's Sam Blenkinsop was through the gate with the second fastest time of 4:32.49 and South African Andrew Neethling came in third with a time of 4:35.90.
Rachel Atherton followed in her brother's tracks to also take first place in both the qualifications and finals, crossing the finish line in the final nearly fifteen seconds faster than Australian Tracey Hannah in second place with a time of 5:30.65. France's beloved Pompon, Myriam Nicole, was awarded third place with a time of 5:37.74.
Women's Top 3
1st Rachel ATHERTON – 2000€
2nd Tracy HANNAH – 750€
3rd Myriam NICOLE – 500€
Men's Top 3
1st Gee ATHERTON – 4000€
2nd Sam BLENKINSOP – 1750€
3rd Andrew NEETHLING – 1000€
Complete Results at bottom...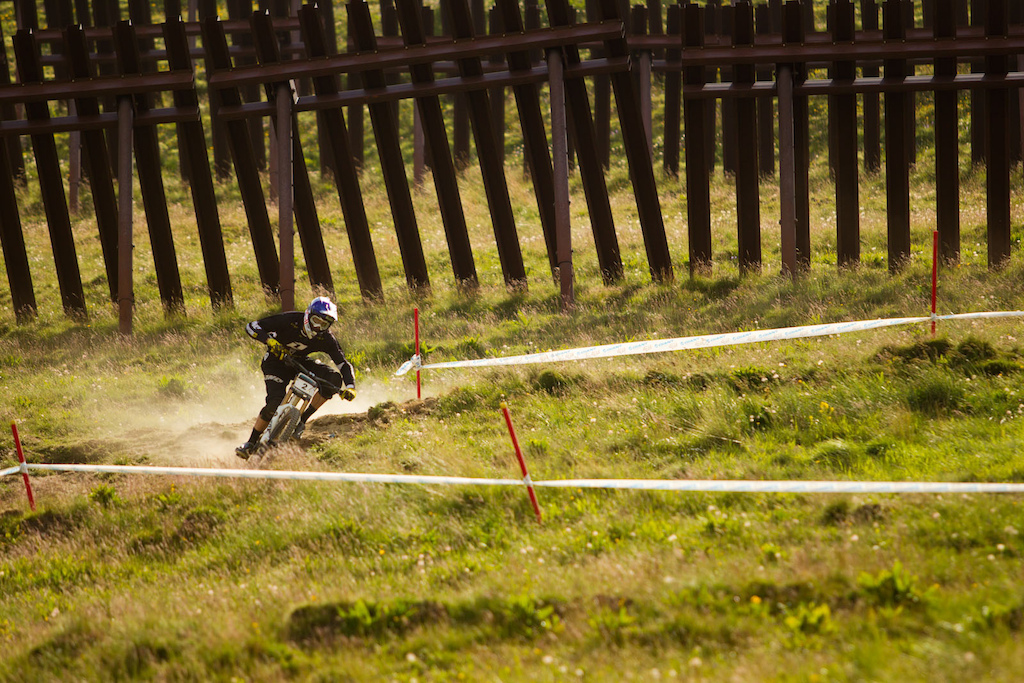 Gee Atherton killed the course with about 6 seconds on Blenki.. great job considering how tough and steep was the course. Here is riding underneath the Avalanches Barriers that usually are builted on the steepest terrain.
| | |
| --- | --- |
| | The track was good and super fast. We thought it was going to be a lot calmer but it was a gnarly track. Good fun though, it is a really good course - Gee Atherton. |
Rachel Atherton also commented on the technicality of the course:
| | |
| --- | --- |
| | The track is one of the hardest tracks I have ridden this year, for sure. I didn't fancy going off the big step down. I need to stay healthy for the World Cups. I just tried to ride the track good and fast, and get some lines. You have to push where you can and hold back when you are nervous. - Rachel Atherton |
The course is a new addition to the Les 2 Alpes Bike Park and was designed by Mick Hannah and Marc Beaumont, who just missed the podium coming in fourth overall. The trail crew of the resort of Les 2 Alpes built the trail with Ayton Concept and Seb Chovet, co-producer of Crankworx Les 2 Alpes.
"We started building the track 'Fury' for the Air DH last October 2011 and we finished this year in June," says Chovet. "We will take rider feedback to integrate some changes and I have already talked to designer Marc Beaumont who said it was a tough race but that he loved the track."
"Fury" drops a total of 700m over a length of 2.8 km and is open to the public as a double black diamond trail in the Les 2 Alpes Bike Park. The length coupled with technical sections of single track and huge jumps, including the now infamous road gap that took out third place qualifier Aurelian Giordanengo, make "Fury" an apt name.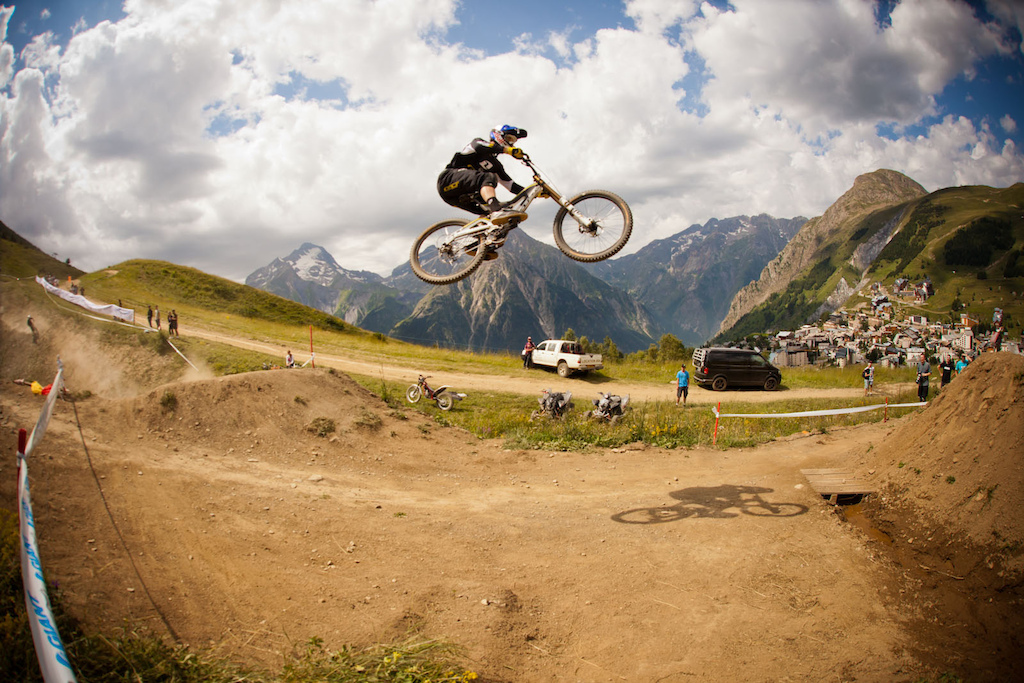 ...and this is Gee on the following looong double. This was definitely the most important feature on the track.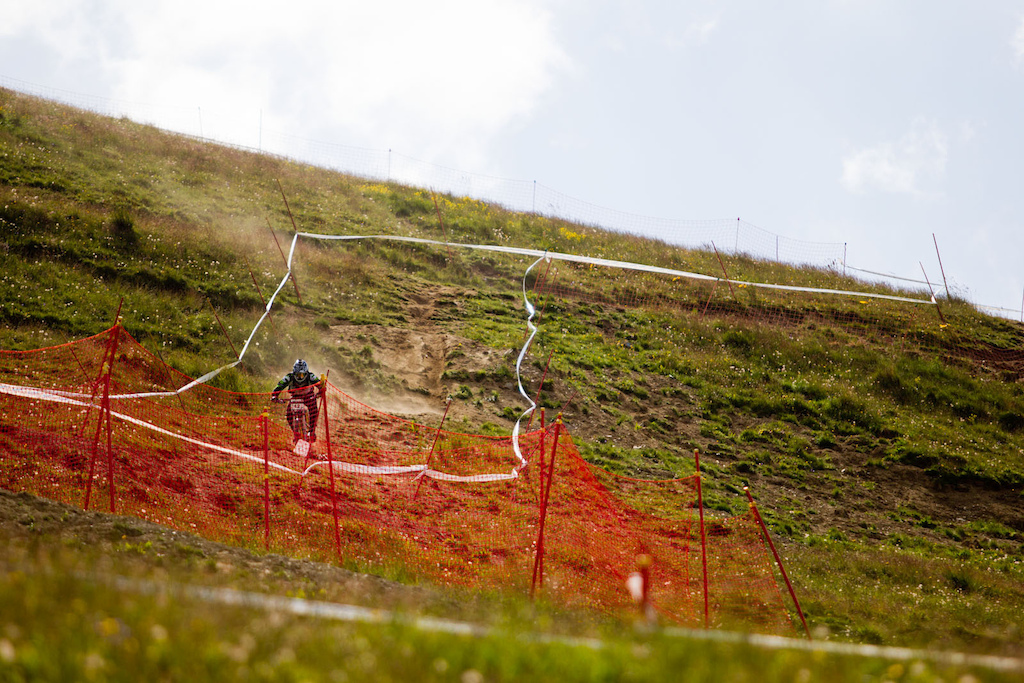 Jerome Clementz showed some good skill in this downhill, this photo probably shows best how tough the terrain was. 28th place for a guy best known as an Enduro rider.
The fastest amateur, Raymond Orre, got hooked up after pulling in a time of 5:10.32. Giant will be signing him onto a year long contract as a rider and Fox will be outfitting him in the latest kit. Giant has signed Orre into a sponsorship contract for the 2013 season including awarding him with an ATV Glory 2013.
---
Next up on the Les 2 Alpes' schedule of events is the
SRAM Dual Speed & Style
, on Thursday, July 12 at 6:30-8:00pm. This hybrid event will see competitors racing through the dual course on side-by-side, tricked-out tracks throwing style into their air on the mid-course booters to earn time credits.
The Red Bull Media House and Boombox Productions, Crankworx Whistler's long time live event producers, will produce live webcasts to transmit Crankworx Les 2 Alpes to the masses via the internet.
Live Streaming Webcast Schedule for Crankworx Les 2 Alpes:
SRAM Dual Speed & Style
Thursday, July 12 18:15-20:00 UTC +2 | 9:15am-11am PDT
FMB World Tour: Slopestyle Qualifying presented by iXS
Friday, July 13 14:45pm-16:30 UTC +2 | 5:45am-7:30am PDT
Teva Best Trick Showdown
Friday, July 13 17:00-19:00 UTC +2 | 8am-10am PDT
FMB World Tour: Slopestyle presented by iXS
Saturday, July 14 17:30-19:30 UTC +2 | 8:30am-10:30am PDT
The webcasts, powered by Red Bull Media House, be live streamed here on
Pinkbike
as well as at
www.crankworx.com
,
live.redbull.tv
and also by other online media partner
Adrenaline by L'equipe
:
Results AirDownhill