tinfoil
Member since Sep 7, 2009

Male
Panorama , British Columbia
Block user
Recent

Oct 30, 2014 at 20:38
1 days

Oct 30, 2014 at 14:03
2 days

Oct 28, 2014 at 15:43
Oct 28, 2014
Ask Pinkbike: Mounting a Guide, Enduro Bike Capabilities, Trail Etiquette
Maybe the people that assume the climber will see or hear them have never done much climbing because there have certainly been times for me where I've been so deep in the pain cave that I wouldn't notice an elephant in front of me, much less another rider. I don't think I've ever felt that an uphill rider was wilfully getting in my way while I was descending, but I've certainly been run down by kids that think multiuse trails are for DH racing while I'm headed up. I think don't act like a moron is a good rule. If you see someone railing at you while you're climbing it's probably wiser for you to step to the side. If you're descending and see someone climbing ahead, maybe they're working hard, might not see you, it looks like they're not going to move - why would you not just slow down and let them pass by? If it's blind and multiuse slow down a bit - there could be anything around that corner. I mean it's not rocket science is it?

Oct 28, 2014 at 13:17
Oct 28, 2014
Ask Pinkbike: Mounting a Guide, Enduro Bike Capabilities, Trail Etiquette
I agree, if I'm halfway through a difficult climb and I have to stop, I'm walking the rest. If I'm in the middle of something technical on the way up I'd hope the downhill rider would stop so I don't have to try not to fall over while stopping a climb I know I won't be able to restart. If it's reasonable to pull over while climbing I will, but generally I'd agree with IMBA that he who is suffering most should have the right of way.

Oct 27, 2014 at 23:01
Oct 27, 2014

Oct 25, 2014 at 17:02
Oct 25, 2014

Oct 24, 2014 at 18:20
Oct 24, 2014

Oct 24, 2014 at 18:00
Oct 24, 2014

Oct 22, 2014 at 12:58
Oct 22, 2014

Oct 20, 2014 at 21:01
Oct 20, 2014
Load more...
Featured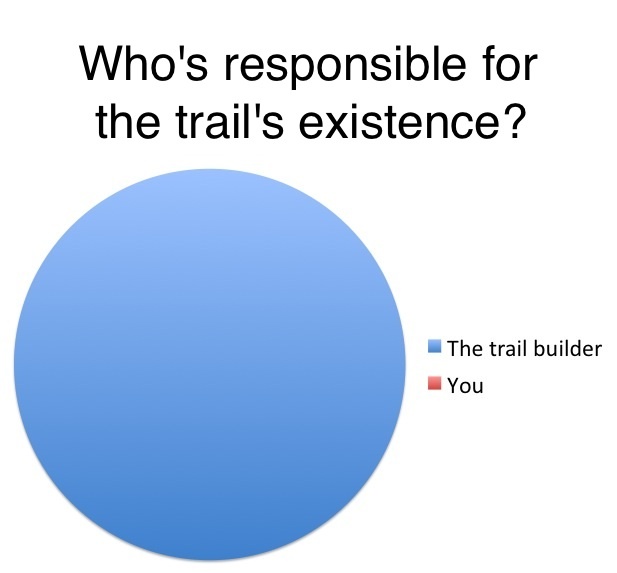 Photo by csponsel