GoPro Dirt Diaries Film Contest
Calling all mountain bike filmmakers capturing the action in and around Whistler! Crankworx Whistler 2012 presents The GoPro Dirt Diaries. Amateur and expert filmmakers submit your two-minute teaser for a mountain bike video. A panel of judges will determine the top ten teasers to be featured on Pinkbike.com for a week of peer voting from July 20-27, 2012.
**Note that you do not need to submit the GoPro bumper at this time. For the official rules click
here
.
The Top 6 teasers will be invited to complete their six-minute video, which will be shown to a massive live audience August 14, 2012 at the GoPro Dirt Diaries event during Crankworx Whistler. The videos will be judged by a panel of esteemed judges; first place will take home $3,000, second $2,000 and third $1,000 cash, plus the latest GoPro gear for all six filmmakers.
How To Enter:
1. Create and
submit a 2-minute teaser
of footage captured in the 2012 biking season. Locations must include Whistler Mountain Bike Park and the Whistler Valley (between Function Junction and Emerald).
2. Submit teaser to
pinkbike.com
by midnight July 13, 2012.
What Happens Next:
1. A panel of judges will pick the Top 10 teasers to be featured
pinkbike.com
for peer-voting for the duration of one week starting July 20.
2. On July 30, the Top 6 teasers will be announced and invited to submit a final, 6 minute version of their film by no later than August 10, 2012.
3. The Top 6 finalists will present their final 6 minute film at the GoPro Dirt Diaries event on Tuesday, August 14 at Crankworx Whistler.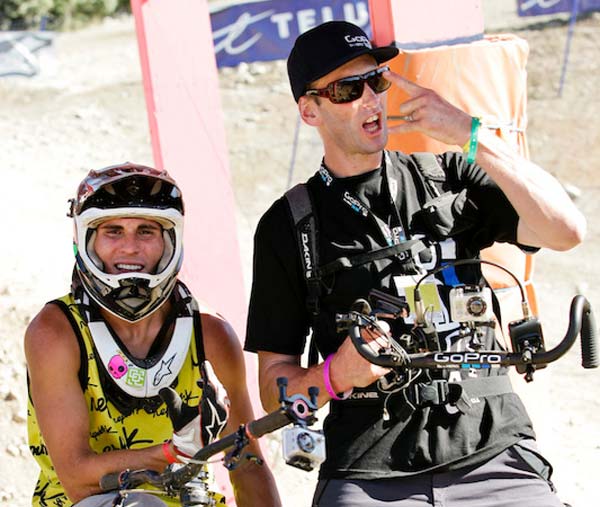 Some Rules:
1. The GoPro Shoot Out welcomes all filmmakers to submit their teaser for consideration. Teaser is to be no more than two-minutes in length and acts as a precursor to the six-minute video to be created if filmmaker is chosen to participate as finalist.
2. We encourage filmmakers to shoot fresh footage in this season. All shooting for final six filmmakers will end on August 10, 2012.
3. All teasers must be complete and submitted to
pinkbike.com
to be considered for the contest by midnight July 13, 2012.
4. Footage must include footage of (1) the Whistler Mountain Bike Park and (2) the Whistler Valley between Function Junction and Emerald.
5. All participants are responsible for any costs incurred while filming including lift tickets and transportation.
6. Videos featuring overt commercial/brand messaging will not be permitted.
7. Cleared Music and/or music of which you have rights to use in your edit. Each film maker must secure the usage rights to all music and athlete imagery used in their edits -
here is a link with some resources
.
8. Please respect all existing trails and if you are creating anything new, do it in the spirit of the long-term viability of the trail and the nature that surrounds it, and ensure you have any permissions that may be required.
The official rules can be found
here
. By submitting your video to this contest you acknowledge that you have read and agree to the rules and regulations of this contest.
Whistler Mountain Bike Park Shooting Guidelines:
1. Shooting in the Whistler Mountain Bike Park is limited to within normal operating hours. All participants in the event are required to have a valid ticket or pass to the Park and obey all permanent closures and on-mountain rules and signage.
2. Modifications to features or trails in the Whistler Mountain Bike Park are forbidden and teams must remain within the boundary of the marked bike trails.
3. "No Ride Zones" consist of mountain roads, ski runs and lift lines as well as bear habitat east of the Village Gondola (Emerald Express area).
Two-Minute Teaser Judging Criteria:
Demonstrates a connection to the theme of mountain biking in the Whistler area as well as British Columbia.
Integrates creative shots and techniques, including some GoPro style angles.
Original, captivating and entertaining - the audience feels like they are seeing something new and leave feeling stoked and engaged
Attention to technical detail - The music and/or sound track is Royalty-Free, appealing and captures the mood of the scene, volume is consistent and background noise is minimal
Editing of the film leads to emotional build-up and audience response
Prizing:
The Top Six finalists will be awarded GoPro Kits that may be used to complete their "full-length" six-minute film.
1st place - $3,000
2nd place - $2,000
3rd place - $1,000