Island Mountain Rides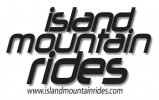 IMR uses 20 years of local knowledge to ensure that your expectations are exceeded. We can custom build tours based on your fitness, technical ability and your desire to experience the scenery of Vancouver Island.

The Island boasts a wide variety of terrain and is renowned for it's beautiful scenery. The mountain bike trails that you will experience are all purpose built, mountain bike trails built by mountain bikers, for mountain biking! IMR can show you all the best routes to maximize enjoyment and flow.

IMR is based in Cumberland, BC which is quickly becoming Vancouver Island's riding Mecca. If mountain biking is your religion then a pilgrimage to Cumberland is a must! Cumberland boasts a wide variety of trails right out the back door in it's neighbouring forests. Cumberland is centrally located on the Island and is the perfect place to access the trails of other areas, such as; Forbidden Plateau/Comox Lake, Hornby Island and Campbell River.

Island Mountain Rides is owned and operated by Martin Ready, who serves as lead guide, cook, web designer, bookkeeper etc. Martin uses 8 years of guiding experience and over 20 years of mountain biking experience to ensure that you have a great time.

Island Mountain Rides has legal land use agreements/tenures in all locations advertised. IMR is fully insured and has a comprehensive risk management plan in place to ensure your safety.

IMR is proud to be allied with the Riding Fool Hostel, a purpose built, recreation focussed accommodation that is located in the heart of Cumberland. The Riding Fool is the perfect place to base your riding vacation and to relax following a ride.

Located in the same building is the local pro-shop, Dodge City Cycles. DCC provides professional mountain bike service, sales and pretty much everything else you could imagine for your riding vacation, including rental bikes.

Island Mountain Rides provides a professional mountain bike guiding service on one of the most beautiful islands in the world. Come and visit us for a mountain biking experience that you will not forget.
Review Island Mountain Rides
No reviews yet, be the first to write a review!