DIRO Outdoors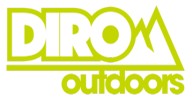 DIRO Outdoors hosts local outdoor activities and provides outdoor rental gear in the Twin Cities and St. Croix river valley to help individuals, couples, and families get outside more often. Our activities and gear include kayaking, paddle boarding, camping (summer and winter), fat tire mountain biking, snowshoeing, and hiking. We also work with local groups to provide outdoor education and volunteer opportunities.
Review DIRO Outdoors
No reviews yet, be the first to write a review!