COPMOBA - West End Chapter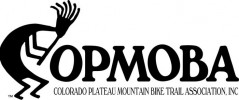 "A whole lot of real estate and very few riders" best describes the "Wild West End" - a vast area in Western Colorado extending from Norwood to Nucla and Naturita to Gateway. Because of this, COPMOBA has taken a unique approach to trail development and advocacy in this area. We have enjoyed a long-working relationship with the nonprofit recreation organization, Montrose West Recreation (MWR), since the designation of the 118-mile long Paradox Trail in 1995. The West End Trails Alliance (WETA) was formed to represent all cyclists from the West End. This tri-county group works to develop and promote riding opportunities within this area. Paul Koski of Nucla, founder of the Paradox Trail, has been the West End's voice and representative to the COPMOBA Board of Directors for over 20 years. Visit us at westendtrails.org for more information on our trails.
Review COPMOBA - West End Chapter
No reviews yet, be the first to write a review!
Earn Trail Karma by Donating to the Local Trail Association
help fund trail maintenance and development
Donate