Eastern Maine Cycling Club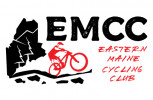 We love bikes!
We love cycling! Road, Gravel, ATV, Tote roads and sweet Singletrack. What you love, we do too! Eastern Maine Cycling Club is an all-inclusive group of cycling enthusiasts in Eastern Maine. Our passion is riding, racing, cycling events and trail care events. The club is a way to share our love with others. We're dedicated to great trails and open spaces for riding, building a strong cycling community, and most of all — having fun on our bikes.
Like and follow this page for updates on: Group rides, trail work, skills clinics, bike races, cycling event's and trail care days.
Come see how we roll!

What are we all about?
Rides
We host rides! We ride it all: Gravel, Road, Single Track, Tote Roads, ATV's and Winter Groomed Trails!
Races
Maine and New England offer up some of the best races in the country. Come race under our wing and get competitive.
Events
We host events like: Time Trials, Ride Clinics, Races and Adventure Rides
Become a member
Become a member and be a part of all the fun. Get access to our cool jersey and schwag!
EMCC News
Wildlands Wilderness Winter Challenge is a go! More info to come.
FAQs about the club
You have questions and we have answers. Reach out and we will do our best to get you information you seek.
Review Eastern Maine Cycling Club
No reviews yet, be the first to write a review!