Monadnock-Sunapee Greenway Trail Club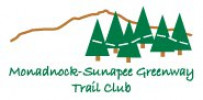 The Monadnock-Sunapee Greenway Trail Club (MSGTC) is a non-profit organization that was formed in 1994. Our mission over the past 25+ years continues to be yearly trail maintenance efforts along the 48 mile hiking trail, supporting our volunteers and trail adopters and promoting the awareness of this beautiful, remote, well kept secret – "The Greenway". Through these efforts, the club continues the tradition that our predecessors established. We hope to see you on the Greenway soon. Happy Trails-

The Monadnock-Sunapee Greenway is a hiking trail that links Grand Monadnock with Mount Sunapee in southwestern New Hampshire. It is nearly 50 miles in length, winding along the Monadnock Highlands that divide the Connecticut and Merrimack River drainages.

The original Monadnock-Sunapee Trail was laid out in 1921 by the Society for the Protection of New Hampshire Forests, New Hampshire's oldest and largest conservation organization. The trail runs through three NH state parks, and now over 80 private land owners voluntarily agree to host the trail, and in some cases, campsites on their land. Through cooperation with these folks, a good hiking route has been established

The Greenway is ideal for novice hikers, the family enjoying the weekend on the trail, or for experienced hikers wanting to power their way through the rolling to moderate terrain that the Greenway offers. A few favorite day hikes on the Greenway are climbing Mt. Monadnock, hiking through the Andorra forest at Pitcher Mt. or moose watching in and around Pillsbury State Park. For those interested in hiking the entire 49 miles in one shot, you'll find 5 campsites along the way and should plan on the trip taking 3-4 days. There's a little of everything on the Greenway – Hope to see you on the trail.
Review Monadnock-Sunapee...
No reviews yet, be the first to write a review!
Earn Trail Karma by Donating to the Local Trail Association
help fund trail maintenance and development
Donate