Granite Suspension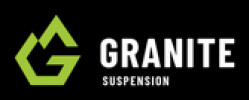 The goal of Granite Suspension is to keep you on your bike. Turn around times are usually 2-3 days on average so that you can keep the pedals spinning. Pickup and drop off of suspension components or pickup of parts and accessories can be arranged at either 1 of 2 locations: my home in Middle Sackville where I base out of, or my work in Burnside.
This is a 1 person operation, but the goal is quick and efficient turn around.
Granite Suspension is a suspension focused operation and not a bike shop. My storage space is very limited so please just drop off the components that are being serviced. On the rare occasion arrangements can be made for a bike drop off, but typically this will not be an option and an additional service will apply for removing and installing the components.
Granite Suspension does sell and provide non suspension related components and products, but the core focus is and will always be suspension.
Review Granite Suspension
No reviews yet, be the first to write a review!