Mountain Bike Idaho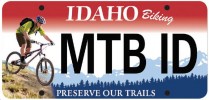 Thanks to the yearlong efforts of many dedicated individuals, Idaho is the first state in the nation to feature a mountain bike-themed license plate. Under the law passed by the Idaho Legislature, this new mountain bike-themed plate will benefit all trail users of Idaho's 17,000-mile recreational trail system.

The plate costs $35 for the initial purchase and $25 for renewals. The Idaho Department of Parks and Recreation will receive $22 and $12 respectively from plate sales "exclusively for the preservation, maintenance and expansion of recreational trails" within the state of Idaho, where mountain biking is permitted.

The plate features a mountain biker, but all trail users benefit from buying a plate. Recreational trails are used by many, not only to bike, but also to hike, run, wildlife watch, horseback ride and many other activities. So, even if you don't own a mountain bike, but like to recreate on Idaho's trails, you will benefit!
Review Mountain Bike Idaho
No reviews yet, be the first to write a review!