MTB-Club Karlsruhe e.V.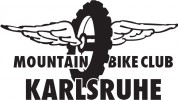 Der MTB-Club Karlsruhe versteht sich als Gemeinschaft und Interessenvertretung aller Mountainbiker in der Region. Wir wollen dabei bewusst auf alle Disziplinen und Altersgruppen eingehen. Kerngebiete sind die Jugendarbeit, das breitensportliche Tourenangebot, Techniktrainings, der Betrieb des Bikeparks (Sprunghügelanlage) sowie Bau, Pflege und Betrieb einer Downhillstrecke. Natürlich engagieren wir uns auch öffentlich, um Wege für das Befahren mit Mountainbikes nutzbar zu machen. Wir stehen hierbei bewusst im Dialog mit allen anderen Interessensgruppen, berücksichtigen insbesondere die Belange des Naturschutzes und setzen uns für den respektvollen Umgang aller Nutzer des Waldes ein.
Review MTB-Club Karlsruhe e.V.
No reviews yet, be the first to write a review!
Earn Trail Karma by Donating to the Local Trail Association
help fund trail maintenance and development
Donate