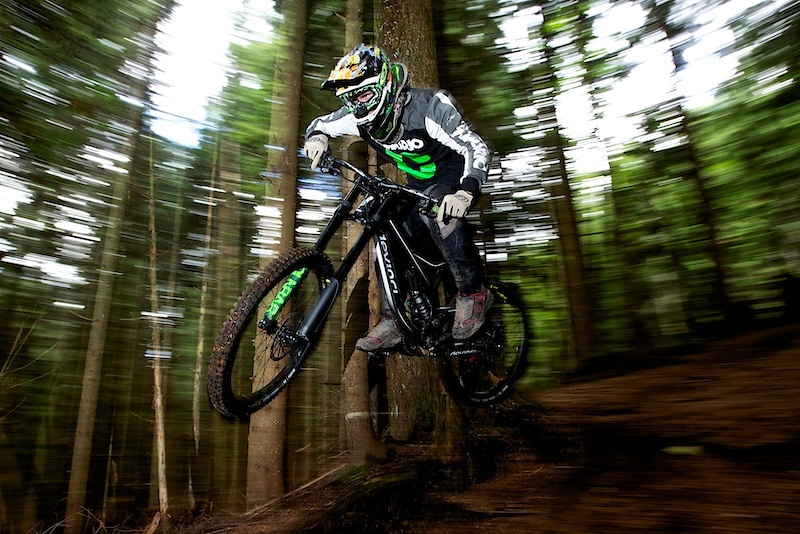 Devinci did a great job of spec'ing the bike with a sweet parts kit that leaves nothing to be desired and performed great during my first few days on the bike, but in order to get a proper feel for the new Wilson I wanted to swap on parts from my personal bike that I would be far more familiar with. I had spent an entire season riding and racing these parts, doing the swap would truly let me understand just what the chassis was doing under me. The goal was also to test the bike in a few different settings, not just my favorite trail that I can ride with my eyes closed on a 10-speed. This would let me see if the bike's engineers were simply using all the above techno mumbojumbo to make it sounds great, or if it actually is great. It is also fine and dandy to look at the given numbers on a chart, but how does the bike's geometry translate over to the real world; does it corner as expected or does it require more weight up front or to the back? How stiff and stable is it? Does it pedal as good as its high pivot would have you think? Keep reading to find out.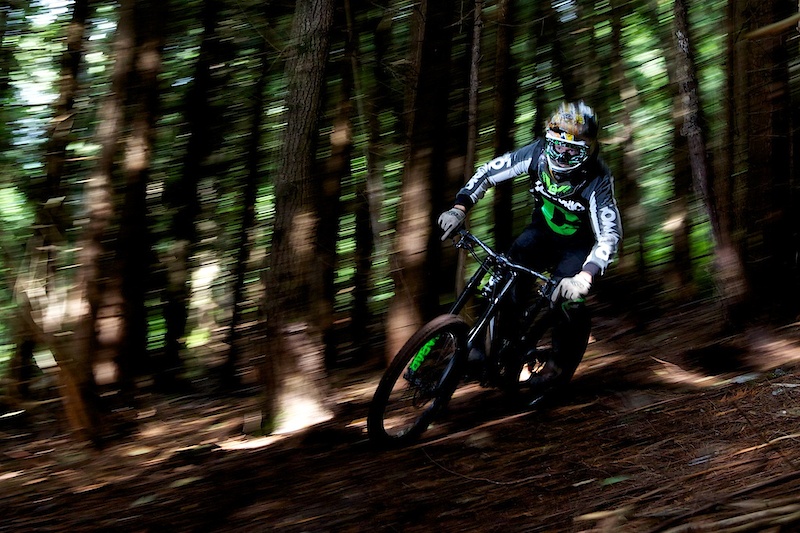 I spent my first few days on the new Wilson in the Whistler bike park getting used to how it rode. Then it was time to get down to business! I wanted to see if the Split Pivot design works as advertised and separates braking forces from the suspension as well as they would have you believe. To do this I sought out some rough and beaten down tracks, which are not too hard to find when riding in the WBP at the end of the season. Like any sane rider, I would usually do my best to avoid braking through a portion of trail that is already littered with bumps from others who are not doing the same, but for testing purposes I thought that I'd try to rattle a few fillings loose. I immediately found that not only did the bike take the edge away from the chatter, something that other bikes can do as well, but it also behaved the same regardless of whether I had the binders on or not. A bike that handles and brakes consistently in the rough can be a huge boost of confidence, especially when it does it as good as the black Wilson manages to.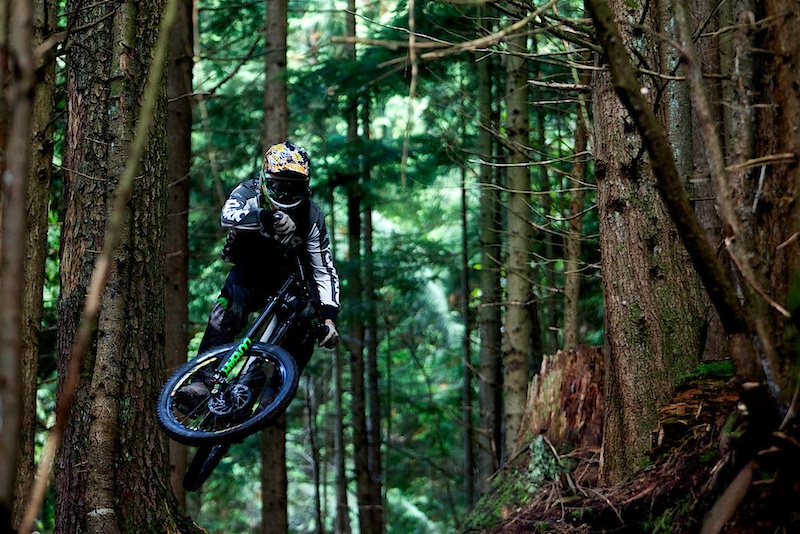 So, excellent braking, but a bike needs to be a complete package in order to be a winner. Cornering and monster trucking are not two attributes that one usually finds together, but when you do, you usually have a winner on your hands. I spent quite a bit of time doing laps of Whistler's infamous B-Line trail, a fast and mostly un-bermed trail that can be ridden quickly on a bike that corners well. The new Wilson performed quite well on the trail's flat turns, no doubt in part to its low slung mass and just under 14" bottom bracket height. I've spent a lot of time doing B-Line laps on many top flight DH bikes and the new Canadian made trail crusher sits in the top 5 of those without a doubt. When the line was crossed and the bike got loose, it was a controlled feeling that made you feel as if you could slide as long as your heart desired, even if that wasn't the case. I'm going to go ahead and put this down to the Wilson's relatively short rear end that also happened to be incredibly stiff. No matter how hard I smashed into corners, not a hint of flex was felt.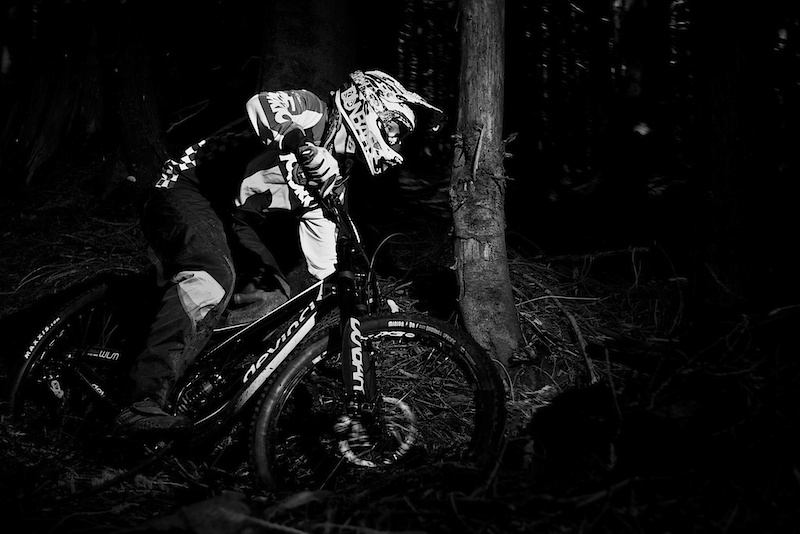 Now onto the fun stuff, the monster trucking! There are quite a few local places to test this out, but my personal favorite is a trail called Mr. E up on Cypress. This trail is mega fast and about as used and blown out as some of the local Eastside Vancouver residents. Because the Wilson corners so great I was half expecting it to not perform well on this terrain, like I said, a bike that does both cornering and 'trucking well is a rarity, but this wasn't the case. As much as I hate being wrong, the Wilson was a treat on Mr E, so much so that I actually put in my fastest timed run ever - quicker than on any of my personal bikes! After that confidence boost I took the bike to Whiskey Jack, the fastest trail I've ever ridden, so fast that riders have actually been Clocked and over 90 kph on it! Every time I've been down this trail I have literally been frightened for my life as it feels as if your bike is being torn into two. Much like my laps on Mr E, the Wilson did great here. Yes, I was still scared, but I certainly had more control than I've had before. The bike's high pivot seemed to handle the hard chundery hits very well and did a great job of smoothing the nasty out.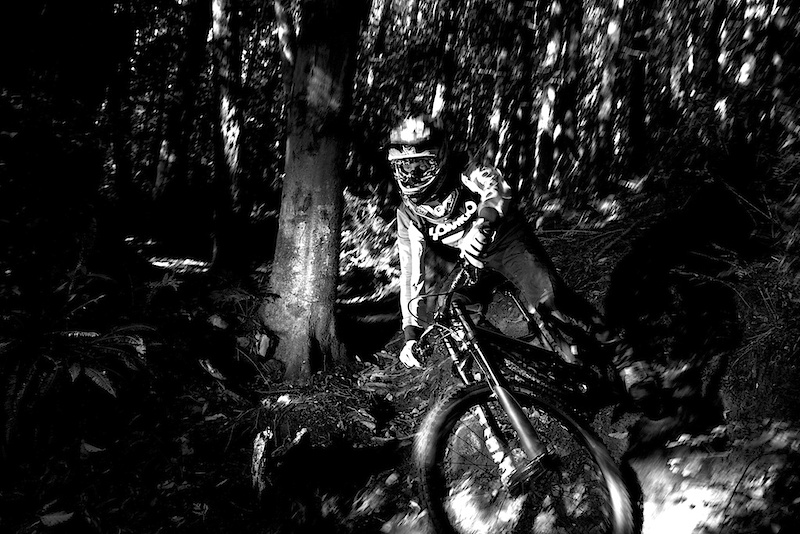 The new Wilson is a great bike, but even great bikes have drawbacks. The Wilson's is its low speed handling. It seemed to not track as well at low speeds as some other DH bikes, and the suspension didn't really come to life until the speeds picked up. It certainly feels as if it has been designed to go fast and faster, which is great by me as I only have one speed anyway. If you ride slower tracks, or are a slower rider, this may not be the best bike for you. The key is to be honest with yourself, if you are fast and aggressive, you'll like the new Wilson.