Sweetlines, the women-focused, woman-led, mountain bike coaching service today announced the Sugar Showdown, a freeride mountain bike event to be held at Duthie Hill Park in Issaquah, Washington, on July 7-8, 2012. The first of its kind in the northwestern United States, the women-only event is hosted by pro rider and certified coach Kat Sweet and will feature one day of coaching and one day of competition for both pro and amateur participants.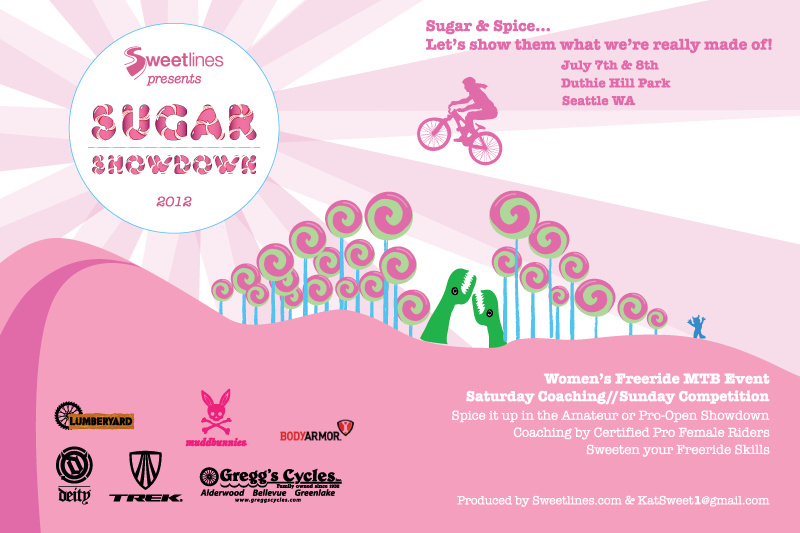 Pro coaches from across North America will join Sweet for the two-day training and competition weekend, which will focus on improving technical skills in a fun, supportive and safe environment. "There are going to be some amazing women riding in this event," said Sweet. "These women who are coming out are nothing but supportive and encouraging towards other female riders."
Women riders of all experience levels are encouraged to attend. On Saturday, the team of coaches will offer workshops and classes concentrated on jumps, drops, wall rides and berms. On Sunday, riders can show off what they learned by competing for different prizes on the various freeride courses and features in Duthie Hill Park. Prizes will be awarded to both pros and amateurs.
Sponsors who have signed on for the event include Body Armor, MuddBunnies, Deity, Superco, Gregg's Cycles, Trek and Lumberyard. Filmmaker Mark Brent, known for his recent project, Awesome Land: Women Of Dirt, will be filming the event. "The Sugar Showdown is sponsored by awesome people—all these sponsors are showing the mountain biking community that getting women on bikes is important," said Sweet. "It's time for women to show the world what we can do on a bike."
Event Details:
Who: Sweetlines
What: Sugar Showdown
Where: Duthie Hill Mountain Bike Park, Issaquah, Washington
When: July 7-8, 2012
About Sweetlines: Pro rider and certified coach Kat Sweet channels 25 years of mountain biking experience into Sweetlines, a mountain bike coaching and training service for women. For more information, visit www.sweetlines.com.