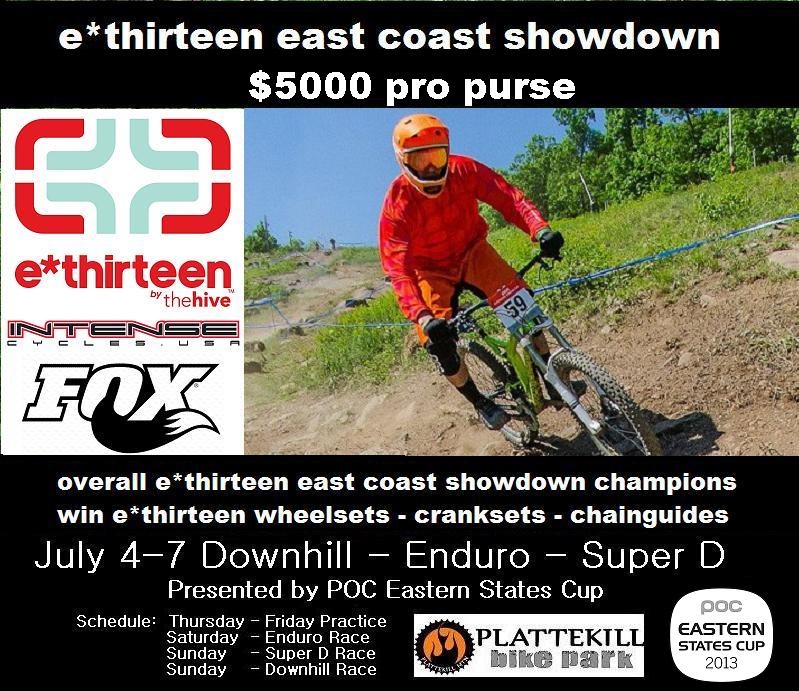 2013 E*thirteen East Coast Showdown at Plattekill Mountain Bike Park
Plattekill Mountain will be hosting the E*Thirteen East Coast Showdown, July 4-8 2013. The E*thirteen East Coast Showdown will offer four big days of racing, riding, camping and fun. The pros will be battling it out for $5000 in available prize money. Amateurs will be racing for their share of great prizes. All eyes will be sharply focused on the huge product prizing from e*thirteen for pro and amateur racers that compete in all three disciplines.
The E*thirteen East Coast Showdown will feature three POC Eastern States Cup by Intense Cycles races; Saturday's NYS Championship Enduro and Sunday's Super D and Downhill mountain bike races. The top three men and women racers competing in all three events will be racing for two e*thirteen wheel sets, two sets of e-thirteen cranks and two e*thirteen chain guides. All totaled the e*13 prizing is value is over $3000. A modified ESC point structure will determine the e*thirteen east coast showdown champions. The more racers in each class, means the more E*Thirteen East Coast Showdown the points available!
Todd Bischoff at E*thirteen says: "E*thirteen by the Hive is excited to be presenting the "E*thirteen East Coast Showdown. It is the only event in the USA that racers can compete in these three gravity disciplines on the same weekend! E*thirteen started on the East Coast and we are pumped to be returning to our roots and working with the ESC to support the growing Enduro, Super D and DH race scene. We're also stoked to support the Eastern Cup Series by providing the 2013 ESC $1000 E*thirteen Junior Cup Championship. We realize that the junior racers today will be the Pros tomorrow and we want to help them realize their full potential." E*thirteen by the Hive design and manufacture class-leading wheels, pedals, cranksets, chainrings, bottom brackets, drivetrain protection, and chain retention products for discerning cyclists worldwide.
Thursday and Friday will be practice days for all events; the first race on tap is Saturday's inaugural POC ESC Enduro Series race. The enduro race consists of 5 timed sections and 4 untimed transfer sections. The untImed transfer sections will guide racers to the start of each timed section. The timed sections will be mostly downhill but to get to them the racers will have to earn it by peddling. The Enduro race will feature 20-30 minutes of racing and take about 3 – 4 hours to complete the course. The ESC is excited to be bringing an enduro series to the East Coast, you won't want to miss the enduro action. Fastest Amateur in the uphill transfer between Sections 3-4 will win a FOX DOSS Adjustable Seatpost! ($400Value)
Super D will start the racing action on Sunday morning. The ESC Super D's begin with a mass start by racer's class. Some classes will have over 20 racers battling it on the track at the same time. Super D racing is heart-pumping action that pushes racers to their limits. The Super D course will be open, fast and have at least one uphill section to further push racers. The Super D track is designed to maximize passing opportunities and offer close, exciting racing.
The feature event of the weekend is the action packed downhill race. The DH race will be contested on Plattekill's newest ProGRT track, the racers asked for this demanding track again. Expect steep tight sections, big drops and huge jumps. This race course is quickly becoming known as the best DH track in the East. Racers will not want to miss surfing the famed plattekill shale in the steepest sections!
Special Pricing for racers that enter all three events will include a 4 day lift pass for Thursday – Sunday Riding and Racing.
Please Pre Register at
www.easternstatescup.com
for the Enduro. Limited Number of Racers in this event
SCHEDULE:
Thursday July 4 and Friday July 5
Practice Enduro, Super D and DH
Registration open all day
Saturday July 6
NO Super D Practice
10:00am-5:00pm DH Practice
10:00 am Enduro registration closes
10:30 am Mandatory Enduro Racers Meeting
11:00am Enduro Race Start
3:30 pm Enduro Racing Ends
4:30pm Enduro Awards
Registration open all day for Super D and DH
Sunday July 7
10:30 Registration Closes
8:00am - 11:00am DH Practice
8:00am – 10:30am Super D Practice
11:00am – 12:30pm Super D Race
1:00pm – 3:00pm DH Race
4:30 Super D, DH and Overall awards
PRIZING:
M&W Pro DH $500-$200-$100**
M&W Pro Enduro $500-$200-$100**
M&W Super D $300-$200-$100**
**
If less than 10 pros in a class then 50% of purse will be awarded
.
M&W Overall 1st E*thirteen Wheelsets ($1200+ea value)
M&W Overall 2nd E*thirteen Cranksets ($300+ea value)
M&W Overall 3rd E*thirteen Chainguides ($150+ea value)
Enduro - Fastest Amateur in Section 3-4 Transfer wins a Fox DOSS Seatpost ($400 value)
ESC Bonus Amateur Fastest Man & Woman in Total Time for all three events $100 each.
Great amateur prizes for all racers on the podium
Custom POC Medals for top 3 in every class
All 4th place racers will be awarded Bureau's Famous Maple Kettle Korn.
M&W DH POC Speed Trap Challenge, POC product approx value $300
Enduro race is the NYS Enduro Championship's
RACE FEE'S
Downhill Amateur $70 Pro $75 Includes Sat and Sunday Lift Fee's
Enduro Amateur $50 Pro $55 Includes Sunday Lift Fee's Field Limited to 125
Super D Amateur $40 Pro $50 Includes Saturday Lift Fee's
Other Day Lift Passes with any race entry $25
Special Showdown Entry for All 3 Races
Amateur $150 Pro $170 INCLUDES Thurs – Sun Lift Fee's
All Races count towards ths 2013 POC Eastern States Cup Season Challenges:
$1000 Intense Cycles King of The Cup
$1000 Loeka Women's Queen of the Cup
$1000 E-13 Junior Cup Champion
$1000 Fox Racing Shox Enduro Challenge
For full information, schedule and Enduro Pre Reg please visit
www.easternstatescup.com