Filling the Holes Left by 2012
- RC
Many of the innovations and trends that we will see this season sprouted from seeds sewn in 2012, so to predict the future, I'll begin with a quick look in the rear-view mirror. To plant seeds, you need to dig holes, and some of the more conspicuous moments last year were the events that did not go as planned, or didn't happen at all. Shimano's response to
SRAM's XXI
one-by-eleven drivetrain was a significant hole, especially considering that it was its
nine-tooth Capreo freehub and cassette that launched the concept.
Shimano should be returning SRAM's serve in 2013. SRAM's hole is named 'Saint.' For as long as Big Red has been ripping it in DH, one would think that a dedicated DH group would already be in place.
Deuce!
It's safe to bet that SRAM's DH ensemble is on the horizon for 2013.
X-Fusion
is another family with a missing child. Hey already, where
is
that dual-crown fork? X-Fusion will now be racing with
DVO
to pop a production DH slider out before show season arrives this summer. The seed most of us were watching for last year failed to sprout - that reliable, low-cost dropper post for mid-priced OEM bikes. Hopefully it will grow to fruition in 2013.
---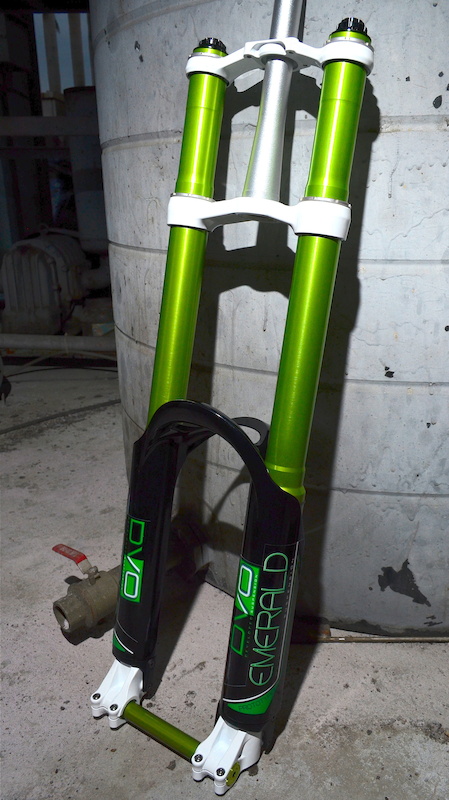 Challenging The Status Quo: DVO
- Mike Levy
It will be a very long time before DVO is troubling the likes of FOX and RockShox when it comes to OEM spec and aftermarket sales, but that very fact will allow them to hone in on a small but important customer base: the high-end market. The 8-inch travel Emerald will be their first stab at it, and judging by the reception to our
First Look article
, the unapologetically upscale inverted DH fork has got that customer base to stand up and take notice. The fork utilizes some fresh ideas, mainly the one-piece carbon fiber CTD arch assembly that is claimed to dramatically improve rigidity, as well as the titanium collet leg clamps (
that may or may not make it onto the production version
), but it is DVO's approach of
not
trying to reinvent the wheel that has us betting on them producing a winner out of the gate. Rather than engineering an unduly complex damper system, DVO's Tom Rogers and Josh Baltaxe have taken their inspiration from the world of motocross, with a twin-tube damper that can be easily disassembled, tuned, and put back together. Yes, the same task can be done to the current players on the market, but rather than shun the idea and make it hard for owners to source vital parts, DVO is actually encouraging riders to jump into it. They claim that not only will shim kits and instructions be easy to come by, but they will even have seminars for those who really want to get serious. Sure, your tinkering may produce a fork that doesn't work as well right off the bat, but that is all part of the learning process, something many riders have been itching to get into. It would have been easy for DVO to cite warranty, liability, and performance concerns as per the competition, but their refreshing approach will likely win over many potential buyers. If the Emerald's performance can go halfway to meeting the hype, DVO will have a winner on their hands.
DVO Suspension
---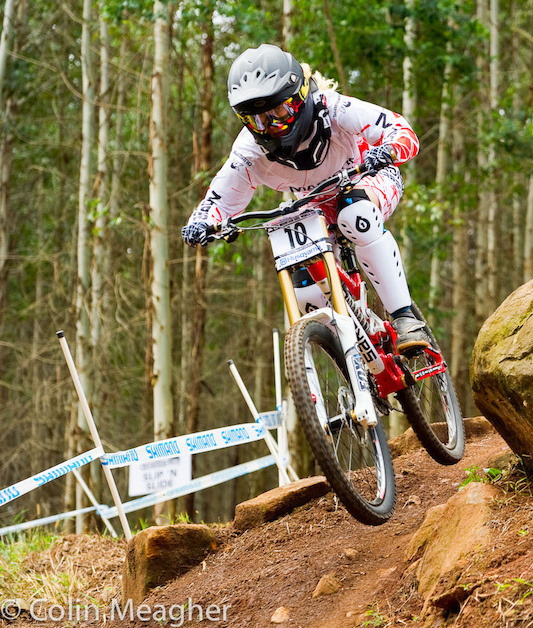 Two-Way Downhill Dropper Posts
- RC
The opening round of last season's World Cup DH at Pietermaritzburg, South Africa, saw a number of racers using dropper seatposts to shave time from the long pedaling segments of the course. Conventional droppers, however, are designed to default in the upper position to suit XC-ish riders who want to lower their saddles for descents. It occurred to me after a day on a big bike at Whistler that downhill posts need to react the opposite of a conventional dropper - as you need to be off the saddle to enter a technical section at exactly the moment you'd have to be pushing the post down. I laughed when
Mike Levy predicted in last year's feature
that he wanted a dropper post that went both ways with a push of a button, but that is exactly what is needed to make a DH-specific dropper. Powered by a large CO2 cartridge, or perhaps a battery and a servo motor, the DH dropper will power up to pedal height with a handlebar-mounted lever and when it comes time to drop into the scary bits, a single push of a button will disengage the mech and the post will
automatically default to the low saddle position. The two-way DH dropper will be race-specific at first, but considering that big bikes accelerate like Walmart shoppers, a DH dropper could be a plus for anyone.
Photo: Manon Carpenter sports a dropper post at the South Africa WC DH - Colin Meagher
---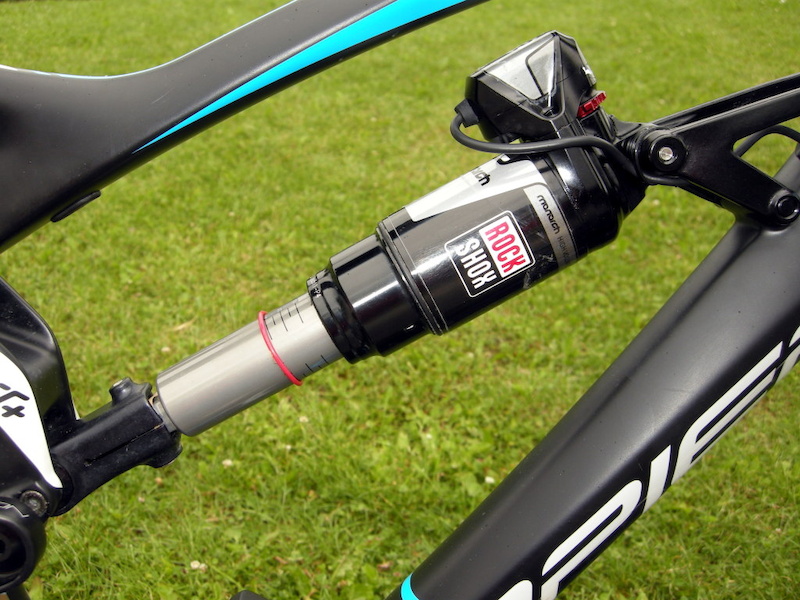 More Electronics
- Mike Levy
Maybe it's all Stanley Kubrick's fault? We might be more receptive of computer controlled aids if it wasn't for HAL 9000's rebellious ways. Or maybe we as riders are wary of losing some sort of fictional purity that we think we are holding on to, never mind that the bikes we ride have already been shaped by computers and use advanced technology to allow us to go faster. Whatever the reason, the topic of electronically-aided suspension is one that never fails to bring out impressive amounts of hostility from riders. RockShox's investment in their
E:i system
is evidence that we all may have to get used to the idea, though, and I have to say that I feel it will be for the better. The E:i system is what is
referred to as "adaptive suspension" - the shock's compression damping is adjusted automatically via a servo motor. The shock's "brain" is controlled by different sensors on the stem cap, fork lowers, and hidden within the bottom bracket shell that tell it what the rider is doing and the expected severity of the upcoming impact. This allows the shock's compression damping to be altered within 0.01 of a second (
which sounds quick, but there is some debate as to if that is actually quick enough
) so that it can firm up for a large impact or be more open for smaller trail irregularities. The result should be more control and more traction, and we're betting that the E:i system will pop up on a few unexpected bikes and places in 2013. Are you scared? You shouldn't be - the bike is still under your control, and if the battery, which is said to last 24 hours at 250 suspension adjustments an hour, runs out, you are left with a standard rear shock that still features the same manual adjustments we're all familiar with. I don't know about you, but I sure as hell won't feel guilty about reaping the benefits of such a system. Expect more of this in the future - we have a hunch that FOX is working on something, and Marzocchi is showing off an even more advanced semi-active system that employs electronic valves within a prototype motorbike bike fork.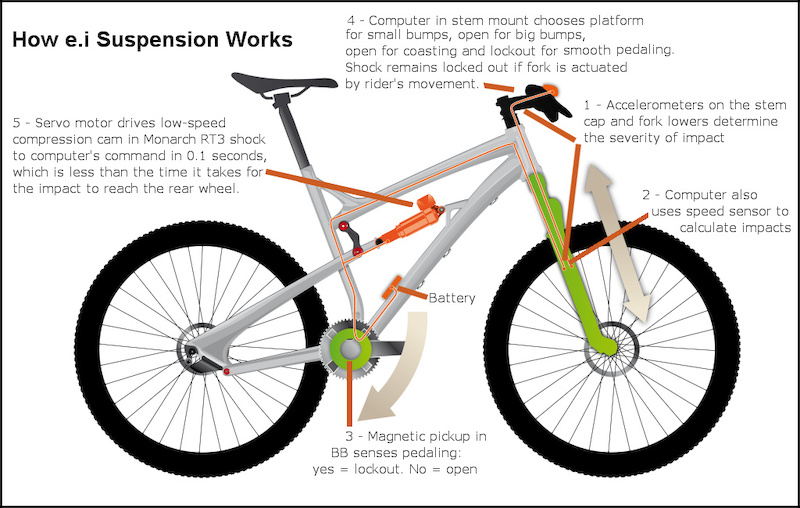 We're a weird club: we often drool over the latest carbon fiber wonder bikes and whatever drivetrain has the most cogs, but our hackles get raised at the mere mention of electronics infiltrating our bike's suspension. The idea is far from new, with branches of the concept being employed in the motorized world for many, many years. While most men have images of certain scantily clad females floating about in their head, I fantasize about a completely active suspension system on my bike of the future, one where both the front and rear end work in unison to not only damp the impacts just right, but also preserve the bike's angles more efficiently. Such a setup is pure mountain bike fantasy, but a man can dream, can't he?
Photo: RockShox Monarch RT3 Relay damper on an E:i equipped Lapierre Zesty
---
Changes in the Wind for Freeride and Slopestyle Competition
- RC
Two of the sport's most celebrated events, the Red Bull Joyride at Whistler and Red Bull Rampage, are poised for a redesign. Both are Diamond-Level events on the
FMB World Tour
, and after the Rampage was aired on network television, it is almost certain that more of the FMB tour will also air this year.
Rider's view of the same jump suggests the commitment: ignore the satellite dishes, get your trick in, and then drop from 40 feet into oblivion for a precise landing on the back-side (plus or minus one meter). Yannick Granieri stuck this giant tuck no-handed flip. Zink overshot and crashed out of the event. - Fraser Britton photo
Slopestyle Progresses to a New Level
- RC
Watch the
2012 Joyride
- it was a breath-holder from start to finish, but not always for the best of reasons. Wind was a factor, but breezy conditions alone could not be blamed for the ensuing yard sales that took a heavy toll on riders and equipment. The mood was pensive from the starting tower to the crowds below, as anticipation for the spectacular shifted to hope for a clean run. As most of the top seeds limped out of contention, it became clear that the formula was missing some ingredients.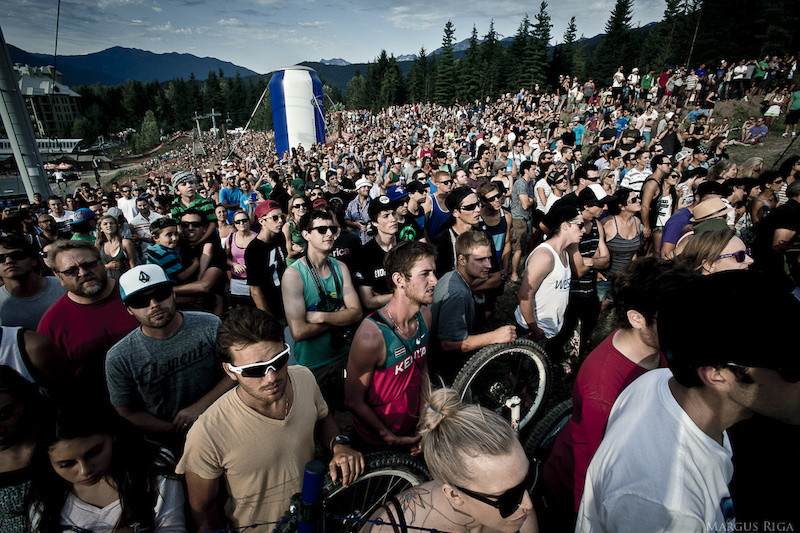 Most of the record-crowd at Joyride 2012 were riders - men and women who understand both the risk and the consequence of going big. It is written on their faces. - Margus Riga photo
My predictions for pro slopestyle venues at the magnitude of the Red Bull Joyride are evolutionary. Bikes and components will begin to evolve to meet the higher stress levels of the bigger events. I envision wheels built with stronger rims and with wider hub-flange spacing to better handle off-angle landings, and a new tire strategy, perhaps one that pairs a high-pressure carcass with stiffer DH-type sidewall. Rear suspension, designed specifically for slopestyle competition, will be appearing under a larger number of competitors. Course designers have been absolutely on top of it, but now that fifty foot gaps and drops are becoming commonplace, there will be a movement to produce a standardized method of determining entry speeds and ramp curves that are based upon both empirical knowledge and hard-core physics - which will then be applied to all the venues on the pro tour to give riders the consistency they need to trick features. Finally, (
and I know this is a stretch
), pro riders will begin to experiment with various wind angles and velocities under controlled conditions in order to dial in body positions and adjust their technique.
Wind machines
or movable ramps are practical solutions. It makes sense that if wind is so often a factor in competition that top competitors perfect methods to minimize its effect, or to use it to their advantage.
Red Bull Rampage Spawns a New Series
- RC
'Professional Freeriding' is a bit of an oxymoron if you think about it, but there is no question that the
Red Bull Rampage
is
the
showcase for the sport that helped launch Pinkbike. It's got all the right elements - Big Bikes, teams of diggers throwing in to create impossible lines, massive air, and it's staged on a palette of vert that strikes fear into the hearts of all but the most accomplished riders.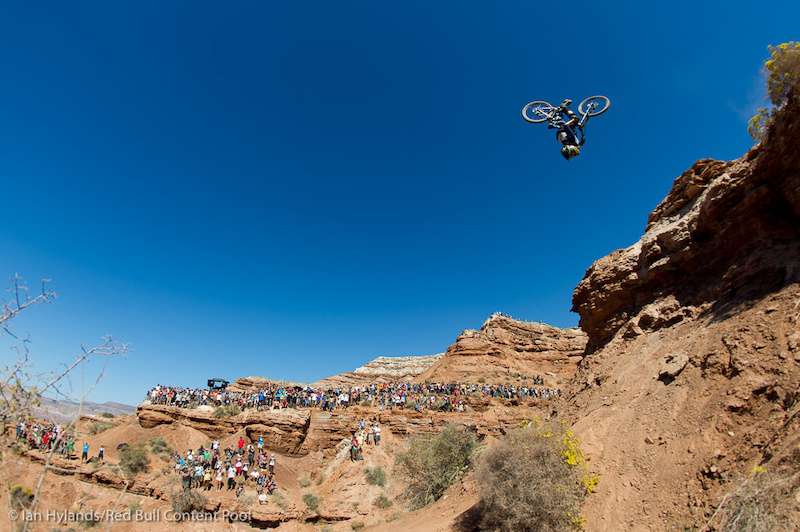 Kurt Sorge rides to the win at the Red Bull Rampage, 2012. The scale of the stunts, both artificial and rider-built, make it the standout event of the FMB World Tour. - Ian Hylands photo
Based upon the nature and the numbers of comments we received about the 2012 Rampage, it seems that it may have outgrown the FMB Tour. With the majority of FMB events featuring groomed stunts that cater to slopestyle riders, the Rampage is forced to straddle the fence.
Can a freeride event be judged fairly by slopestyle criteria?
The popular vote was 'no.' The size and unique nature of the Rampage warrants its own series - a true freeride tour that is judged in the spirit of an edgier riding style on ungroomed terrain. FMB's recent announcement that the Red Bull Rampage will return again this year
(it normally runs biannually)
suggests that the organizers will be presenting at least some of those changes. I predict, however, that the Rampage will ultimately spawn a new freeride tour.
---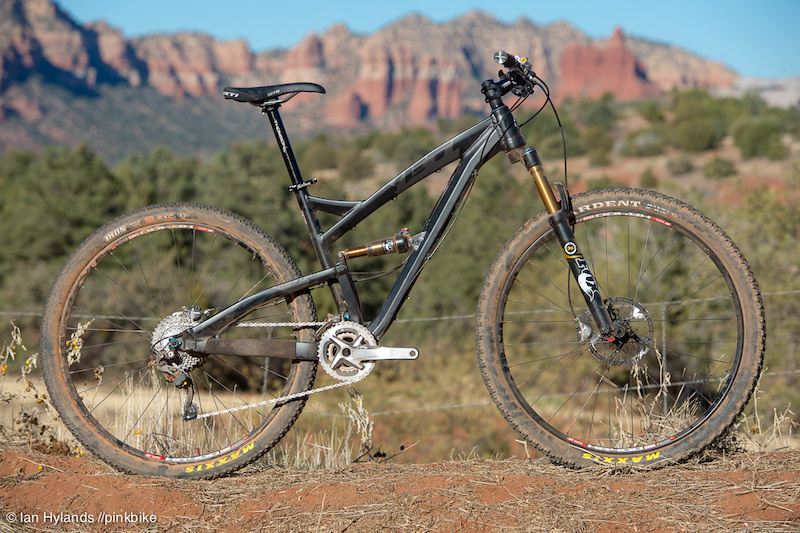 More Short-Travel Bikes In Your Garage
- Mike Levy
One year ago I made a prediction that more and more riders would be turning their backs on mushy long-travel bikes in favor of sharper handling and much lighter short-travel rigs. I took some heat for that, but then I made a better argument for my case with
this article
, which, I admit, didn't receive the loathing that I thought it would. All-mountain, trail, cross-country, call them whatever you want, but riders are seeing that such bikes make a lot of sense, especially as they continue to evolve into more and more capable machines. Not
only are these multi-faceted rigs more proficient than many of us suspect, but they are also infinitely more versatile than raked-out downhill sleds. Do an honest appraisal of how and where you ride, then match your bike's travel and wheel-size to that without the inflated self image we are all guilty of applying to ourselves...There is a very good chance you'll end up picturing a very different bike than the one currently in your garage, and I'm willing to bet, more often than not, it will have less travel.
---
New Component Standards for 29ers
- RC
Big-wheel bike makers have been slow to project the 29er into the long-travel market, partly because the accepted perception is that big wheels make up for suspension travel, so up to now, there has been little incentive for them to push past the 130 millimeter travel barrier. The re-emergence of 650B, however, will light a fire under their butts, as the mid-size wheel offers bike designers a way to circumvent the superior roll-over claims of the 29er guys, with a package that delivers uncompromised frame geometry and rear-wheel travel comparable to conventional wheeled all-mountain and DH bikes. But before the 29er can sprout longer legs, it will have to develop some big-wheel-specific component standards - some of which exist and others that must be invented. Breaking through the 29er travel
barrier will require a redesign of many major components: Wider bottom bracket shells and crank spacing to move the chain-line outwards in order to make room for wider tires and shorter chain stays. Zero-offset crankarms to return the
Q-factor
back to normal. Wider rear-axle spacing
(probably 145mm)
to move the cassette cogs in line with the chainring and wider hub-flange spacing to reduce the spoke angle and strengthen the wheel. Up front, wider hub flanges may require a wider axle and fork crown metrics. Heavy wheels are already a thorn in the side of the 29er, so to keep the weight down, wider, lightweight carbon rims, and tires with wide, aggressive tread and low-profile sidewalls must be considered. Because the front derailleur swings into the exact spot that the tire must occupy, SRAM's XXI drivetrain is tailor-made for the new 29er - long-travel plus big wheels equals no front mech. Other component makers will be pressured to follow. Where the big trouble occurs for the long-travel 29er, however, is that suspension designers must figure out a way to keep the bike's chain stays short enough to ensure proper handling, and still figure out a way to arc the wheel away from the rider's butt when the saddle is slammed. Accomplishing this miracle will no doubt throw bike designers into the snake-pit of dubious and conflicting suspension patents. For the 29er to progress into the realm of the 150 to 200 millimeter travel bike - and it must in order to maintain momentum in the market place - I predict that many of those standards will be introduced this coming year - a few, released to the public, most, unmarked and on secret prototypes.
Photo: Niner R.I.P. 9 RDO - Niner Bikes
---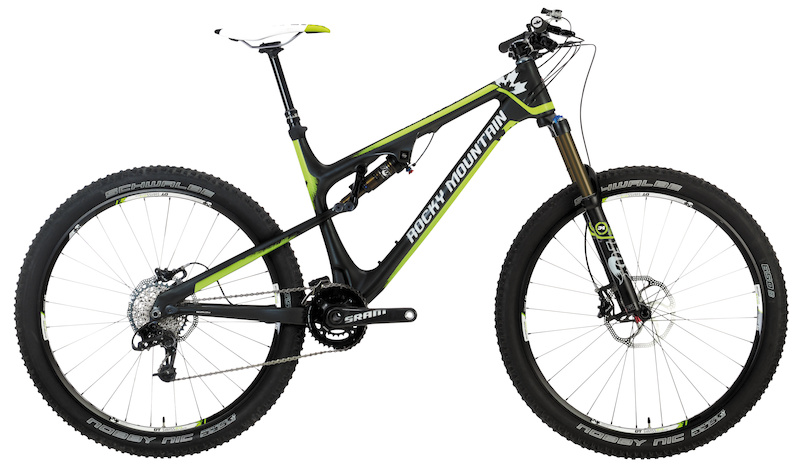 The Inevitability
of 650B
- RC

I am happy to report that there will be no KGB agents driving across North America in black Chevy Suburbans, contracted to pry your 26-inch-wheel bike from your cold, dead fingers. So, before you get your panties in a bunch about a third wheel size, please read the last paragraph of the 29er prediction above and then consider this: Regardless of whether you like the 29er format or not, it has been proved without a doubt that a larger-diameter
wheel, in the neighborhood of 29 inches, rolls measurably faster and with less effort over unpaved surfaces than a 26-inch wheel does. So, for riders who want the most performance they can get from their bike, the unspoken question is: If you don't like 29-inch wheels, then what larger-diameter wheel format will you choose? From this point onward, those who choose to ride a 26-inch-wheel bike must add a reason. It can be as simple as liking 26-inch wheels better - and I am happy with that - but the fact that you need a reason at all is passive acceptance that to some degree you have chosen a less-efficient means to ride a bike on the dirt.
I predict that 650B is inevitable, but it will not overwhelm the North American market this year. Where the mid-size wheel makes the most sense is on bikes ranging in travel from 150 to 200 millimeters. Unlike the 29er, the 650B format requires only three alterations in the present standards for components: wheel diameter, tire diameter and fork geometry. Beyond its efficient roll-over component, the tangible benefits of 650B include a bottom bracket that sits significantly lower than the axle height for improved cornering and big-hit performance, significantly lighter wheels
(vs 29-inch)
, conventional frame and steering geometry, and an optimal handlebar/steering height. Three compelling forces are powering 650B into the market: Presently, the greatest motivator of the trio is that European mountain bikers resented the 29er when it first arrived because it was being forced upon them. The mid-size wheel gives the remaining doubters and haters there a hall pass to accept a larger wheel, while at the same time rejecting the 29er. Expectedly, the projected numbers of 650B bikes in Europe for 2013 are substantial. The second reason is that top bike designers who now have extensive experience with 29ers have pushed the genre as far as it can reasonably go, and have now moved on to explore a more promising wheel size for their longer travel models. The last reason, unfortunately, is that the newness of 29ers has worn off and Docker-wearing marketing managers with crated Pugs under their desks need something fresh and cool to put into their bike lines. Pick your poison, 650B is here to stay.
Photo: Rocky Mountain's carbon-framed Altitude 790 MSL 650B trailbike - Rocky Mountain
---