Given that Trek already offers their 27.5'' wheeled Remedy with a carbon fiber frame, it shouldn't came as a shock to see them
add a 29er carbon model
to the existing aluminum big wheeler platform. There is a more surprising bit of news, though: Trek is now offering the 120mm travel Fuel EX with smaller diameter wheels. Wait, smaller? Yup. The Fuel EX 29er is still available, but Trek told Pinkbike that they are aware that a 29er rider might be a very different animal than someone who prefers 27.5'' wheels: '
We have a philosophy that goes 'two riders, one trail' where, in regards to wheel size, we kept working towards rider-specific usage
,'' John Riley, Trek Mountain Bike Product Manager, explained to us. ''
Initially, we found that in the 140mm travel range there are really two different types of riders who are looking for a different experience on the trails. We also found that to be true of the 120mm Fuel EX platform.
'' The type of rider that Riley is referring to could be someone who, while still wanting to feel fit and fast, might also not shy away from a fun bonus line on the side of the trail; the new Fuel EX platform that he's referring to is the 27.5'' wheeled rig shown here. It also should be noted that there is still a 26" wheeled Fuel model in the lineup for 2015, the $2,099.99 USD Fuel EX 6, meaning that Trek is offering their trail bike platform in all three wheel sizes.
Fuel EX 27.5
Have spent many, many hours aboard their Fuel EX 29er, flying down for two days of riding on the new 27.5'' wheeled version presented an excellent opportunity to compare the two. Now, the singletrack that we rode in Brevard wasn't the roughest, most testing type of terrain, but there's something about going through the trees at mach chicken that never gets old. Yes, there were plenty of Star Wars speeder bike references during the week. No Ewoks, though, just a few massive snapping turtles.
RE:aktiv Damper
The Fuel EX's FOX Float DRCV shock appears to be the same as last year, except for that small RE:aktiv decal stuck to it. What's that all about? You may have seen the
press release a few days ago
from Trek that talked about them working on new-to-mountain bike shock technology with the legendary Penske Racing, and while that blurb was heavy on the marketing, there is a real connection here between what Penske are putting inside the dampers that they provide for all sorts of auto racing applications and what is being used to control compression forces within the FOX shocks found on the new Fuel EX and Remedy platforms. And yes, the very same principles are being applied to the dampers that Penske builds for multiple Formula One teams, although a single one of those can cost more than what a Session 9.9 goes for. A lot more.
The RE:aktiv design is essentially Penske's regressive compression damper shrunk down and stuffed into the FOX Float CTD shock. It consists of a completely different main piston design that, in very simple terms, employs a spring loaded valve (
the special Smalley spring is pictured below
) that can open to allow a lot of oil flow through the compression shim assembly. However, when the valve is closed the damper provides added low-speed compression for more efficient pedalling and, more importantly in my mind, more low-speed control that helps to keep the shock from pitching through its stroke when you're on the brakes or throwing your body weight around. This idea is to preserve the bike's handling.
The valve stays closed when the bike is stable, restricting oil flow and giving you a more stable chassis, until a pressure spike begins to open it. This typically happens when an impact of roughly three inches per second or faster occurs, which is actually a very minor hit. Penske worked quite hard at making sure that the system absolutely doesn't behave like a typical pressure release valve, though, and it was made very clear to me that one of the main goals of the RE:aktiv project was to create something that didn't behave anything like an on/off switch, but rather offered a more open and variable feel on the trail. Valve spring rate, valve plate design, and orifice size all came into play in the search for zero breakaway feel, and both FOX and Penske feel that they've absolutely nailed it. Part of this is also down to the velocity sensitive nature of the system: "When the valve starts opening you'll get very quick relief because there's a lot of flow area exposed extremely quickly before it regains control. That's the regressive element that
you're feeling,'' Jose Gonzalez, Trek Suspension Engineer, explained to Pinkbike. ''
As the velocity increases, the spring tries to work against that force, but at some point the force overcomes the spring to allow for a lot of flow, so there's no harshness. At the same time, because you've got the flow area constantly varying depending on the force that's pushing on the spring, as well as the ports that the oil has to then flow through, you get high-speed resistance as the velocity increases.
''
Want to learn more about how the RE:aktiv shock works?
Our look at the 2015 Remedy 29 Carbon
includes more photos and information about the technology and the partnership between Trek, FOX, and Penske.
---
On Trail with RE:aktiv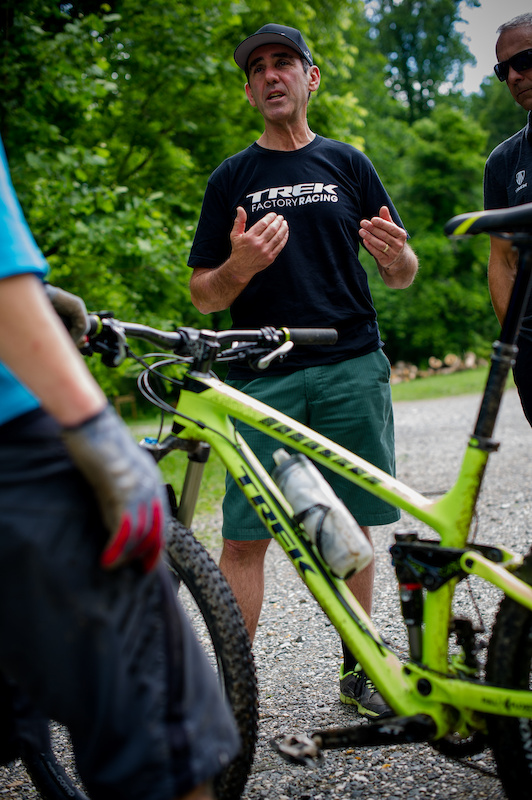 A little overwhelmed by the tech? Maybe you're as captivated by how RE:aktiv works as you are by your girlfriend's latest issue of Cosmo? I couldn't blame you for falling into either category - it's a hell of a lot of information to absorb, and, to be honest, it's probably not that interesting unless you're the kind of rider who stops to add or subtract a single click of damping or a few PSI to their shock every few rides... you know who you are, and you probably annoy the hell out of your riding buddies, but more power to you. What really matters is how this new RE:aktiv stuff performs on the trail. And even more importantly, how it compares to last year's non-RE:aktiv FOX Float CTD DRCV shock. Because finding out if the new shock is actually better than the old shock is all that counts, and because the only way to properly do that is to compare them back-to-back on the same section of trail, I had to do exactly that. Myself, a 2015 Fuel EX 27.5 with its new RE:aktiv shock, and Jose Gonzalez, Trek Suspension Engineer pictured to the right, with a handful of tools and last year's shock was all it took.
| | |
| --- | --- |
| | What really matters is how this new RE:aktiv stuff performs on the trail. And even more importantly, how it compares to last year's non-RE:aktiv FOX Float CTD DRCV shock. |
Most of the singletrack that I rode in Brevard was smooth enough to play billards on, which, don't get me wrong, is more fun to ride than playing tonsil hockey with Lucy Liu, but it isn't exactly ideal for evaluating new suspension. It took a while and I ended up having to import some large, pointy rocks onto the trail, but I soon had a worthy, if a bit short, section within an hour that suited my needs. This included a smooth climbing section, a rough climbing section, and then a rocky descent. The plan: start on the RE:aktiv shock before switching to the previous version (
both run with the same settings
), and then jump back to the new RE:aktiv shock in order to highlight any differences. What did all that back and forth prove?
• Trail / Descend Mode -
I don't think I'm alone when I say that I feel like a well sorted 120mm travel bike shouldn't ask you to reach for the pedal assist lever unless you're faced with a long gravel road climb. Sure, a 150mm+ bike might require some sneaky tricks, but a machine like the Fuel EX should be able to just get on with it, regardless of the shock being left open. The bike pedals well enough with last year's shock that there really isn't much to complain about in this regard, but I did note a slight increase in efficiency with the new RE:aktiv shock when spinning up the smooth climb - the bike's rear suspension simply cycled up and down less under chain torque and body weight movement. No, it isn't a night and day difference, and it is in no way anything like the firmness that an inertia valve system provides, but I'd say that it's likely a bit more "useable" for a trail ride because of this. Climbing up our little test section of rough singletrack showed that both the Trail and Descend modes feel very much like last year's shock, and I'd be hard pressed to tell the difference in a blind test. Actually, I'd be far more likely to spot the distinction between Coke and Pepsi before noting the difference between a RE:aktiv and a non-RE:aktiv shock on a rough climb. This isn't really a surprise, though, because the rocky ledges and holes of our test pitch were enough to open the regressive valve plate and allow oil to flow through, which in turn allows the shock to do its job.
Descending revealed a very familiar feeling, with the RE:aktiv shock coming across a lot like its predecessor on our short test lap when in either the Trail or Descend mode. That's not a bad thing, though, as I've never felt that it's left me wanting for anything more during my time on it in the past. Gonzalez did mention that it should be possible to lower the shock's pressure by 5 - 10 PSI due to how the regressive valving helps to hold the bike up in its travel, which in turn should create a more forgiving ride without sacrificing any ability to "push" against the travel when you're pumping the terrain. This is something we'll have to investigate on more familiar trails, but it does sound promising.
• Climb Mode -
Here's where it gets interesting. While the difference in performance between the new and old shocks when in Trail and Descend mode is certainly notable on a smooth climb, the truth is that it is also subtle enough that a rider who maybe doesn't know the difference between a shock pump and tire pump might not take note of it. Flip the little blue lever to Climb mode, however, and there's no way that anyone could mistake the RE:aktiv shock for the standard unit. It's firm on smooth ground, as it should be, but then manages to open up and take the edge off of impacts well enough that it could almost convince someone that it isn't the shock's firmest setting. Yes, it's still harsher than the two more forgiving modes, as it should be given that it takes a harder impact to open the regressive valve plate, but I'd say that it's far more functional than the Climb mode on last year's shock simply due to the fact that it offers both a firm and efficient ride on smooth ground, but can open up to dissipate hits. Back-to-back-to-back runs up and down our little test section revealed that while the older shock felt locked out, the new shock felt firm but allowed the bike to carry more momentum over the rocky ground. Interestingly, the RE:aktiv shock felt much more balanced and in-tune with the fork during this part of the testing, while the old shock, when in Climb mode, had the fork feeling harsh and underdamped.
Pinkbike's take:
First, the downside is that, much like the DRCV air spring, RE:aktiv is entirely proprietary to Trek. The dirty 'P' word is one that gets many heads shaking, and, given the shock's unique upper mounting configuration, I can understand a lot of readers' apprehension to the idea, especially if you think you might want to run a different shock down the road. No one likes to be boxed in, even if said box works very, very well. Boxes aside, the bottom line is that the RE:aktiv shock pedals better when it's left in either Descend or Trail modes, but is also much more forgiving when in the firmest Climb setting. It's true that last year's FOX Float DRCV CTD shock was no slouch, and I've always thought that its two-chamber DRCV air spring allows you to get both sensitivity and big hit control, but the new RE:aktiv damper further increases its versatility.

- Mike Levy
Photos by Dan Milner and Sterling Lorence