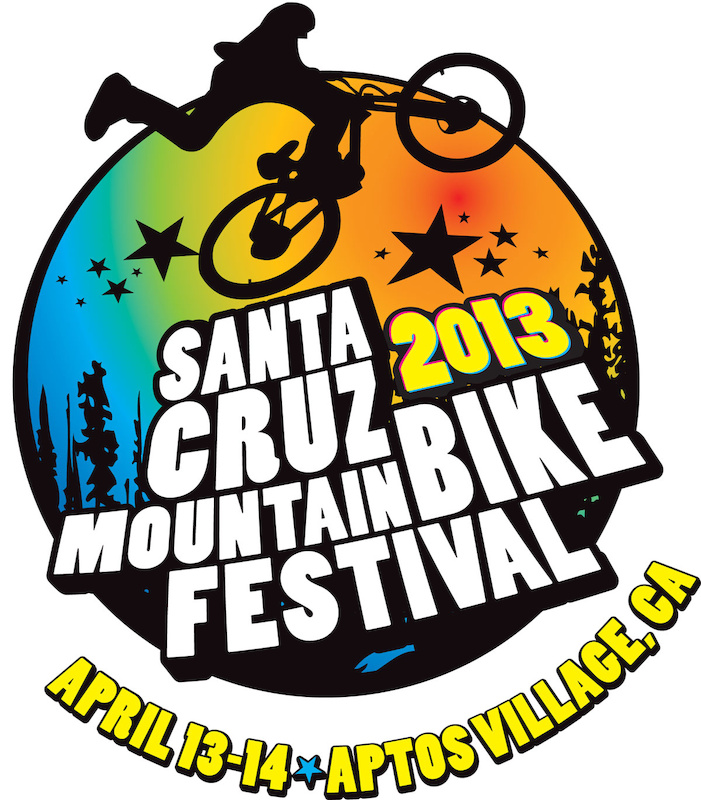 Santa Cruz county-based FOX returns as title sponsor of this popular event April 13-14, 2013 that includes professional and amateur competitions, skills clinics, a kids' practice area, bike demos and shuttles, an industry expo, and food court/beer garden.
Mountain Bikers of Santa Cruz (MBoSC) is proud to announce FOX's return as title sponsor of the Santa Cruz Mountain Bike Festival (SCMBF). 2013 marks the third year that the Scotts Valley-based suspension products manufacturer has offered title sponsorship support to this grassroots event that raises funds for bike projects throughout Santa Cruz county. FOX's generous support contributes a great deal to the festival's success and demonstrates the importance local community to this world- wide industry leader. Mark Jordan, FOX Global Communications Manager, affirms "The Santa Cruz Mountain Bike Festival takes everything that is great about the local mountain bike scene and brings it all together in one place. From families to amateurs and pros, the festival has something for everyone. We are happy to be a part of it."
FOX is joined by event sponsors Epicenter Cycling, Scotts Valley Cycle Sport, Specialized, Summer Gravity Camp, and Sweetlines, as well as platinum level sponsors Adventure Sports Journal, Barry Swenson Builder, Best Western Plus Seacliff Inn, Bike Magazine, decline magazine, Dirt Rag magazine, Gamut USA, Kali Protectives, Pinkbike.com, Pivot Cycles, Rubena Tires, and Trailhead Cyclery. The Santa Cruz Mountain Bike Festival appreciates the support of these industry and community businesses and organizations. Sponsorships are still available for event, platinum, gold, demo and booth levels.
The 4th annual festival will take place on April 13-14, 2013 (the weekend before the Sea Otter Classic in nearby Monterey) at the Barry Swenson Builder property in Aptos Village, California. The festival, which was created to celebrate the world class mountain bike facilities, riders, and cycling industry of Santa Cruz county, continues to grow year after year with the generous support of its sponsors, volunteers, and community. In just its third year, the 2012 event boasted a 50% increase in attendance and athlete participation over the previous year, attracting over 6,000 spectators, 200 amateur and professional athletes, 200 kids' rodeo participants, 70 sponsors, and 150 volunteers. The festival's success testifies to the depth of the mountain bike culture in Santa Cruz county.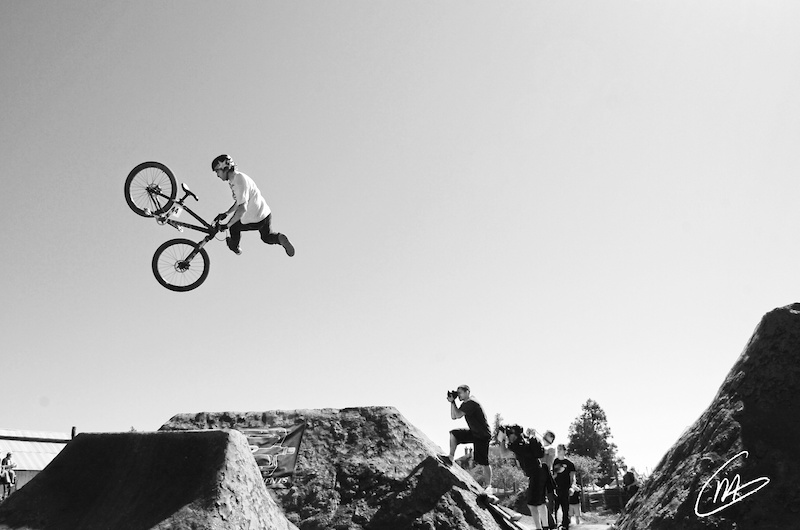 Image by Matthew Gillooley
Ladies Skills Camp
-
Kat Sweet of Sweetlines will host a women's jump event that includes one day of skills coaching followed by a day of competition. Skills will focus on jumping, pumping, railing berms, and tricks. The competition—open to all amateur and pro women—is a fun way for clinic participants and other amateur riders to push their limits to the next level, as well as an excellent opportunity to showcase the top pros, inspiring women to follow their lead.

In addition to the women's specific event, Sweetlines will offer co-ed basic mountain bike skills and enduro skills classes led by IMIC certified coaches.
Amateur Jump Contest
-
The Santa Cruz Mountain Bike Festival is also partnering with Andrew Shandro from Summer Gravity Camp and Cam McCaul to present the 831 Amateur Jump Contest at the famous Aptos Post Office Jumps, with the winner receiving a week-long camp experience at Summer Gravity Camp in Whistler, B.C.
Short Track Race, Pumptracks and Pro Jump Jam
-
Popular events from previous years will return bigger and better. The 2013 Specialized/ Scotts Valley Cycle Sport Short Track race will run on a true mountain biker's course—the most fun half mile of singletrack in a closed course anywhere. The Epicenter Pump Track Pandemonium contest will introduce a newly expanded, improved course. The 831 Pro Jump Jam will feature local and out of town pros pulling huge tricks, promising to be a real crowd pleasers as always.
Add in the Kids' Rodeo and Fun Lap, a comprehensive industry expo area, bike demos, shuttles, live music, a beer and food court featuring local brew and eats—and so much more—well, needless to say it's going to be an incredible weekend for bike enthusiasts, family members, and friends in Santa Cruz county. The festival reflects what Santa Cruz in general is all about: loving the outdoors, community, meeting friendly people, kicking back and enjoying that big stoke from your favorite sport.
COMING FALL 2013: THE SANTA CRUZ SUPER ENDURO
Last year, MBoSC made history with the addition of Santa Cruz's debut superenduro to the festival's competitive events line-up. This Euro-style enduro—featuring one bike, three climbs, three timed descents—was the first-ever legally sanctioned race at Soquel Demonstration State Forest (Demo) and attracted 177 applicants with pro and amateur riders from near and far vying for the coveted 50 available spots. A physically and technically demanding course on some of the sweetest trails in Santa Cruz combined with the camaraderie inherent in the superenduro format made this event an overwhelming success.
MBoSC is excited to continue the success of both the Santa Cruz Mountain Bike Festival and the Santa Cruz Super Enduro (SCSE). Due to concerns resulting from the inclement weather preceding the 2012 Super Enduro event, the 2013 race will be held later in the year as part of the California Enduro Series (CES). The Santa Cruz Super Enduro will focus entirely on the race and the racers, promising an incredible weekend of riding, racing, and camaraderie for pros and amateurs alike. Details about the California Enduro Series and the Santa Cruz Super Enduro will be released soon.
The mission of the festival is to celebrate mountain biking in Santa Cruz county by bringing cycling enthusiasts together to participate in and spectate competitive and recreational mountain bike events, promoting the world class mountain biking facilities and riders of Santa Cruz county while bringing the local community together and advocating for an active outdoor lifestyle. Through the Santa Cruz Mountain Bike Festival, MBoSC (a 501(c)3 non-profit organization) has raised over $25,000 to support bike projects in Santa Cruz county.
To keep apprised of festival details, please visit the SCMBF website at
santacruzmountainbikefestival.com