Troy Brosnan 2011 Bio from Sean Anderson on Vimeo.

Australia has been one of the fastest nations in the world over the past decade with riders like Chris Kovarik, Nathan Rennie, Sam Hill, Jarred Graves, and now Troy Brosnan routinely grabbing World Cup podium spots. What makes Australia such a hotbed for gravity racing talent?
We have some amazing tracks here in Australia, however I don't believe that's what makes a good rider. Look at any Australian athlete and you see success in many sports! We're a sport-driven country and are all brought up with them. We are taught to be competitive and with our athletes who represent Australia in downhill racing, they prove that at the races. Australian riders have had some pretty amazing moments in the UCI World Cup Series and I believe there are many more to come, especially with Troy Brosnan.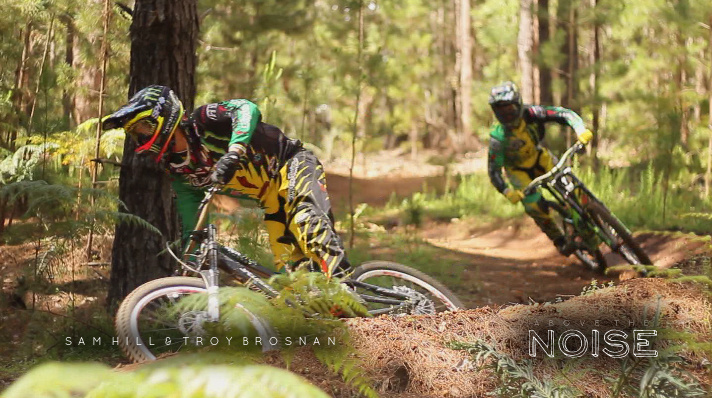 Who will be the highest placing Aussie on the World Cup this year? Hill or Brosnan?
Brosnan. Troy seems to be just unstoppable at the moment!

How do the top racers simulate the greasy, wet, tracks of Europe at home in Austalia?
We have all terrains here in Australia; it isn't just dusty tracks everywhere. For example Kovarik lives up in Brisbane, which receives a lot of tropical weather and is wet much of the time, however, can be dry as a bone some days too. Us Australians learn to adapt and prepare ourselves to train for any surface and like Sam Hill says at times "I just rode it like it was dry."

Will 'Above the Noise' be released free online or will it be sold on DVD?
The film will be released free to view here on Pinkbike.com for anyone to watch. I want the world to see it, not just the ones who would buy it.

Is the goal for 'Above the Noise' to be a stepping-stone into a career shooting DH racing (like Clay Porter)?
No. I enjoy DH Racing, but as far as covering DH races for a career like Porter, it isn't the path I want to follow. I have more interest in the filmmaking side of things, creating my films in the way I see them and not follow what a race season sees.

How long have you been shooting video?
I have been shooting video for a little over 4 years. It began as a hobby and now is my profession.

How long have you been shooting mountain biking?
4 years. It's what I shoot mostly.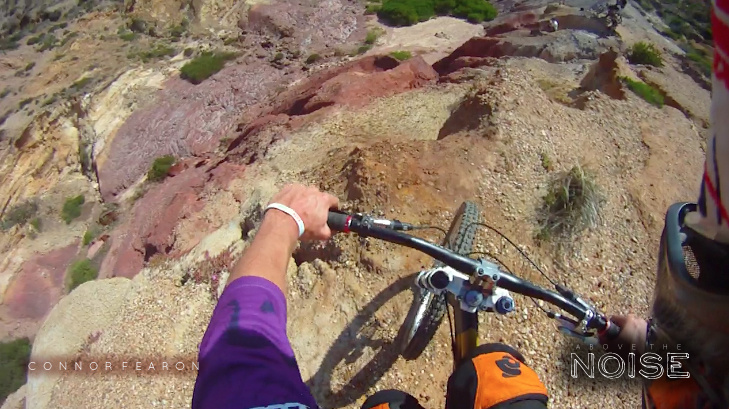 Do you shoot anything else besides mountain biking?
Yes, I freelance at the moment. I have worked for fashion labels creating promotional videos, college promotional videos for sporting athletes, and many other actions sports such as motocross and bmx.

What is your favorite thing to shoot?
Downhill. It is very pleasing to be out shooting in the bush on racetracks and creating a vision for people to relate my love of mtb with.

What has been your most memorable shoot to date?
There have been many memorable shoots to date. Shooting Troy Brosnan has been epic as he is always so damn fast. Also, shoots with Connor Fearon on some of South Australia's most beautiful coastlines were phenomenal. I also entered the Nike 'Chosen' competition with Connor Fearon which we finished 5th in the world. We ran generators, studio lighting, and smoke machines to create an amazing bmx video.
Nike Chosen - Taylors from Sean Anderson on Vimeo.

Do you ride yourself? How does this affect your images?
It affects my images for sure. You know where the rider is going to hit their peak performance in the shot and you know how the bike is going to react in that frame, without knowing these things it would be very hard to successfully nail the shot most times. I rode for most of my childhood and into my early twenties. I currently don't own a mountain bike, but still borrow my friends every now and then to go rip up some trails.

Do you have another job as well or is it just videography?
Unfortunately yes, I work casually at a supermarket whilst studying. I freelance on the side when I can to further my career in film.

What kind of camera do you use?
I shoot with a Canon DSLR. The camera is amazing - what it can do for the size and what its intended use (photography). For the film we have used the Canon 550D T2i, Canon 7D, and Canon 5D Mark 2, all equipped with Canon L series glass.

Is there any other gear that you use frequently?
I use a dolly slider quite regularly. I have a 2ft one as it's very easy to travel with and lightweight, the amount of angles and shots you can achieve with this tool is amazing and well worth the money. I also use an 8ft jib. The jib comes out rarely as it is a lot of work and requires two people to run at most times to ensure the best shot is taken. Finally, I have a steady cam. This is my most difficult piece of equipment to run as balancing the thing is a lot of work. Once balanced however the shots are amazing, resulting in super smooth flowy shots.

Who are your biggest influences filming-wise?
Curt Morgan. He is my idol and motivates me everyday to go out and film. After watching his recent film ''The Art of Flight'' I was not only blown away but took on so much motivation to make this film ''Above the Noise.'' I'm running on a small budget compared to Brain Farm's, but I am still motivated by Curt to go out and make the best film I can.

Have you ever attended film school or are you self-taught?
I am currently in my last year of film school. I look back to the way I would approach film shoots years ago and things have changed so much. Not only in shooting but editing and pre-production, I have learnt so much. I urge anyone wanting to film as a profession to attend film school; you'll have a blast!

Who are your main clients?
Kona Bicycles Australia, Pinkbike.com, Spy Optic, Dirt TV, Revolution Magazine, and Thrash Cams.

Do you have any advice for aspiring videographers?
Never be afraid of trying new things, if there is something you want to create don't ever let anything hold you back, go out and do it, you never know what doors it'll open for you. Always be open to constructive criticism and take people's advice and comments onboard, as they are your audience. Follow your dreams!

Anything else we should know about you?
I love photographing my food, incase you aren't following me on instagram already, I'm well known for posting up pictures of food, like every day.

Any final shout outs?
Firstly a huge thank-you to Karl Burkat from Pinkbike and Victor Sheldon from Spy Optic for sponsoring the film. Thanks to my parents for always believing in me, thanks to Tyron Mclean for getting me started on the Kona Project, and Peter Karas for all the help with the film
---
Sean Anderson
on Pinkbike.
For updates and bonus content 'Like'
Above the Noise
on Facebook.
Sean's website:
http://seanandersonfilms.com/
Stills/Video by: Sean Anderson
Intro & Interview by: Scott Secco
Stoked for the movie? Enjoy Sean's work? Will Troy win the WC?