The Making of Afan Bike Park
Shaun Bevan: Designer/Builder/Rider
I work for back-on-track mountain bike solutions and have recently been working on the Gyfylchi loop at Afan Bike Park. When I heard that we had won the contract at Gyfylchi loop I couldn't wait to get stuck in to it as I knew the hill had a lot of potential after scouting out lines months before hand. The line I was most looking forward to building was a black run, I had previously walked it and spotted the clearing of trees and knew this was the one, it was clear to me that the main jump line just had to go in there as the back drop of the valley and the surrounding trees just looked epic... building the dream is the one..!
Most of the lines that were built on this job were created from the seat of the digger and nothing was tested due to the horrendous weather conditions so to get it all flowing as well as it does in the short space of time that we had was quite an achievement.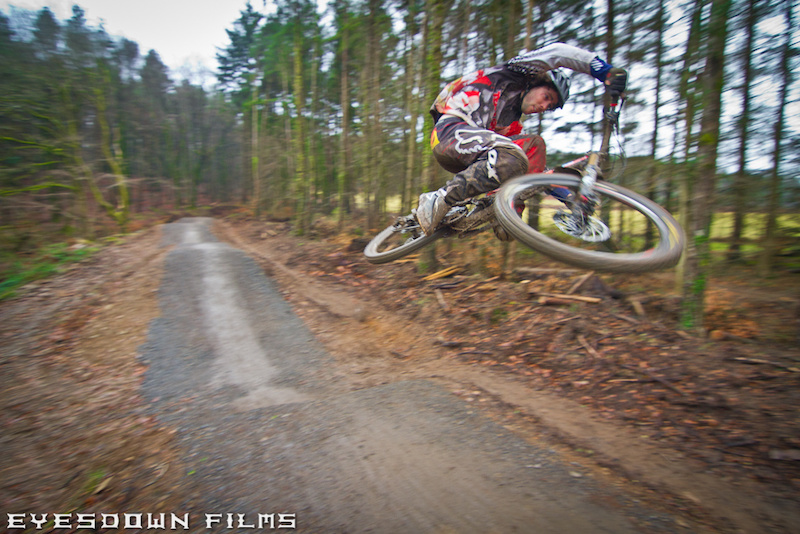 The brief was to make it fun and create a small bike park that would bring on the skills of all levels of riders and give them a taste of what's to come...
As mountain biking is progressing so are our trail designs, I always try and push the boundaries to what we can get away with building. Fast, flowing feature rich trails are becoming ever more popular and it's a pleasure to be involved with the way these trails are being made. There is nothing more satisfying than having free reign on a mountain, a blank canvas to carve out your own dirt roller coaster, the job satisfaction is when I hear and see how much fun riders are having out of the shapes we have created in the dirt.
Video & Photos
:
Eyesdown
Words
: Shaun Bevan
Music
Beatfux – Lights Out
Soundcloud.com/beatfux