TESTED
American Classic
MTB Race 29
Tubeless Wheels

WORDS
Richard Cunningham/Eddie Rea
Bill Shook at American Classic
has been diligently working on lightweight, wider-profile rims to enhance the volume and performance of available tires and shaping them to more effectively interface with tubeless types. The 'All-Mountain Tubeless' was American Classic's first wheelset to use the new rim profile and in this feature, we review the MTB Race 29 wheels, which are built around a lightened version of the same rim. Small-wheel riders may think that the word 'wide' is a stretch for a rim that measures 22-millimeters deep, 24-millimeters inside-to-inside, and 28-millimeters to the outside of the rim flanges – and you would be correct. Big wheel bikes, however, are notorious for heavy, hard-to-accelerate wheels, which is why so many bike makers choose skinny, old-school XC rims and tires to mask that deficiency.
Bill capitalized on the added rigidity of a wider, deeper tubular rim-shape to thin the walls and flanges of the MTB Race rim profile and then laced the wheels with 32 lightweight butted spokes to distribute the stress more evenly around their circumference. The result is a tough and surprisingly lightweight, 1459-gram 29er wheelset that gets going quickly and corners with surety - and the fact that the MTB Race design is one of the better tubeless-ready wheels is icing on the cake. MTB Race Tubeless wheels support most through-axle systems and are also sold in standard quick release attire. For those not 29er inclined, American Classic also offers the wheelset in 650b and 26-inch rim diameters. Axle choice can affect the weight, but the average is 1459 grams a pair. AC charges $999 USD for the pair in all rim diameters or axle configurations and offers a one-year warranty for manufacturing or construction defects, as well as a crash replacement insurance program..
American Classic
---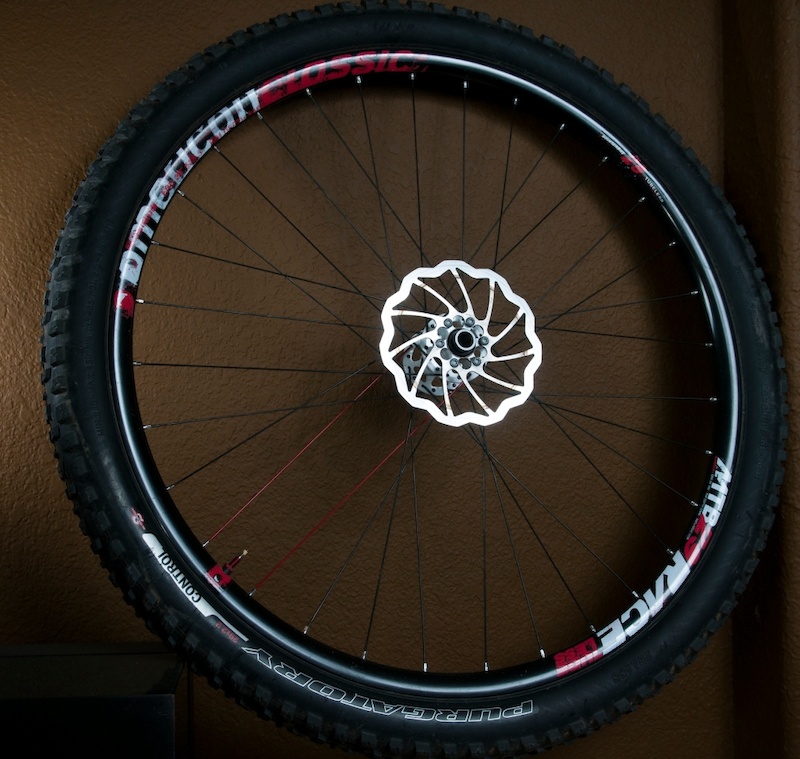 MTB Race 29 Specs
• Purpose: Cross country/trail
• Rims: MTB Race Tubeless aluminum
• Spokes: AC Race Round 14 /16 gauge spokes Black, AC aluminum nipples Silver, 32-hole 3-Cross front and rear
• Weight: 29: Front 670gr, Rear 789gr
• Hub options: Front - Disc 130 100mm, 15mm thru-axle, Disc 100mm, 9mm thru axle, Disc 100mm, Lefty Disc 100mm (for 26 and 29 only). Rear: Disc 225 135mm, 10mm x 135mm thru-axle Disc, All Mountain Disc thru axle 12mm x 135mm, 142mm thru-axle Disc.
• Cassettes: Shimano/SRAM 9/10 SRAM XX1
• Colors: AC Cloud Black with Gray Hubs
• Included: AC Tubeless MTB Tape Installed, AC Tubeless Valves, Cromoly QR's
• Upgrades: Ceramic Bearings, Titanium QR's.
• Special Notes: UST Tires are not recommended.
• Brake Interface: 6-Bolt International Standard
MTB Race Tubeless Wheel Construction
American Classic Wheels are designed and prototyped in the USA, and manufactured in Taiwan. A longstanding relationship with the people who make the products has placed American Classic in an enviable spot, as they are a relatively small operation with a reputation for innovation and quality.
Conventional lacing:
The MTB Race Tubeless wheelset is laced with 32, 14/16-gauge butted spokes and aluminum nipples per wheel and both front and rear are laced three-cross. The mid-flange hubs are spaced a little closer together than most hubs are designed and this reportedly evens the spoke tension between the drive side and the disc brake side of the hub (something that AC has been espousing for a generation).
Six-pawl ratchet:
American Classic's patented six-pawl freehub ratchet is unique in that the pawls have a cam-action that securely locks the pawl into the hub's 24-tooth ratchet ring. When coasting, however, the inner tooth of the pawl keeps the freehub running quiet and friction free. All six pawls are said to engage at the same time, which should prove to be reliable. The possible downside of this arrangement, however, is a 12-degree engagement interval.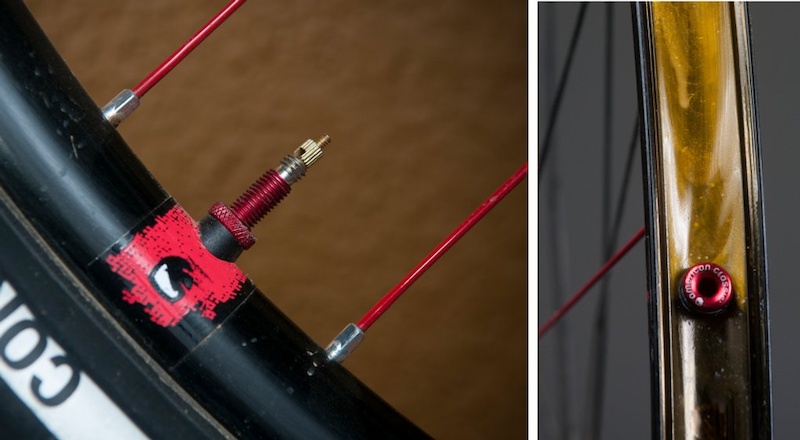 American Classic pre-tapes the wheels and furnishes its trick-looking tubeless valve stems. The aluminum stems are fragile though, and can snap if you are rough with a hand-pump.
New-school rim flanges:
Similar to Stan's NoTubes, American Classic's rim flanges are very short. This saves weight, gives the flanges greater impact strength and also adds a rounder profile to the cross-section of the inflated tire. Short rim flanges supposedly support the tire better under lateral loads.
Tubeless ready design:
Inside the rim, a gently-curved well eases the tubeless tire beads towards a sealing lip that doubles as a bead lock near the hooked flange. Reportedly AC's bead locking design is an effective deterrent for burping air. American Classic does not recommend using official UST tires with the wheels, probably because the rectangular UST bead does not interface well with the MTB Race rim's rounded bead profile.
Steel inserts:
Small steel face-plates interlock into three of the splines on the cassette body to prevent galling of the splines by the cogs during forceful pedaling. American Classic says that the cassette body can be used for Shimano or SRAM nine and ten-cog cassettes and it offers an XX1 eleven-speed arrangement as well.
Adjustable bearings:
Threaded axles allow customers to fine-tune the preload of the hub bearings. Ceramic hybrid bearings are offered as an upgrade should you choose.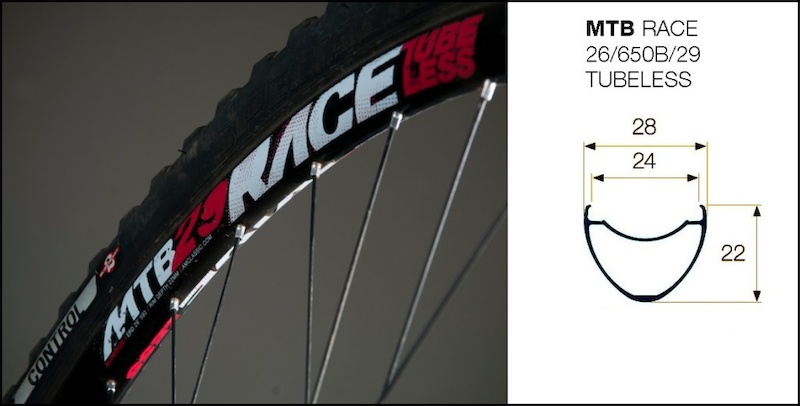 Short rim flanges allow the tire to take a more rounded profile. The graphic (right) reveals the rim's bead-catching ridges and ultra-thin walls.
Multiple axle options:
The MTB Race wheels are interchangeable between quick release and QR15 or 142/12 millimeter through axles. The list of axle options and hub spacing is comprehensive, including single speeds and three different widths.
Standard brake rotors:
Six bolt rotors are the only option, and American Classic strictly recommends rotors with full circular bolt flanges. American Classic sells a reinforcement ring for rotor designs with separate 'fingers' to each bolt.
Ready to Rock tubeless:
MTB Race 29 wheels are pre-taped with AC's transparent tubeless film, and the AC aluminum valve stems are installed. Removable valve cores allow maximum air volume to pass through the stem for quick and sure tubeless mounting, and to inject sealant into the tire safely after the mounting process.
Nice weight:
Published weight figures for the set are 1459 grams, with the front at 670 grams and the rear, 789 grams. Axle configurations will skew that figure a bit, but our scale agreed with AC's numbers.
---
Trail Testing American Classic MTB Race 29 Tubeless Wheels
We gave the MTB Race Tubeless wheels to Eddie, a six-foot, two-inch, 200-pound test rider who puts in mega miles in the Mojave Desert and the nearby San Bernardino Mountains. Eddie is a bit of a crusher, and six months is about the longest any wheels will stay round beneath him. That said, the AM-Classics performed quite well – one full season of riding and still counting. The following was his report:
Installation of tubeless tires:
Excellent. I mounted a Specialized Purgatory 2.2 up front and a Ground Control 1.9 in the rear. Both could be mounted by hand without the assistance of levers or curse words. Once installed, the Purgatory aired up with a floor pump on the first try. The GC almost went up with a floor pump, and I probably could have nailed it eventually, but with a compressor in my garage, I took the path of least resistance. After spending several years on various rim/tire combos, the American Classic wheels rate on par with Stan's rims (A-plus) as far as ease of tubeless mounting.
Aesthetics:
Stand-alone, I give them a B, but mount them on a bike and they sure compliment a stealthy bike build out… and they graduate to an A (for an out of the box wheelset).
Weight:
29-inch wheels at 1480 grams? Wow! I was a bit apprehensive throwing a leg over the bike. Being known as a climber in a downhiller's body, my thoughts were that these would not hold up under my 205 pounds of abuse, but I was secretly hoping that they would.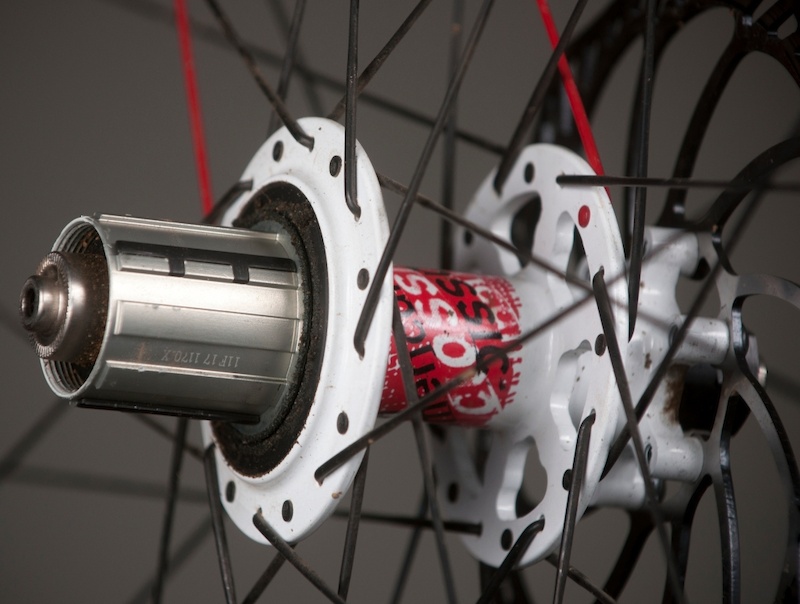 American Classic freehubs use a six-pawl ratchet that proved to be as strong as advertised, but its 12-degree engagement had a noticeable lag. Note the steel reinforcement plates on the aluminum cassette splines.
Ride time:
I normally ride Stan's/Hope or American Classic All-Mountain wheels that weigh in about 1800 grams, so right out of the gate, these wheels made me feel like the racer boy I once was. WOW! I have a 4.5 mile climb that brings me to my confluence of trails, and as I hit my pace marker, I was 1:10 quicker than my PR, although I did not have the usual monster headwind. Here is where is gets good in my book: the wheels are stiff and responsive and surpass my hand-built (1800-ish gram) Hope Flow/Stan's wheel set. I did have one scare after the first long ride though. As I rolled onto pavement at the end of my first ride on the wheels I felt an odd hop. I was devastated that the rear wheel was out of round after just one ride. Upon closer inspection, the tire bead had not seated perfectly. Pheeww. I deflated the tire and carefully aired it up with a floor pump to 45 PSI and it seated perfectly.
Upside:
Light, stiff, easy tubeless mount and inflation, gGood looks, and they inspire you to go fast. The tires track exceptionally well and don't float around. I plan to go to a larger rear tire.
Downside:
Valve stems are way too fragile. One valve stem broke off on the thread when unscrewing the valve to add air. This is the second occurrence and an opportunity for American Classic to improve the design. The valve cores are light, but they need to handled very gingerly while unscrewing and inflating - something that is very difficult to do when you are in a hurry to get out onto the trail. I'll take the small weight penalty and use a brass valve stem as a replacement.
Durability:
The rims are very thin, and have been dented on the tops and sides by rock strikes and other impacts, but oddly, they have resisted the more typical flat spots and dented rim flanges I would have expected. If you don't know how to touch up a wheel, these may not be for you. I had to throw them in the stand and tighten up the spokes or true a little wobble once a week
Pinkbike's take:
| | |
| --- | --- |
| | Compared to American Classic's heavier All Mountain Tubeless wheels, the MTB Race wheels are more flexible, mostly up front. Besides the need for regular maintenance, they have held up exceptionally well for such a lightweight wheelset and I have been using them almost exclusively. I work my bike pretty hard laterally and these wheels have never burped a tire. The tires hold solid to the rim and never roll over or feel wobbly - and that's saying something for a big guy like me. At 1480 grams, I'll bet they compete with carbon wheels from Easton or Specialized - and cost less. If you ride pretty hard and want to go the lightweight direction, I could recommend American Classic MTB Race wheels, as long as you have the skills or the resources to keep them tuned up.- ER |
---