Aston Hill is steeped in motor racing history. Part of the Lord Rothschild's Estate, it was a renowned motoring venue in the early twentieth century. Lionel Martin made his first ascent of the hill in a tuned Singer Car on the 4th of April, 1914. Shortly afterwards, on the 16th. May, at the Herts County Automobile & Aero Club meeting he was so successful, that the sporting light car first registered in his name in March 1915, was called an "Aston-Martin". It was the start of a legend in the history of the automobile.
Photos by Ian Cross www.Pics4all.co.uk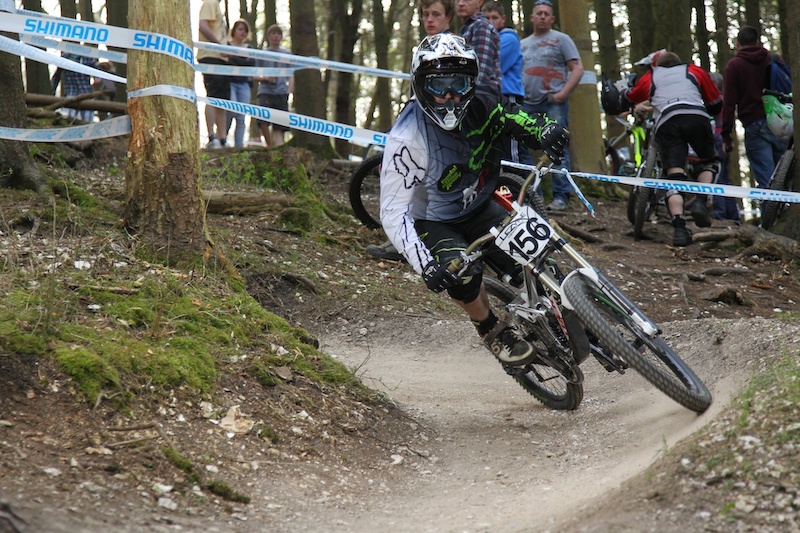 Ex Power Boat racer Pete Little would have made the Vets podium if it wasn't for a small incident with a tree root and his chain ring that snapped clean off 1:37. At least his son did the business at the office today and made third in the Juvenile category, his first race podium.
Sunday 25th of March 2012
Today we raced mountain bikes through the woods adjacent to the hill and as a short course, push up race the venue is as popular as ever. With the rising cost of fuel, race entry prices and accommodation the idea of a Sunday only race for £25.00 seems to tick all the right boxes. Granted no uplift except that of your two trusty legs, the fit and hungry racers managed four or even five full runs of the course. The favoured route back up is the twisting fire road that runs parallel to the golf club. Just mind your "P"s and "Q"s on the way back up. The young guns seem to revel in the calf busting walk up besides the track..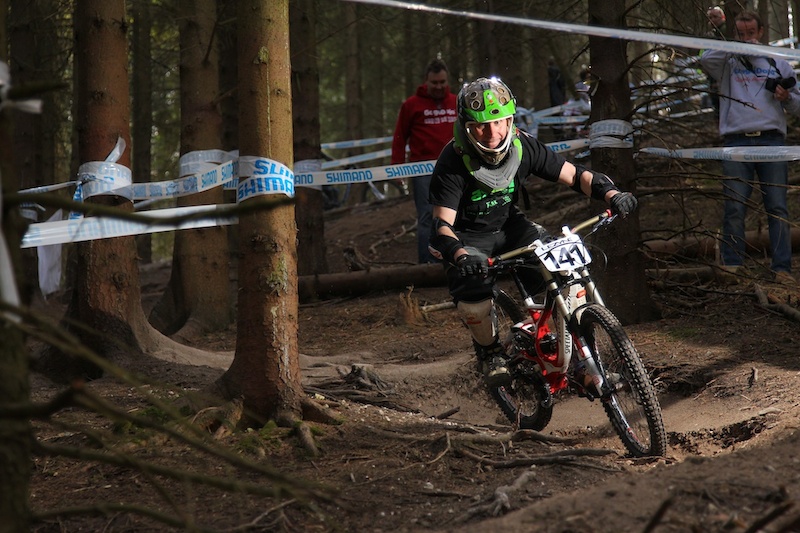 Veteran racer Rich Abbott is Aston Hill 1:39
Over 250 racers signed on and bolted on their new number boards courtesy of Lezyne and hit the start line for just over two hours of practice before racing started at 11:00 sharp. Two race runs with the fastest time to count, all timed by old father time himself, Mike Gettleson of Mikrotime. Head down the track and amazing how many spectators lined the track from start to finish. Come those technical sections theye were shoulder to shoulder and the cheering and heckling was second to none!
Chest cam from Saturday, prior to the race
:
Practice went to plan with Chris Vials the local British Cycling Commissaire keeping everyone in check ensuring safety and fairness for all. Even upholding the most debated B.C rule currently in the rule book: Removal of Head/Chest cams during race runs. The Extreme Medics fronted by Rich Bell had a quiet day by all accounts. Their only recommendation for anyone planning a trip to Aston Hill is to wear gloves! The track is littered with sharp flints that not only slice into your tyres but take nice chinks out of your hands.
If you are planning a trip to Aston Hill then checkout their website here:
Rideastonhill.com
They have a cracking XC loop and several DH tracks with varying levels of difficulty. There is even a 4x track that to be fair has seen better days but is still worth a few laps if you like jumping! May I just recommend not going there when it's wet, it's a slippery nightmare and you will be like Bambi on ice no matter what tyre choice you run.
Results:
Full results listed here on Mikrotime.
Big news was Jono Jones onboard his Transition setting the fastest time of the day and he is a junior! Jono is the twin brother of Matt Jones the dirt jumper as seen in multiple "POD"s here on Pinkbike. Make a note of Jono Jones and put him on your radar. He qualified fastest Junior at the South African rd1 UCI World Cup and had everyone there asking who was this new young gun?
Hardtail
Ben DEAKIN Primera/Muc Off 1:33.61
Ben BATT Black Canon Collective 1:35.28
Matthew JAMES 1:38.76
Juvenile
Thomas DAVIES Gravity Project 1:44.99
John SALISBURY 1:45.68
Jay LITTLE Team Little 1:48.25
Youth
Dan BROWN Mountain Mania Cycles 1:28.90
Albert HARVEY 1:29.36
Finn TENNANT Wiggle 1:29.53
Junior
Jono JONES 1:21.85
Michael O'BRIEN 1:28.59
Sam MARZETTI Bournemouth Cycleworks 1:31.74
Masters
Chris SPOONER 1:25.64
Stephen SIMMS 1:27.33
Neil WHITE 1:29.92
Veterans
Trevor HARVEY 1:30.18
Niall INGRAM 1:35.43
Si PATON Descent-Gear.com/Pinkbike.com 1:36.62
Ladies!
Nicky BELTON 1:54.66
Clare FAULKNER 2:07.17
Sarah PREECE 2:09.25
Seniors
Liam SAINT 1:26.66
Glenroy MARTIN Astonhill.Com 1:26.70
Matthew KOVAR 1:26.79
Expert/Elite
Sam WAKEFIELD 1:23.26
Chris SINDEN 1:25.07
Nathan VIALS 1:25.76
Stay Unclipped.
Next big race in the U.K is the Halo BDS at Combe Sydenham, near Minehead on the 14th and 15th of April.
Si Paton..
Descent-Gear.com