The right answer to the question "what bike should I bring to race an enduro?" is the one you've got. The point is: come and ride, come and have fun. So if your bike doesn't look like this one, don't let it put you off. Think of this as a guide for someone who is lucky enough to be building up a new bike with enduro in mind, or has some spare cash to upgrade their current setup. There are some limits. For the most part, you need to be ready to pedal the bike. In many of the Italian Superenduro PRO races, riders will tackle more than a thousand meters of climbing per day. If you're happy to do that on your downhill race bike, then you've got our respect already. In France, more than a few people show up to lift-assisted races on their big rigs. It's worth noting, though, that you don't see them on the podium at the end of the weekend. As for the other end of the scale; how light should you go? Enduros are gravity races, not XC races, so you're going to want kit that can take a beating.




This build is based on our experience of riding European, enduro-style trails day-in and day-out, what the top riders like Jerome Clementz, Nico Vouilloz and Andrea Bruno run and what components survive daily abuse (unlike the pros, we can't afford to be replacing parts every ride). If the components we suggest seem a bit much for the races around you, you should probably come over to Europe and see how enduro is supposed to be done.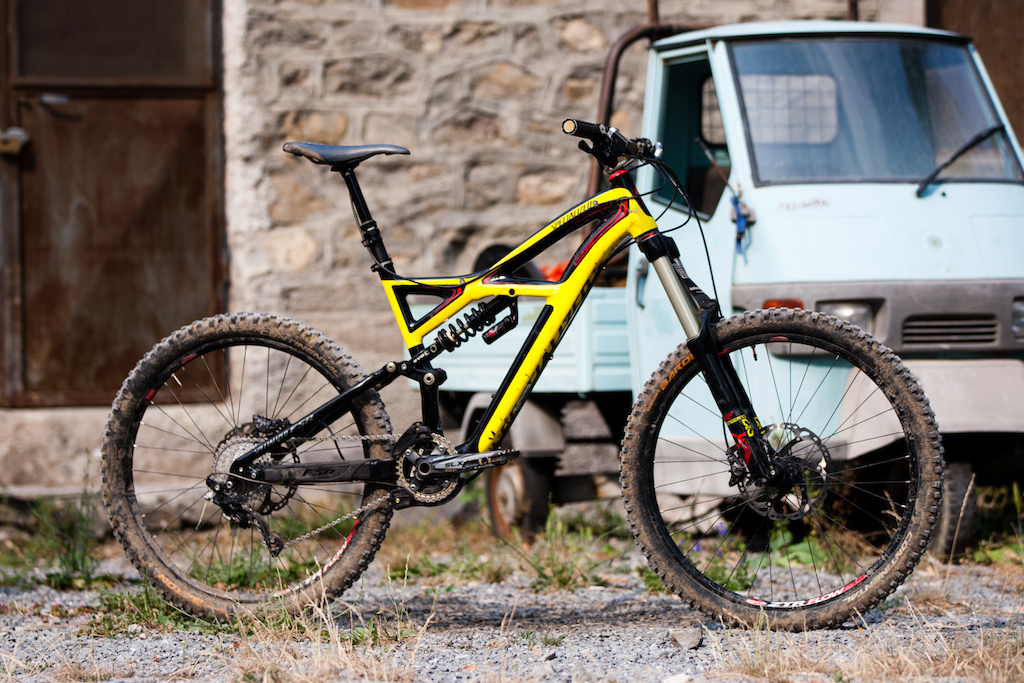 The Specialized Enduro is the most popular privateer bike in the Italian Superenduro series. Most people use the regular model though, which has 160mm front and rear travel (this Evo has 170mm at the front). You want to aim for around 160 millimeters of travel, although a bit more or less is fine. Weight-wise, 30 pounds is a good number to aim for if you worry about such things. We haven't weighed the Specialized, as the parts were chosen for how they perform and survive, not for how light they are.


Air-sprung suspension is the usual choice for enduro - our Specialized Evo came with a coil-over shock, but you can still pedal it up the hill and it's fun coming down, so we haven't changed it out (although we probably will go to air at some point). On the rear, a pedalling platform on the shock will make climbing much more pleasant. Out front, look for damping on the fork, not features. If you look at what the fast guys run, nearly all of them have DH-style internals in their forks, as the important part is going fast down the hills. In our opinion, forks with travel-adjust systems and lockouts should be avoided, as they don't offer any useful benefits and tend to compromise damping performance. A 20-millimeter through-axle is another must-have too. You want the fork as stiff as possible, so that you can attack the trail.


There's only one sensible drivetrain choice for enduro: 1 x 10. You can select the chainring depending on whether you want the gears to climb more leisurely or attack on the downs, and an 11-36t cassette has all the range you should ever need. Our bike uses a 34-tooth chainring, which is somewhere in the middle of the enduro range. We have yet to see a good argument, why anyone needs a granny-ring and dropping the front mech and shifter is a sensible way to save some weight. A good chainguide is essential, as a dropped chain could ruin your race run. We opted for the beefy e*thirteen LG1, as we wanted the bash guard. E*thirteen does make a lighter weight TRS guide without the bash guard, but looking at the gouges on the bottom of ours, the LG1 was well worth a few extra grams. As for the pedals; run whatever you're happy riding all day on.


Choosing the perfect wheels and tyres is a tough call. With the rims, you need to find something durable enough to survive, but you obviously want to keep the weight down to make the bike easier to pedal. Stans Flows were our choice for this year - they are lighter than a full on downhill rim, but we are confident they will go the distance. Tyres are slightly easier. You want UST tubeless or downhill casings. Admittedly some of the faster racers tend to run lightweight semi-slicks on the back and pump them up to high hell to stop them from flatting, but as we're not challenging for a pro podium, we prefer a real tyre with some grip to have fun. Continental Barons are the kind of thing we'd recommend - tough enough to stand being thumped into stuff without losing all their air and they come in a big, 2.3-inch casing.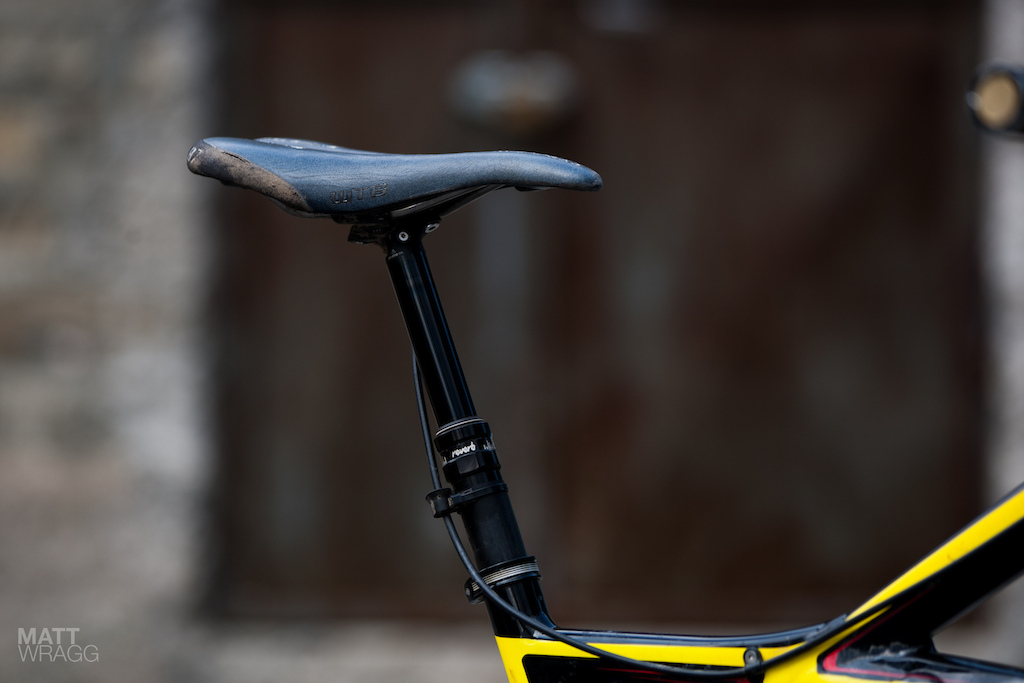 You don't need a dropper seatpost. They aren't cheap and if you are on a budget, there are probably more important upgrades you could look at first. If you do have the money, a dropper post is worth every penny - and we find it hard to imagine riding a bike without one these days (yes, we know we are spoilt). Out of all the options, we think the Rockshox Reverb is the one, with sealed hydraulic lines to keep the crap out and the smoothest action of any post on the market.

Brakes are a personal call. You probably don't need downhill brakes, if nothing else, enduro bikes are a lot lighter. However, here in Europe you could be descending for a long time, so you want to think about cooling your brakes. If you're Nico Vouilloz, 160mm rotors are probably enough. W've gone for overkill, with 200mm Shimano IceTech rotors as they don't weigh a huge amount more and it's nice to know your brakes are going to be strong, no matter how badly you are riding that day.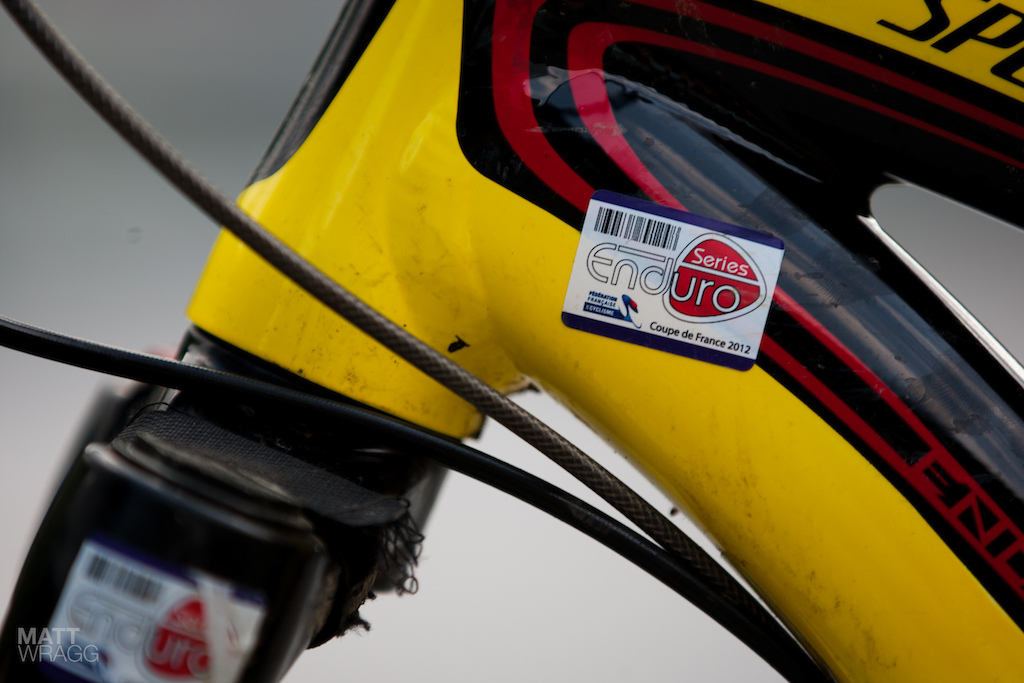 This is an important sticker. In France, you need to put them on your frame and fork (in Italy, on your frame, fork and wheels). In the early days of enduro, many riders tried racing on the lightest bike they could and would snap frames and parts every day. This meant that the pros could bring a van-full of silly light bikes to gain the upper hand. To ensure that you start and finish on the same components, you are issued these stickers. If you snap one of those parts - that's your race over. You lose the time lost to the mechanical, and you will be given a big penalty too. This means that, while you may want to make your bike as light as you can, it still needs to be strong enough to survive a tough day's racing.
Must Read This Week