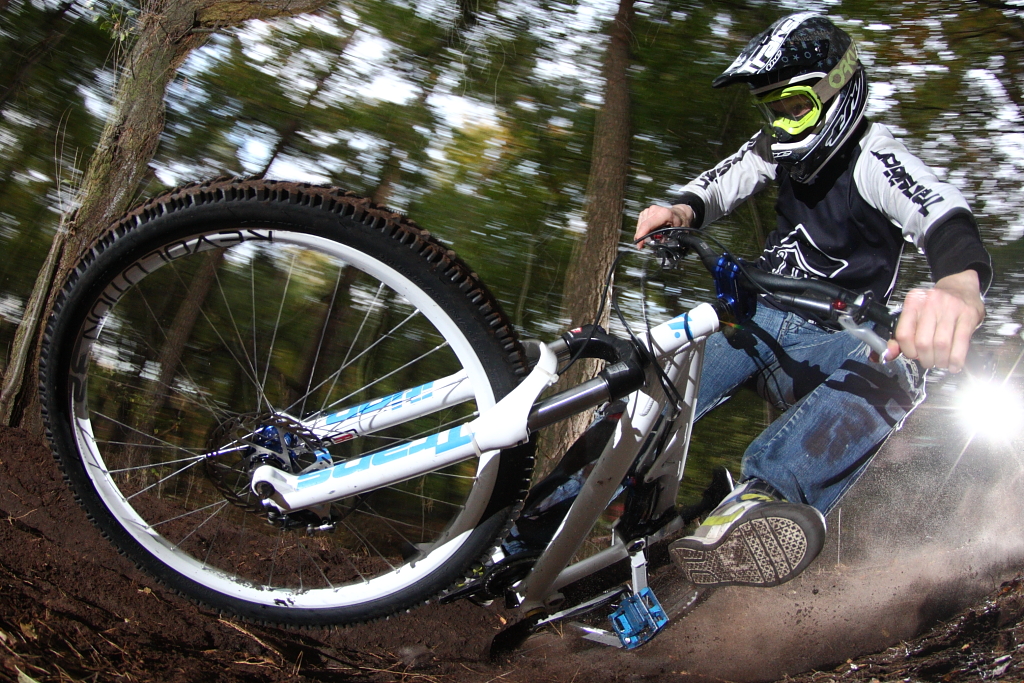 Tell us a little bit about yourself.
Hey everyone! My name is Christophe Bortels, but people usually call me Chris or Tof. I'm 31 years old and I live in Belgium, which is world famous for brewing Steve Peat's favorite beer, the Stella Artois!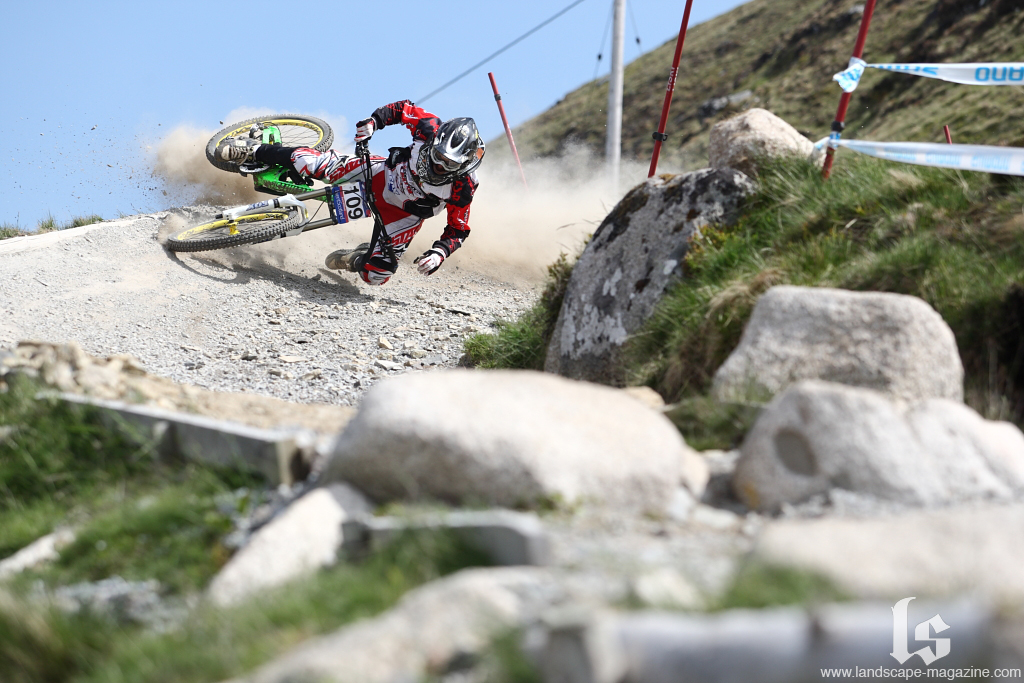 How long have you been shooting photos?
It has been about ten years now. Actually it started by chance. At the end of my journalism studies I had to take a few pictures as illustrations for report exercises. This felt really good, and I realized I was at ease with a camera. I really enjoyed looking for the right angle, capturing the right moment, and so on. Then everything went on quite naturally. I did an internship at a newspaper, then got my first collaborations and here we are!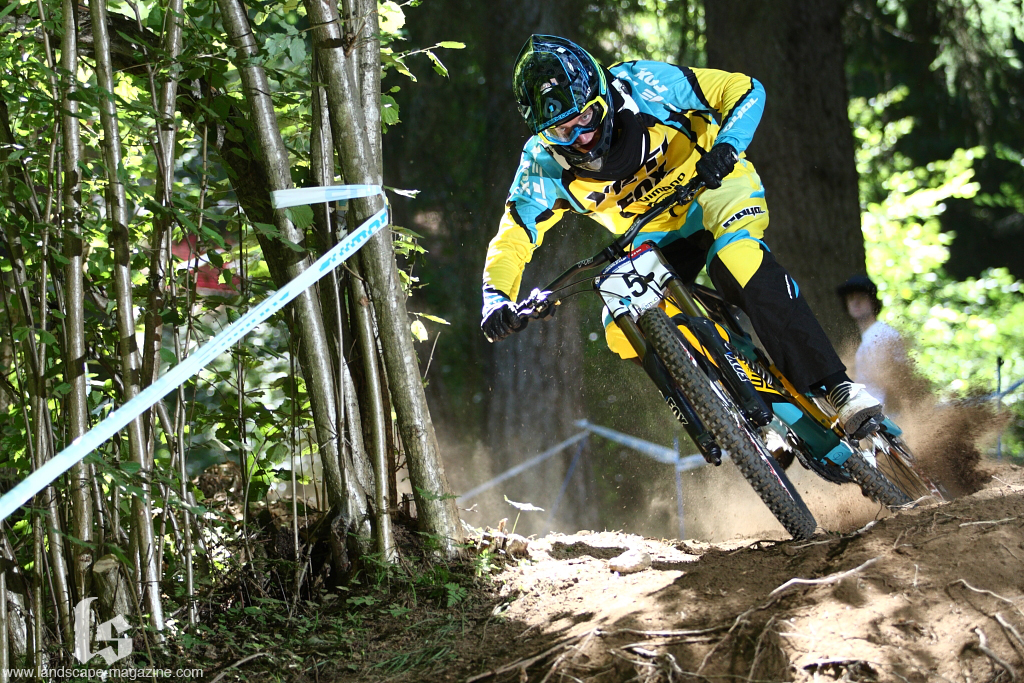 How long have you been shooting mountain biking?
The first time I shot mtb was back in 2007. I had heard that there was a downhill race being held on the slopes of an ancient fortress, the well known Citadelle de Namur in Belgium. So I went there with two of my friends. This was so incredible, so fast and impressive that it made me want do some more. I attended other races and followed a few riders that were shredding the most famous spots in Belgium. As far as the international races are concerned, I have only covered them since 2010. I asked a friend and my girlfriend "Ok, so we're going to Slovenia for the first World Cup round?" and so we left. It was terrible, it rained the whole week, all our stuff suffered a lot, but it still is a fabulous memory.

Do you ride yourself? How does this effect your images?
I have been riding XC for about fifteen years, and downhill since 2008. I am not that good nor fast, but I am having fun on my big bike! Does it influence my way of shooting? I don't really know. One sure thing is that is helps me in knowing whether the captured moment is interesting or not, and if other people will like it.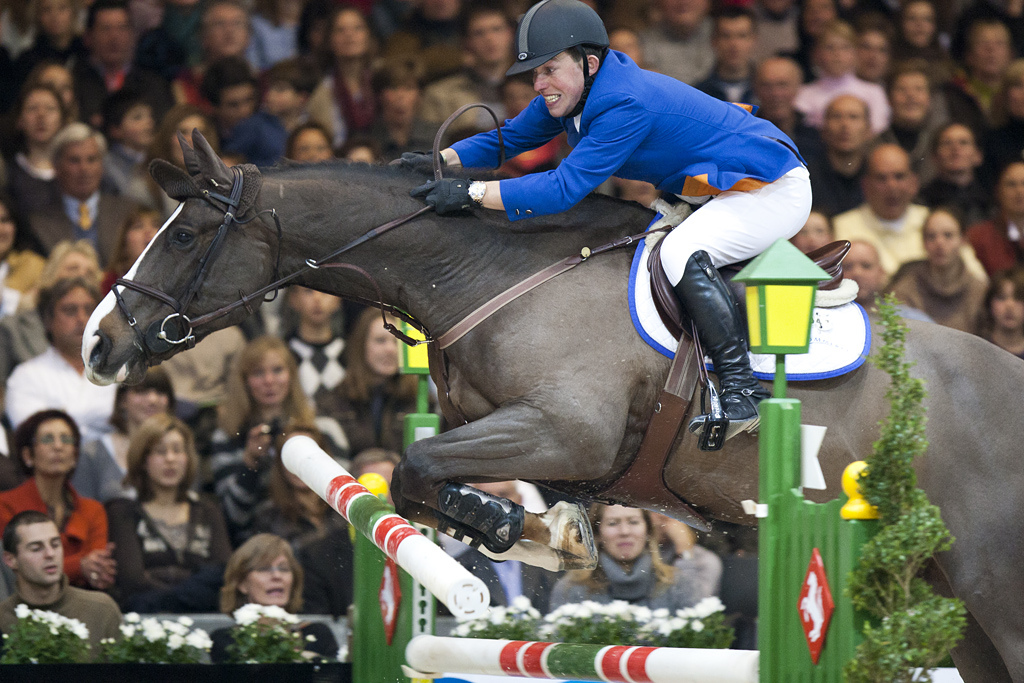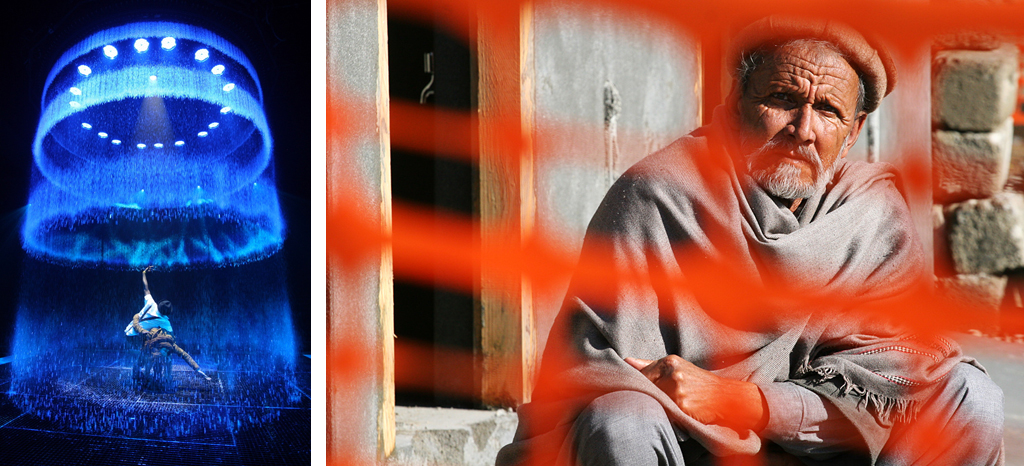 Do you shoot anything else besides mountain biking?
Yes absolutely. In fact mtb pictures are only a tiny part of my work. Most of my work consists of press pictures, reports, press conferences, a lot of portraits (politics, CEOs, artists) and sometimes sports like golf or horse riding. But my "specialty" in press pictures are music concert pictures! This is what really gives me the greatest pleasure.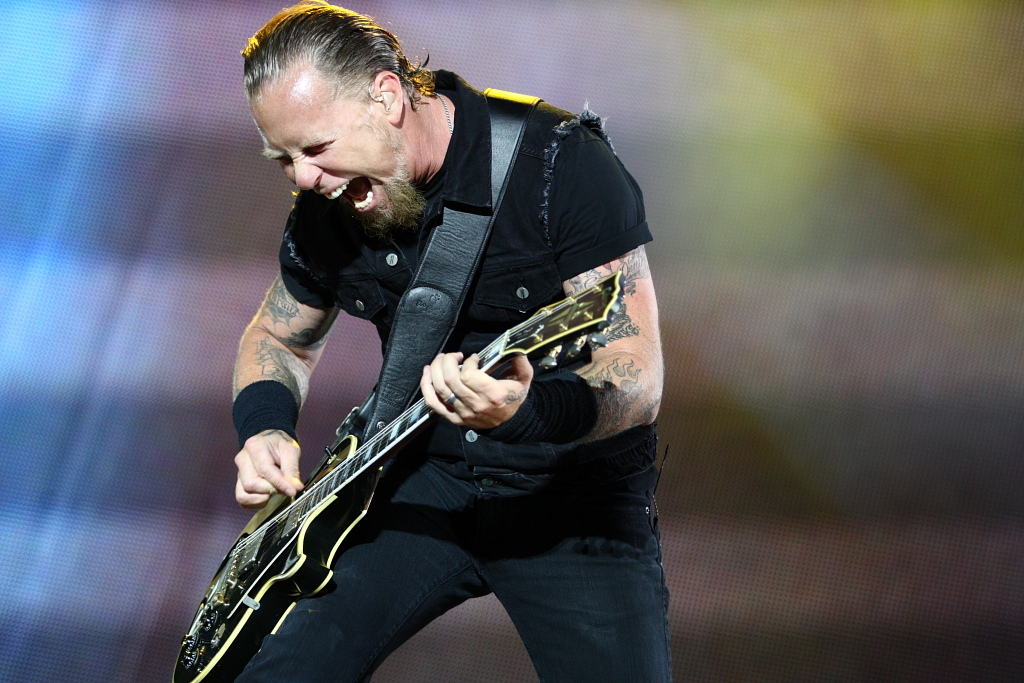 Do you have another job as well or is it just photography?
No, photography is the way I earn my living. Sometimes I can even not really believe it. Photographer is something that a lot of people dream of and want to do. And I never really wanted to be a pro photographer from the first time, but I am… I cannot say that photography is my passion, but I'm sure it is my job. I love it and try to do my best at it!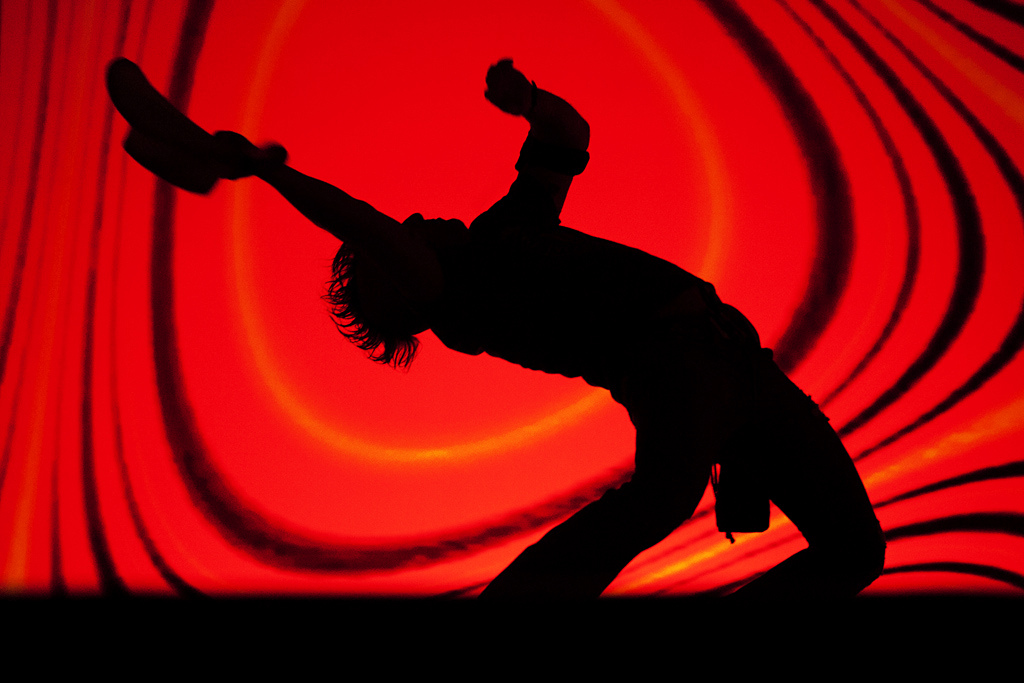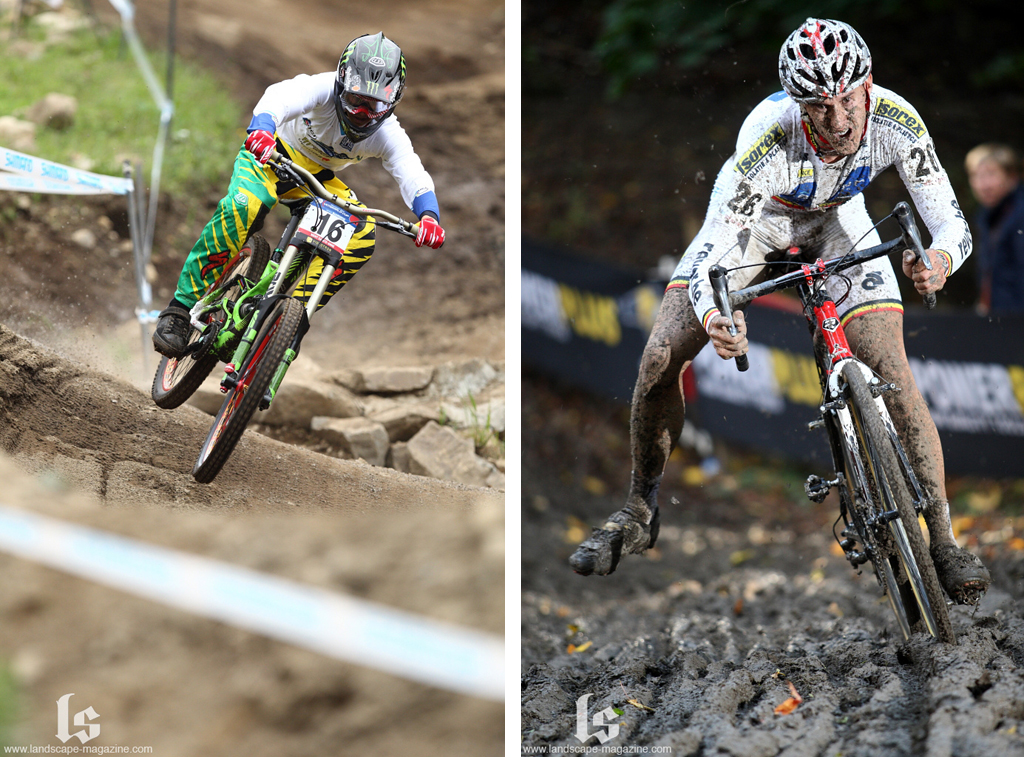 What is your favorite thing to shoot?
In a general way, I would say bike and concert. Those two always give me some adrenaline. It is demanding, fast, you have to deal with an enormous amount of parameters, light, focus, frame, the whole is quite complicated and I like it!
 For bike pictures, races are of course what I prefer shooting. I hardly do anything else than race shootings like "private shootings". That must come from my press photographer culture, I try to capture a moment from an event rather than create a whole picture. But at the same time, I always tell myself that I should once go and shoot at a spot with a few riders to work on more elaborated pictures!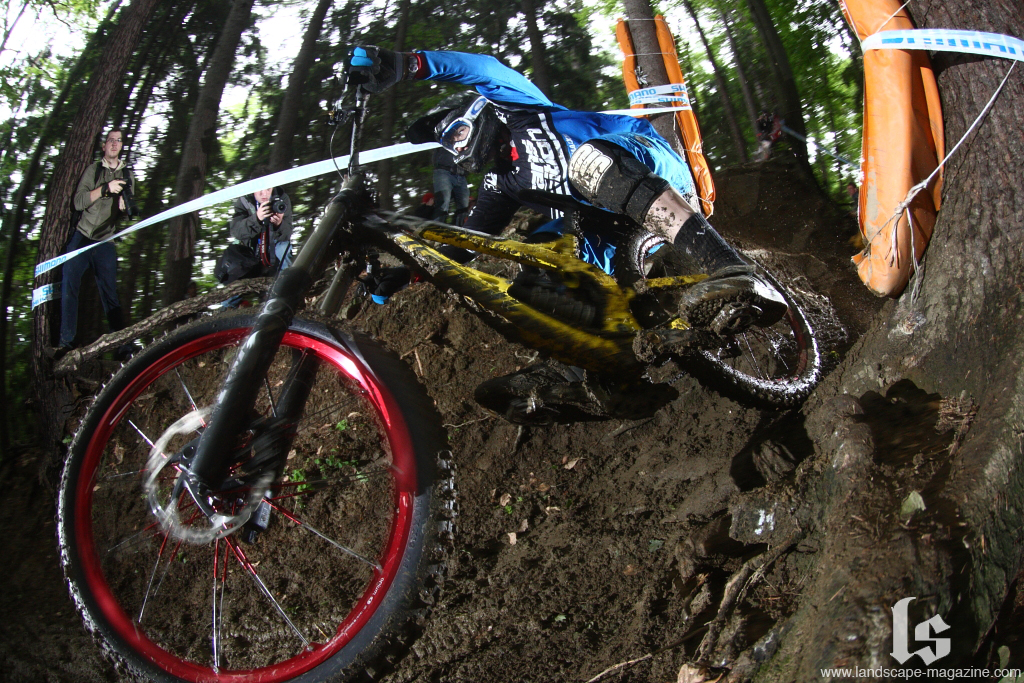 What kind of cameras do you use?
Since the beginning I have been working with Canon. Right now I have a 1D mk III and a 1D mk IV. Those really are marvelous cameras! I thing we have come up to a point where technology is not limiting us anymore. For example, the picture I took of Scott Robert's crash during the 4X in Champéry would have not been technically feasible a few years ago.

Is there any other gear that you use frequently?
Well of course I have a few lenses: 10-17 fisheye, 17-40 f/4, 70-200 2.8 and 300 2.8. The classic mix for generalist photography that lets you handle most of the situations. The one I use the most for mtb is the 70-200. I also have two Canon 580EX II flashes I connect with Pocket Wizards. And the whole is packed in my Dakine Sequence, which is a very handy and comfortable bag that does not look too much like other photobags.

Who are your main clients?
My only bike client is Landscape Magazine. It is a free bimonthly magazine made in Belgium and distributed over more than ten countries in Europe. It is also available online for free and via an iPad app. But I actually cannot really consider Landscape Magazine as a client as I am one of the managers of the mag! But I should definitely get myself some new clients, like other media or teams, so that I can at least pay my travels for World Cups and big races... 
Beside my work for Landscape, I regularly work for several Belgian newspapers and magazines, and also for some occasional other clients.

Anything else we should know about you?
No I think that you know everything by now! I would like to thank you for offering me this great opportunity to show and explain my work. I would also like to thank all the Pinkbikers that fave and comment my pictures, and voted for my picture during the Photo of the Year contest. And I would like to thank in particular my girlfriend who helps me a lot when we are attending world cups. All of this would not be possible without her!
www.landscape-magazine.com
---
Past Photographer Interviews: