BEHIND THE LENS
LARS
SCHARL
Hey, I'm an action sports photographer based in Bayreuth, northern Bavaria, Germany. I'm originally from Munich, the Oktoberfest-town, and I'm 28 years old.
I started in 2006. Before that I wasn't into photography that much, at least not on the "active" side. That was probably because I only used cheap compact cams, didn't get any good results from them and preferred to ride myself! But after the DSLRs got cheaper I somehow decided to go for it and financed my first decent photo equipment by working as a lifeguard at the local swimming pool for one summer. I read a lot of photo theory online and in books during those months and by the end of the season I had enough money to buy a used Canon EOS 1D and some decent lenses and flashes. I started to shoot as much as I could right away and I haven't really stopped since! My first real MTB photo trip took place in early 2007, when Falco and Gernot Ruppert asked me to join them on a trip to the Mediterranean. We went to a lot of DH tracks in South Italy, South France and Monaco and luckily one photo from there won first prize in Germany's biggest photo contest for young sports photographers, which helped me get some more attention and coverage.
Pretty much from the start, which means five years by now. I've been on Pinkbike from that time on and it's funny to see some old pictures from time to time. The example below was taken in late 2006, one of my first MTB photo sessions.
I ride myself, yes, but it's a little bit difficult since I don't have a big bike, only an XC hardtail. I'd really love to have my own big bike, but it's kinda hard to finance that besides the photo equipment. So I grasp every opportunity that I have to ride bigger bikes on gnarlier trails, which luckily happened quite often this season. Thanks to Guido and Fischi from Ghost 4X team and the Freeride Magazin crew for that!!!

I think it's important to be active in a sport to be able to understand its "lifestyle" and "values", which is definitely a big part of a good photo.
At the moment it's almost exclusively MTB action and lifestyle. This winter I hope to spend more time in the snow though. I haven't really had a snowboard/freeski photoshoot in two years and that's just way, way too long for me. Unfortunately most of the riders I work with were injured during the last two seasons so I concentrated on my studies instead, but this winter I'll hopefully freeze my behind off again and spend countless hours hiking through waist-deep powder and hit the occasional powder kicker myself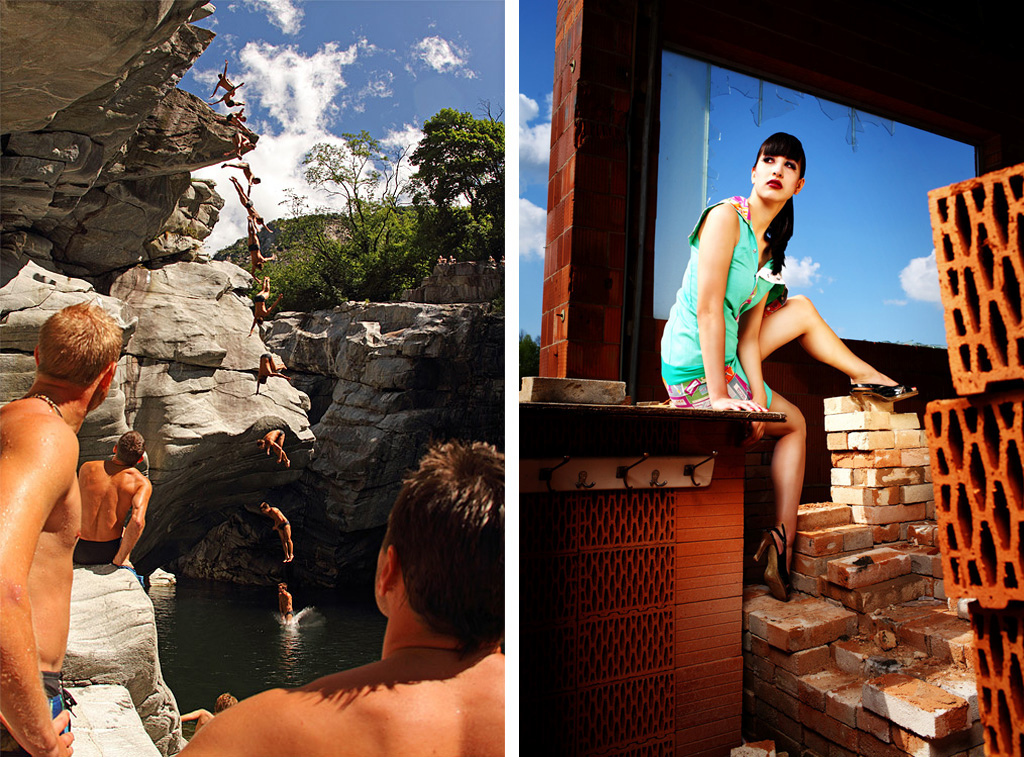 I used to do some small jobs at my university for a while but since 2010 I earn my money from photography only. From next year on this will be my full time profession.
Outdoor action sports of almost any kind, nature, adventure!
I work with Canon equipment. At the moment that is a 5D Mark2 and a 7D.
I couldn't live without my compact flashes, Pocket Wizard radio transmitters and Sunbounce reflectors!
I do assignment work for Freeride Magazin in Germany and some bike and clothing companies. I also enjoy to work as an event photographer and do/did a lot of more documentary-style photos for event organizers, for example at the Suzuki Nine Knights, Adidas Slopestyle, 26Trix, White Style and the Nissan Qashqai Challenge. Some weeks ago I actually worked for Pinkbike at the District Ride in Nuremberg.
You can find more of Lars' work on his website -
www.larsscharlphoto.com
---
Past Photographer Interviews: